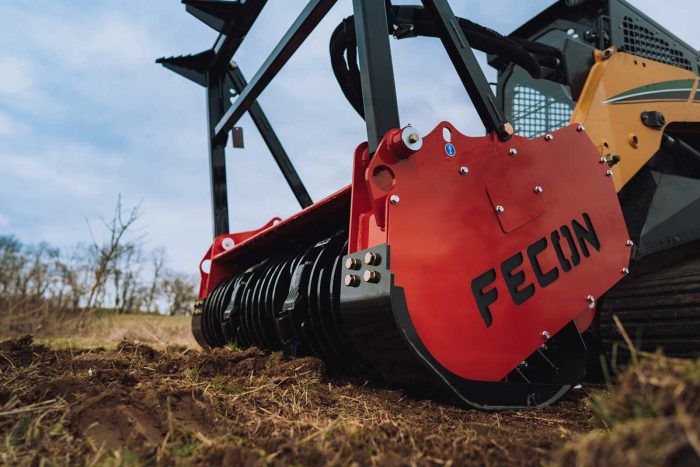 Fecon has recently restructured their dealership program to better align it with how customers want to purchase their equipment and services through North America.   The new multi-tiered structure includes Associate Level dealers who maintain a minimal level of Fecon attachments and ancillary parts, Partner Level dealers who stock a more extensive level of attachments and their associated service parts, and provide some level of service, or a Signature Level dealership which stock Fecon attachments and tractors, as well as their corresponding service parts, have at least one on-site Fecon specialist who has passed extensive factory training, and provide comprehensive in-shop or in-field service capabilities. 
"We realize that in many instances, dealerships are the backbone of the industry and serve as an extension of our company in the field," said Fecon VP of Dealer Development Mike Kucharski. "We have partnered with our Signature Level dealers so that customers will have a knowledgeable, Fecon-trained expert locally available. That coupled with their extensive commitment to equipment and parts inventories, exclusive availability of Fecon tractors, rental fleets and service availability assures customer success in all aspects."
Signature Dealerships provide tractors on an exclusive basis within their territory, as well as attachments and parts, and have at least one Fecon certified specialist on staff. They maintain a minimum inventory of tractors, attachments, and parts, and offer service capabilities, as well as rental units.
In addition, the new program includes Partner dealerships which provide tractors on a non-exclusive basis, as well as attachments and parts.  They maintain a minimum level of attachments and parts in stock, and typically provide service as well as rental units.
One of the best parts of small equipment is the variety of attachments. From buckets and breakers to mowers and plows, click here to see what's out there.
Associate Level dealers are often new Fecon dealerships, which can sell attachments and parts, but have limited inventory levels. These are typically self-serve dealerships, which are largely opportunistic in nature. These hold no attachment or ancillary parts inventory and are primarily transactional.
"We realize that a customer who is looking for a one-time purchase may be more comfortable buying from a dealership that they have a long history with, even though they may not be a Signature or Partner dealership," said Kucharski.  "So, the self-serve dealerships fit that niche.  Customers who have a fleet of Fecons and have more all-encompassing needs will naturally gravitate towards Signature or Partner Level dealers.  We're trying to make it easier for customers to buy Fecon equipment whatever their usage level is."
The online Dealer Locator tool drives new customers to Signature and Partner dealer levels, which allows viewers to search for attachments, tractors, rental or any, within 10 to 250 miles from a desired zip code.  The results are displayed on a map which shows locations of dealers who meet entered criteria, along with their contact information.  A "contact this dealer" button allows users to quickly communicate their needs to Signature dealerships. This intuitive functionality allows customers to quickly find the nearest Fecon equipment, parts and service facility, whether they are in the shop or at a remote jobsite. It can be viewed at https://www.fecon.com/dealers/.
You love dealer news. Can't get enough, right? Well, click here for more. Like, lots more.
Tags:
Dealers
,
Fecon