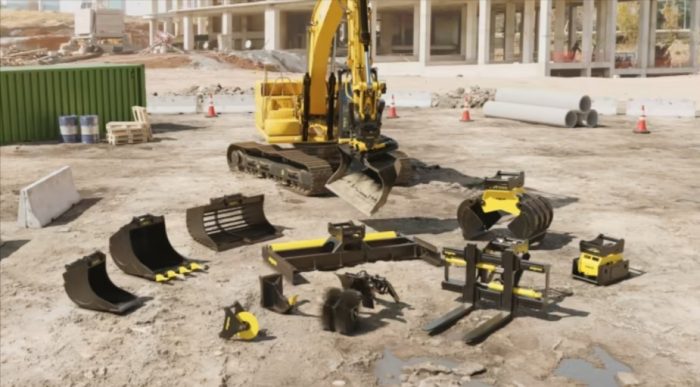 CONEXPO cometh. We're talking about the biggest tradeshow in America by physical size. It only happens every three years, and it's all centered around construction equipment. CONEXPO-CON/AGG will happen again March 14-18, 2023, in Las Vegas. We'll be there. So will everyone else. Follow our coverage right here. Here comes more important CONEXPO news…
This week, March 14–18, the year's largest machine tradeshow, CONEXPO-CON/AGG, is in full swing in Las Vegas. The focus for engcon at the show is showcasing tiltrotators and their benefits. At engcon's booth, there are three different excavators demonstrating the advantages of equipping an excavator with a tiltrotator. In addition to the tiltrotator taking center stage, engcon is displaying its wide range of excavator attachments.
The Swedish tiltrotator manufacturer engcon supplies tiltrotators, tools and accessories for excavators all over the world. The range, which is well established in the Nordics, has in recent years expanded to large parts of Europe and North America. engcon established its operations in the USA in 2017 and exhibiting at CONEXPO is another step in engcon's ambition to develop further the North American market.
"We know how important it is to see our products in action because many people can hardly believe that the tiltrotator is really as efficient as it actually is. That's why we put a lot of focus on running demonstrations at our CONEXPO booth", says Martin Engström, Product Manager at engcon, and continues:
"With our tiltrotator, efficiency and safety increase. A tiltrotator together with our accessories replaces other machines and contributes to the job being done more efficiently. With our solutions, the driver can safely remain in the cab and change accessories and buckets. In this way, the tiltrotator is an excellent investment for those who want to catch up on more assignments in a shorter time."
engcon Presents EC-Oil
EC-Oil, which is engcon's system for automatic coupling of hydraulic tools, will also be demonstrated on site.
"With EC-Oil, you can safely change accessories in seconds, and you avoid hoses or electrical cables that move when connecting, which reduces the risk of crushing damage and wear and tear", says Martin Engström.
At engcon's booth, visitors can meet several well-known excavator influencers who use engcon's products daily in their work. There is also the opportunity to test-drive an excavator with a tiltrotator yourself, or see an experienced driver demonstrate how to best work with the market's most modern equipment. At engcon's booth F8533, two machines are available for test driving, a John Deere 85G and Caterpillar Cat 306. As a demo machine, there is a John Deere 135G with various attachments, both buckets and other hydraulic tools.
We'd love to keep in touch! Check us out on Facebook, Twitter and LinkedIn!