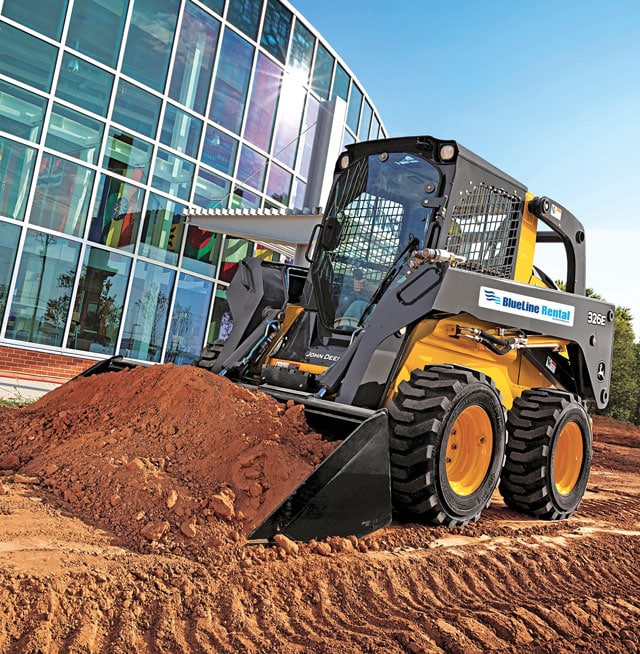 Southeastern Equipment Co. is an equipment dealer with a rental fleet, and veteran contractors generally know what they want when they show up at the dealership to rent a machine. But beginning contractors or homeowners who want to rent a skid steer or mini excavator — "that diggie thing," as Watton recalls hearing — are directed to the company's auxiliary firm, Southeastern Rents. "There we do the who, what, where and why," Watton says. "What's your plan? How much are you going to be lifting? How deep are you digging? And we offer them trained people who know our product line inside and out. What brings people to Southeastern is the whole package."
A renter also should ask questions, adds Watton. "I would want to ask these kind of questions: If I rent for eight hours and have it for nine, what is the cost to me? If it needs fixing, who fixes it? And so on."
Equipment age should be a consideration as well. "There was a point in time, back in 2005, when people would talk about how they were getting average fleet age lower and lower," says Walley. "Then the recession hit."
Investment in rental inventory was stagnant in 2016, according to a Rouse Analytics report. For example, the largest equipment rental company in the world, United Rentals, reported that the age of its fleet in September was 43.7 months, an increase from 2015. BlueLine claims to have one of the younger fleets, which Blackadar pegs at 40 to 41 months, with track loaders and mini excavators in the 36- to 40-month range.
Which Models Should
I Rent?
The American Rental Association (ARA) represents more than 10,000 rental operations "and almost every equipment rental store has a skid steer in inventory," says Walley. "Even party and events rental stores may have a skid steer for rent." Popular rental models are the same across the industry. According to Watton, track loaders with 2,500 to 3,000 lbs of lift capacity "are the hot thing in the market today, industry-wide. With skid steers, 2,000 lbs is the magic number. The 6,000- to 8,000-lb compact excavator is the popular model."
Trends are the same at BlueLine, which has 2,500 skid steers, track loaders and mini excavators scattered among its locations. "In some areas, the mini excavator is giving the track loader a run for most popular rented piece of equipment." He adds that other compact machinery is also moving off the lots. "It depends on the marketplace. Out West, they certainly still believe in the rubber-tired backhoe. And the mini-reach forklifts [telehandlers] are becoming as ubiquitous as skid loaders."
What will a compact machine cost a rental customer? It depends on the local market. "As a rule, a rubber-tired skid steer in the 2,000-lb class will cost $800 a week, $2,500 a month. Some places are significantly higher," Watton says. "A compact excavator in the same class will be $1,000 a week."
Blackadar declined to be pinned down on rates. "There are too many things to factor in. Length of rental, how many are sitting in the yard, credit-worthiness of the customer, the relationship a store has with a customer, prior rental history. Plus, where the market is — New York City rates are much higher than Shreveport."
Should I Shop a Particular Brand?
"Loyalty in our industry is forever changing," says Watton, whose dealership offers track loader brands like Case and New Holland. Today's priority is proximity to a jobsite. "As contractors become more nomadic, moving around for work, they tend to reference a location rather than a product line. Brand helps, but when, for one day, I need a track loader that will lift 2,000 lbs, it becomes, 'Where is one available?'"
The BlueLine experience is similar. "Among larger rental players, it is less about what the brand is and more about what a customer needs, as well as the age and condition of the fleet," Blackadar says. "When a customer is looking at BlueLine or United or Sunbelt or an independent rental house, they really are just looking for a late-model, low-hour machine of good quality. That's more important to them than going with a brand."
Rental companies usually offer manufacturers' most durable models — though often without bells and whistles — because the equipment must withstand every-day use by busy contractors and operator abuse from novice renters. If the machines fail, customers won't return the next time they need a track loader or mini excavator — and the need seems never-ending.
As proof, Walley cites IHS Markit, a national business analytics and information clearinghouse, which compiled data about the vigor of the equipment rental market. "In the sector for construction equipment, they concluded that out of all the equipment in use for construction in the U.S., some 53 to 54 percent of it is owned and rented by rental stores," he says. "That's up 10 percent since the recession."
Economists forecast more of the same. Equipment rental is expected to grow 4.6 percent between now and 2020, according to Walley. "The equipment rental industry recovered from the downturn faster than any industry it serves."
Giles Lambertson is a freelance writer for Compact Equipment.
Tips for Light Tower Rental
LET THERE BE LIGHT! Wait, you don't have enough light towers? No worries: Head down to the rental yard and find an ideal tower for the job. Just be aware that the pricing structure for a fleet of lights can vary tremendously by region and by the job being performed, with options ranging from hourly, daily, weekly and monthly. An hourly rate likely will include a surcharge. Here's an estimate for light tower rental: cost per day is $75, per week it's $175 and monthly it's $500.
Remember that demand does tend to spike in the fall and winter as the day gets shorter. Also, be sure to dig deeper into equipment maintenance and operation before putting down a deposit. Equipment that is easier to operate can significantly impact your project's schedule and budget. How easy is the equipment for my crew to operate? What type of maintenance does it require from me? What features will help save me money?
Rent a light tower from a reputable dealership that carries the product. It's imperative because they will run so much and need service regularly. Because they are such a low-dollar item, things can be overlooked. Every time a light tower is returned, light bulbs, hitches and tires are inspected. Based on the hours, fluid levels and filters are also checked. You need a light tower to serve a purpose, and it won't be productive if it isn't maintained.