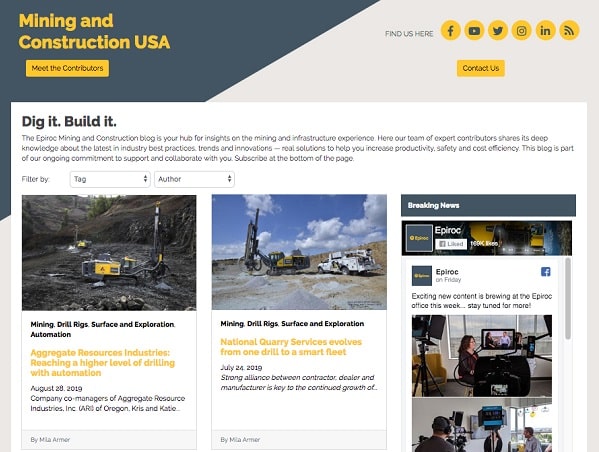 Epiroc, a leading productivity partner for the mining and infrastructure industries, has introduced the Mining and Construction USA blog, a valuable new information hub for the two industries. At miningandconstructionusa.com, visitors will discover vibrant content designed to help their operations increase productivity, safety and cost efficiency. They will also read about how to use latest advancements in technology to their full potential.
Part of Atlas Copco until spinning off in 2018, Epiroc is a 146-year-old startup — a dynamic new company, but with proven expertise and experience. The Mining and Construction USA blog shares this unique know-how through engaging posts on best practices, industry trends and innovations, case studies from U.S.-based companies, and more from a team of expert contributors.
While the product range discussed in the blog covers areas in Epiroc's equipment expertise — such as drill rigs, rock excavation equipment, construction and demolition tools, and service solutions — the focus of the topics is much broader. Mining and Construction USA blog contributors share trends and detail solutions in the areas of autonomous projects, advanced technology, predictability, interoperability, zero-emission mining, as well as emerging innovation concepts and trends in the mining and construction industries.