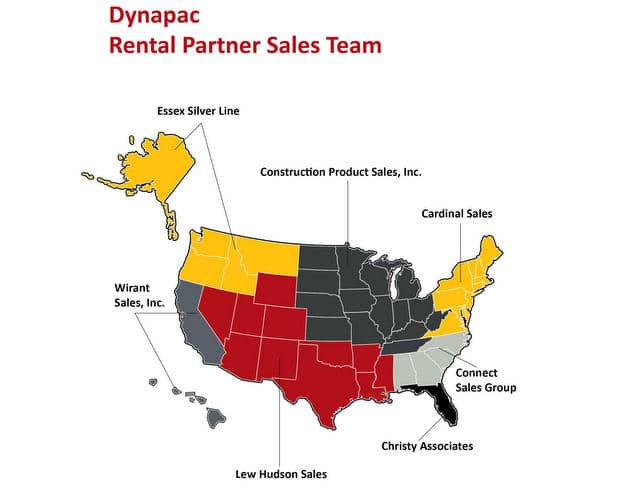 Dynapac North America, a leading manufacturer of rollers for asphalt and soil applications, pavers and planers, recently announced partnerships with seven independent manufacturer representative agencies to provide sales and service to rental customers. Cardinal Sales (Northeast), Connect Equipment Sales (Southeast), Christy Associates (Florida), Construction Product Sales (Midwest), Lew Hudson Sales (South and Southwest), Essex Silver Line West (Northwest), and Wirant Sales (California and Hawaii) specialize in construction equipment.
"We're proud to partner with the leading independent manufacturer representatives in the industry," said Brian Bieller, Dynapac North America president. "Their extensive product knowledge and dedication to customer service will help us grow and deepen our relationships with rental customers."
Each of the seven partnerships has been formed since The FAYAT Group acquired Dynapac from Atlas Copco in the fourth quarter of 2017:
Northeast: Cardinal Sales has a long history of representing Dynapac. The agency's Dynapac territory includes Maine, Vermont, New Hampshire, Massachusetts, Connecticut, Rhode Island, New York, New Jersey, Pennsylvania, Maryland, Delaware, Virginia and Washington, D.C. For more information, visit www.cardinalreps.com.
"It's great to once again be representing the product line under the Dynapac name," said Pat DeVitto, President of Cardinal Sales. "The team led by Brian Bieller has created an exciting time for Cardinal Sales in 2018."
Southeast: Connect Equipment Sales features an award-winning sales team that represents Dynapac in North Carolina, South Carolina, Georgia and Alabama. For more information, visit www.connect-sales.com.
"We are very pleased to have the quality, performance and innovations that Fayat has brought to the iconic Dynapac brand," said Frank Jolly, President of Connect Equipment Sales. "This union has already proved to be a winning combination for our customers."
Florida: Christy Associates has served the construction and rental industries for more than 25 years. The agency represents Dynapac in Florida. For more information, visit www.christysales.com.
"Christy Associates is pleased with the investment Dynapac has made in the rebranding strategy," said John Christy, Owner of Christy Associates. "Product improvements, increased sales and service support with the new color scheme should make the reintroduction of Dynapac seamless.
"Christy Associates is proud to reintroduce the Dynapac brand into the Florida and Caribbean marketplace. Dynapac has carried a strong user loyalty in our market for several years and customers are very excited for the launch of new Dynapac back into the market."
Midwest: Construction Product Sales (CPS) is an award-winning agency established in 1981. CPS covers North Dakota, South Dakota, Nebraska, Kansas, Minnesota, Wisconsin, Michigan, Iowa, Illinois, Missouri, Indiana, Ohio, Kentucky, West Virginia and Tennessee for Dynapac. For more information, visit www.cpsreps.com.
"CPS is absolutely pleased to have been named the manufacturer's representative for Dynapac in the upper Midwest," said Tony Kannenberg, Owner of CPS. "We look forward to helping develop the Dynapac brand into the market-dominant force it can be."
South and Southwest: Lew Hudson Sales offers 40 years of experience in the construction equipment industry. The agency's Dynapac territory encompasses Mississippi, Louisiana, Arkansas, Oklahoma, Texas, New Mexico, Colorado, Wyoming, Utah, Arizona and Nevada. For more information, visit www.lewhudson.com.
"We are very excited to be working with Dynapac in the southwestern states again," said Darrell Hudson, President of Lew Hudson Sales. "We have known the management team for a long time, and we know that they are driven to grow the brand and product. We look forward to a long and prosperous future as members of the Dynapac team."
Northwest: Essex Silver Line West has served the Northwest rental market since 1982. The agency represents Dynapac in Washington, Oregon, Idaho, Montana, and Alaska. For more information, visit www.essexsilverlinewest.com.
"After attending the product launch in Asheville, North Carolina, I learned a couple of things," said Randy Chidester, Principal at Essex Silver Line West. "No. 1, the equipment is better than ever. New features that allow the operator better sightlines and a new paint scheme, to name just a couple improvements. Second, the product with the backing of the FAYAT Group has set Dynapac up to be the leader in the industry. Essex Silver Line West is excited to be coving the Pacific Northwest for Dynapac."
California and Hawaii: Wirant Sales was established in 1975 to service the construction industry. The agency covers California and Hawaii for Dynapac. For more information, visit www.wirantsales.com.
"We have had a long relationship with Dynapac over the years, and are glad to be in partnership with Dynapac again," said Chuck Skladanek, Vice President, Sales at Wirant Sales. "Dynapac products are known to be ruggedly engineered and built to meet the most demanding rental applications. We look forward to selling these quality products once again."
"We're very excited about our partnerships with these highly respected agencies," said Fabian Salinas, Dynapac North America vice president of sales. "Each brings a commitment to excellence that will benefit our customers and help us expand our penetration in the growing rental segment."
For more information about Dynapac North America, click this link. We've made it super clickable.
Tags:
Dynapac
,
Dynapac North America