Site dumpers have one job, and they do it well. Dump materials. These off-road machines are built to haul everything from clay, stone and gravel to backfill, asphalt and concrete thanks to their heavy-duty skip (that's dumper talk for bucket) that can place the load right where an operator wants it. While these machines have been a mainstay in Europe for more than 40 years (mostly the U.K.), dumpers are relatively new to the U.S. market where skid steers are much more common. Dumper payload capacities range from 1 to 6 tons, with even larger machines across the pond. The most popular size on U.S. sites is in the 3-ton range.
"Site dumpers are big in the U.K., which is one of the biggest rental markets in the world," says Adam Phillips, product marketing specialist for Mecalac. "As an example, we probably build between 1,800 and 2,000 dumpers a year and only export about 20 percent of those. The more you rehandle material, the more it's costing you, so site dumpers definitely up your efficiency. Operators can load material directly into a dumper, take it away and tip it somewhere else instead of having to load it separately. A skid steer is going to take three or four times the amount of time to do it."
Aside from its ability to haul more material, a dumper's smaller size is a great advantage for crews not wanting to rely on dump trucks or smaller jobsites that can't accommodate a larger vehicle.
"Crews find site dumpers to be the handiest thing on the jobsite because you don't have to have a CDL," says John Dotto, Wacker Neuson's product application and training specialist. "You can put anybody in one. They're simple to operate, and they haul a lot of material in an efficient way vs. hiring a dump truck and having the driver sit idle. You can do a lot of work in a short amount of time with a site dumper."
Despite providing a big service on the jobsite, site dumpers are relatively simple machines. Dotto offers a few considerations to make when selecting this particular type of equipment.
"The first thing to consider is capacity. It's important to not undersize yourself," he says. "Next, think about the terrain you're working on. Do you need tractor tires or turf tires? For example, our DV60 is well suited for working in sensitive areas like golf courses. Also think about transmission types. There are some mechanical transmissions out there with shuttle shifts on them. Do you want something like that with mechanical gears that can become a maintenance item, or do you want a fully hydrostatic transmission? Wacker Neuson dumpers are all fully hydrostatic."
Thinking of adding a site dumper to your fleet? Check out a few options below.
Wacker Neuson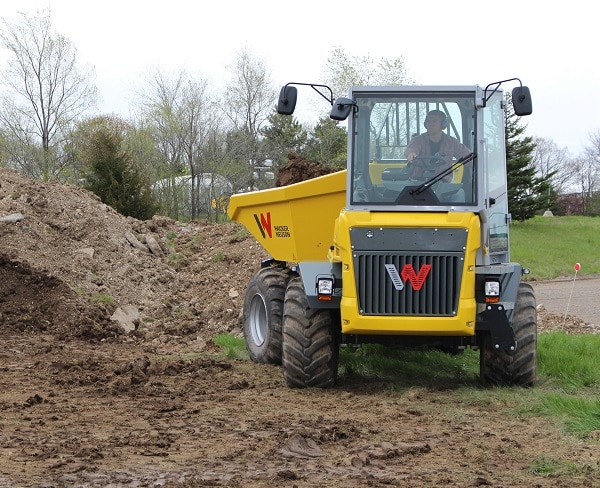 Wacker Neuson recently introduced its dual view dumpers at CONEXPO. The new dumpers allow the entire operator's console to swivel 180 degrees so the operator is always facing the task. Now available in North America, the DV Series of dumpers provides optimal visibility, regardless of the working direction or payload size.
"With Wacker Neuson's new dual view dumpers, the operator always has full visibility ahead," says Dotto. "When loading and unloading, the operator looks in the direction of the skip. Before driving, the operator swivels the seat and console so he is facing in the driving direction. The system is easy to operate. Release the lock, turn the entire operating platform for maximum visibility while working/dumping or traveling. The operator faces forward in road mode for maximum travel speed up to 18.6 mph. Time-consuming turning and maneuvering, especially in confined areas, is no longer necessary, saving time and fuel."
In addition to the new DV Series, Wacker Neuson offers its DW Series, three tracked options in the DT Series and the 3001 — a popular choice for concrete applications.
"We developed a concrete edition on the 3001, so we changed the shape of the skip to retain the material better and get you a better volume," says Dotto. "It features a specific shoot and can get down to a 15-in. drop height, reducing splatter and minimizing segregation."
Mecalac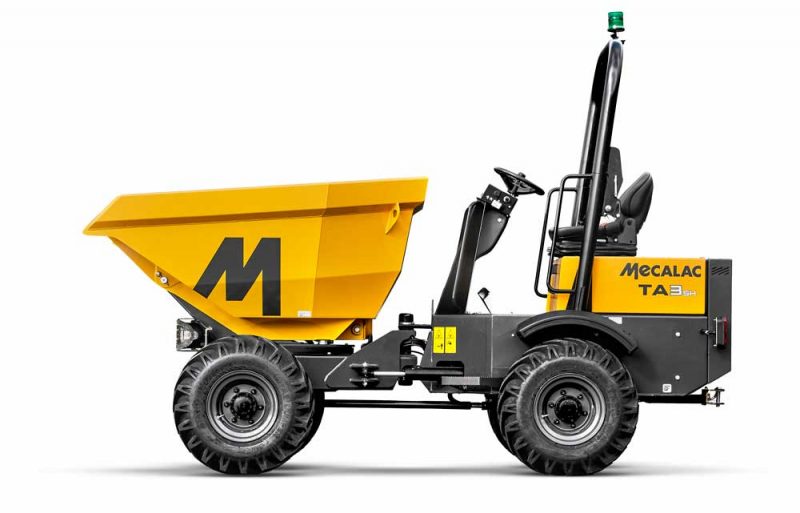 Mecalac's journey into dumpers started back in 1953 when a company named Benford started manufacturing the machines. Terex purchased the Benford dumper line in 1999, and in 2017, Mecalac took on the product. Today, Mecalac offers several 1- to 3-ton models including the popular TA3. Mecalac has seen success with this easy-to-use unit particularly in the U.S. market.
"The TA3 will hold about 1.3 cu yds of concrete or 2.5 cu yds of gravel or something similar," says Phillips. "It's a capable little machine featuring a 25-hp engine and hydrostatic drive. Aside from concrete applications, golf courses and cemeteries like them thanks to low-impact tires. Certain places like cemeteries don't like to dig and dump soil, so they'll excavate a grave, leave the dirt in the skip and put it back in. In the U.K., most of the machines go into general construction."
Fiori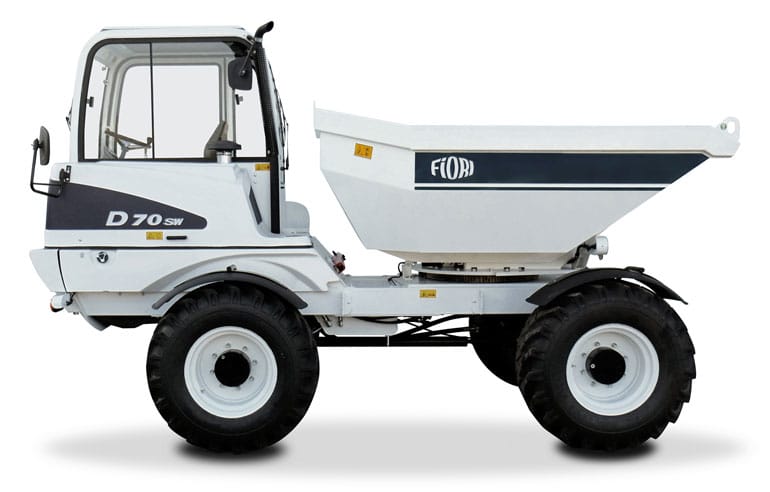 Dominion Equipment Parts introduced the Fiori line of dumpers to North America in 2017. Currently, potential customers can choose from three models: D40, D70 SW and D100 SW. All three Fiori dumpers feature Yanmar diesel engines, hydrostatic transmissions, articulated frames and four-wheel drive — making them a popular choice for use on construction sites. They also boast travel reversibility, as well as an operating station inside the cab that swings 180 degrees. According to the company, those two features allow a driver to always drive forward without ever having to back up. This gives the driver the ability to operate alone on any site without the need for a second person to serve as a spotter or backer. Other important features include 180-degree bed rotation, three-way dumping capability, excellent visibility and an ergonomic seat and controls.
"Fiori dumpers also have an enviable payload capacity-to-weight ratio," says Ken Byrd, president of Dominion Equipment Parts. "Fiori's smallest dumper, the D40, offers greater volume than a skid steer with a bucket or a cement buggy. Larger models represent progressively greater capacities. Greater volume means fewer trips and shorter job completion times that get them to their next job faster and enable them to complete more jobs in a given calendar period."
AUSA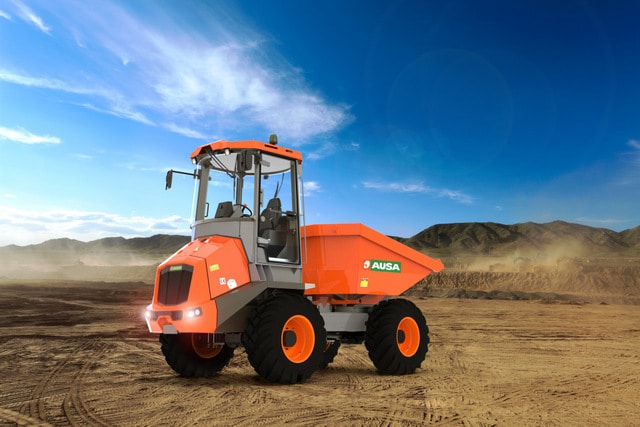 Manufacturer AUSA offers more than a dozen dumper options in the 1- to 6-ton range, from its D100AHA Compact to the D600APG. The company calls its D250AHG its most powerful compact dumper. The D250AHG is powered by a 49-hp engine and features a 2.5-ton payload and a 180-degree swing skip. According to AUSA, thanks to its unbeatable weight-to-power ratio, the D250AHG can overcome slopes of up to 70 percent gradeability, making it the best dumper for minor construction work in urban areas, with the best all-terrain performance.
Tags:
April 2020 Print Issue
,
AUSA
,
FIORI
,
Mecalac
,
Wacker Neuson