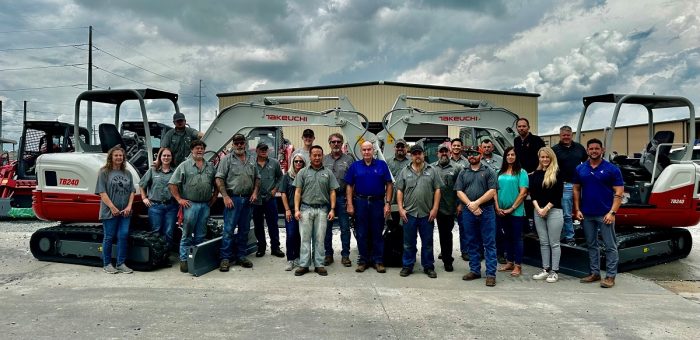 Takeuchi-US has expanded its North American dealer network with the addition of Ditch Witch of South Louisiana (DWSLA), located at 3602 Hwy 30 in Geismar. This location near Baton Rouge now carries the full line of Takeuchi excavators, compact track loaders and wheel loaders. They will also provide equipment rentals, replacement parts and serve as authorized Takeuchi equipment repair centers for customers throughout a multi-county area in Southern Louisiana. DWSLA also offers mobile solutions for Takeuchi sales, parts and service with a traveling sales team and equipment technicians.
Steve Jester founded DWSLA in 2002, and with his family, he continues to own and operate the dealership's locations in Geismar and Lafayette. Because almost all Ditch Witch customers also own excavators or track loaders, the addition of the Takeuchi equipment line compliments the Ditch Witch equipment line, creating a one-stop shop for underground construction customers.
"We're really pleased to partner with Takeuchi as an authorized dealer for sales and service," Jester said. "We look forward to growing the Takeuchi brand in Louisiana, and we will provide new and current customers the same excellent service and support they've enjoyed for decades.
"Takeuchi equipment is durable, comfortable and productive – exactly what today's equipment owners and operators are looking for in a machine. We're pleased to now offer their equipment, and we believe our customers will quickly come to appreciate the difference a Takeuchi machine can make."
The team at DWSLA strives to minimize customer downtime by employing highly trained and experienced technicians and staff who are committed to ensuring customers receive the parts, service and equipment they need to successfully complete their jobs.
"The folks at Ditch Witch of South Louisiana have worked hard over the two decades to provide the best equipment sales and service in their region," said Shay Klusmeyer, Takeuchi's division sales manager for the Central/Western US region. "Their entire team shares many of the same core values that we hold here at Takeuchi. We're very happy to welcome them to the Takeuchi dealer family, and we look forward to seeing how they can help us grow our market share in South Louisiana."
You love dealer news. Can't get enough, right? Well, click here for more. Like, lots more.