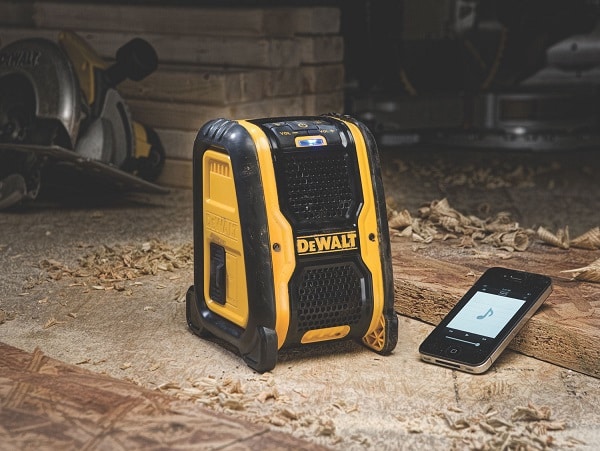 Thanks to DEWALT's new Jobsite Bluetooth Speaker, professionals can rock out to their favorite music both on and off the jobsite (I'm a Dierks Bentley fan myself).
The DCR006 Jobsite Bluetooth Speaker is ideal for users who are very mobile and need a lightweight, portable and convenient music solution.
"Many professionals on jobsites either listen to or stream music from their mobile phones. Often, contractors who want to stay mobile will listen to their music through the phone's speaker setting," says Todd Plajzer, Product Manager at DEWALT. "The AC/DC DCR006 Jobsite Bluetooth Speaker gives users the option to listen to music from their Bluetooth-compatible device without sacrificing the sound quality."
The DCR006 can run on either a 12V MAX or 20V MAX DEWALT lithium ion battery, or AC power via an AC adaptor (sold with speaker). The Jobsite Speaker includes one aux and one USB Power port. Contractors can use the aux port to play music from their Bluetooth-compatible MP3 players and devices. The USB power port allows for convenient device charging while powered by battery or AC power. The unit includes the newest version of Bluetooth (4.0) and the two 2½-in. speakers on the unit produce full, rich sound.
The DCR006 has a durable design including rubber over mold with rubber feet for protection from tough jobsite conditions, as well as hanging cut outs and an integrated handle for transporting around the jobsite. The Jobsite Bluetooth Speaker is designed with an easy-to-use interface including an LED light bar with large rubber buttons that can be seen from the front and top of the unit, making them easy to push while wearing work gloves.
The unit also includes a mute button to quiet the device without having to turn it off, allowing the user to retain Bluetooth connection with the device. The auto-shut off feature powers the unit down when the unit is disconnected from a Bluetooth device for an extended period of time, saving battery power.
The new DCR006 Jobsite Bluetooth Speaker will retail for $89.00 and be available in November wherever DEWALT products are sold. Battery and charger sold separately.