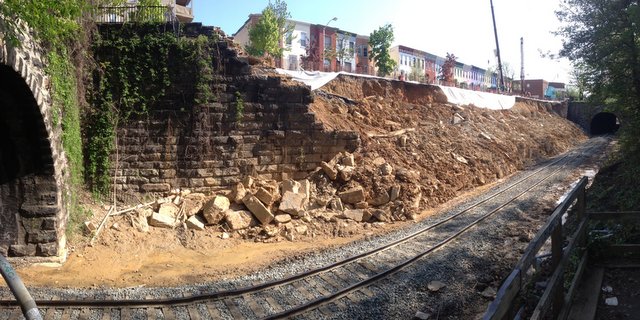 A century-old stone block retaining wall failure occurred in late April after heavy rain passed through Baltimore, Md. Part of East 26th Street and the sidewalk — along with eight parked cars, light poles and tons of soil — slid approximately 40 feet down, covering the adjacent train tracks below with debris. Hayward Baker Inc. (HB), a North American leader in geotechnical construction, is currently onsite constructing a temporary earth retention system to accommodate the construction of a permanent concrete retaining wall.
The landslide halted rail traffic through what is a main artery to the Port of Baltimore. It also forced the evacuation of 19 homes in the city's Charles Village neighborhood of row homes, located approximately two miles north of downtown Baltimore, until the first phase of earth retention construction reached completion. Due to the time-sensitivity of this project, HB worked seven days per week until the 26th Street residents were able to move back into their homes.
Scope of Work
HB was subcontracted to build a temporary soldier pile and lagging system with anchors by Concrete General Inc., working under an emergency contract with the City of Baltimore. McKinney Drilling, HB's sister company, was then enlisted to accelerate installation of the soldier piles.
The soldier piles and lagging, an earth retention system, utilize vertical steel piles with horizontal lagging. Installation of soldier piles driven at regular intervals along the temporary wall alignment was completed in June. Lagging is being inserted behind the front pile flanges as the caved soils are removed. Tieback anchors will be installed to provide additional lateral support to the wall. Anchor installation is expected to reach completion in August 2014. Concrete General Inc. will then begin construction of the permanent concrete earth retention wall to prevent long-term failures.
Commenting on the emergency repairs for the Baltimore landslide, Joseph Cavey, P.E., HB vice president, stated: "Despite encountering difficult soil and rock conditions, we were able to complete the soldier piles ahead of schedule thanks to the team effort between the City of Baltimore, Concrete General Inc., Whitman Requardt, and Hayward Baker crews. The team worked several very long days and weekends to install the 65 soldier piles quickly, allowing the city residents to return to their homes safely."
Tags:
Baltimore
,
Concrete General Inc.
,
Hayward Baker
,
home
,
McKinney Drilling