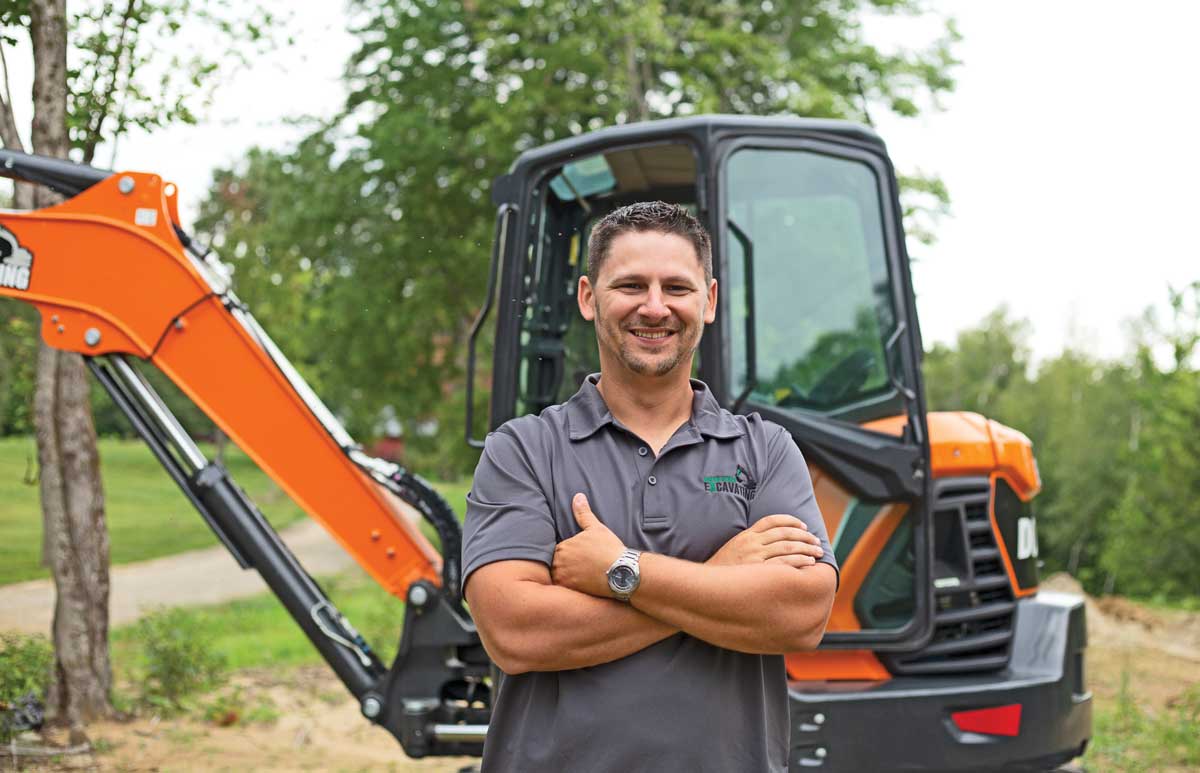 Mike Hassett decided to exit the construction industry after his first business struggled in the Great Recession. He was in his early 20s, and he admits he had lessons to learn. More than a decade later, he has a different philosophy for his new company, Green State Excavating of St. George, Vt., founded in 2020.
"I wanted to be the big show," Hassett says. "I wanted my name all over dump trucks and pickup trucks and excavators. I'm a hundred times better off financially now than I was then. I just want to keep my business small, manageable and enjoyable."
A year into business, Hassett is already winning work through customer referrals and is happy with his decision to take another shot at owning his own company.
Finding a Competitive Advantage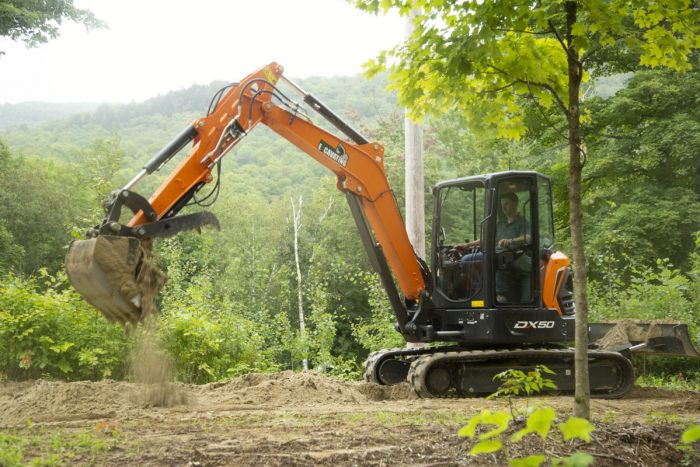 After his first company went under and before starting Green State Excavating, Hassett co-managed the sales department of a local automotive dealership. Years of sales experience have sharpened skills that serve him well today. He rarely works for general contractors but instead focuses on working directly with homeowners.
"Having a background in sales and customer service has given me a huge edge," Hassett says. "It's a market that a lot of guys in my industry won't go after because they don't want to deal with picky customers."
Hassett, however, enjoys that side of the work.
"I have no problem sitting in someone's kitchen and explaining what we're going to do, why it costs what it does, what the yard will look like through the process and what it'll look like at the end," Hassett says.
He finds that transparency and setting expectations keep customers happy. He goes out of his way to not overpromise and under deliver. He's not afraid of losing a job because his bid is too high.
What can we say? We love rental. So much so that we published a Digital Rental Guide covering everything you need to know when renting a machine. Check it out here!
"I would rather lose a job than have it go sideways on me," Hassett says. "I want them to know exactly how much it's going to cost."
For example, he had a customer who wanted to level a small area of their lawn, which required two loads of topsoil. However, when they saw how good the small area looked, they wanted more done. With their additions, the job ended up requiring 35 loads.
"I let them know the cost every step of the way," Hassett says. "It was a $6,000 bid that ended up being a $19,000 bill, but they were pumped about it because they understood the extra cost the whole way through."
Using the Internet to Find Customers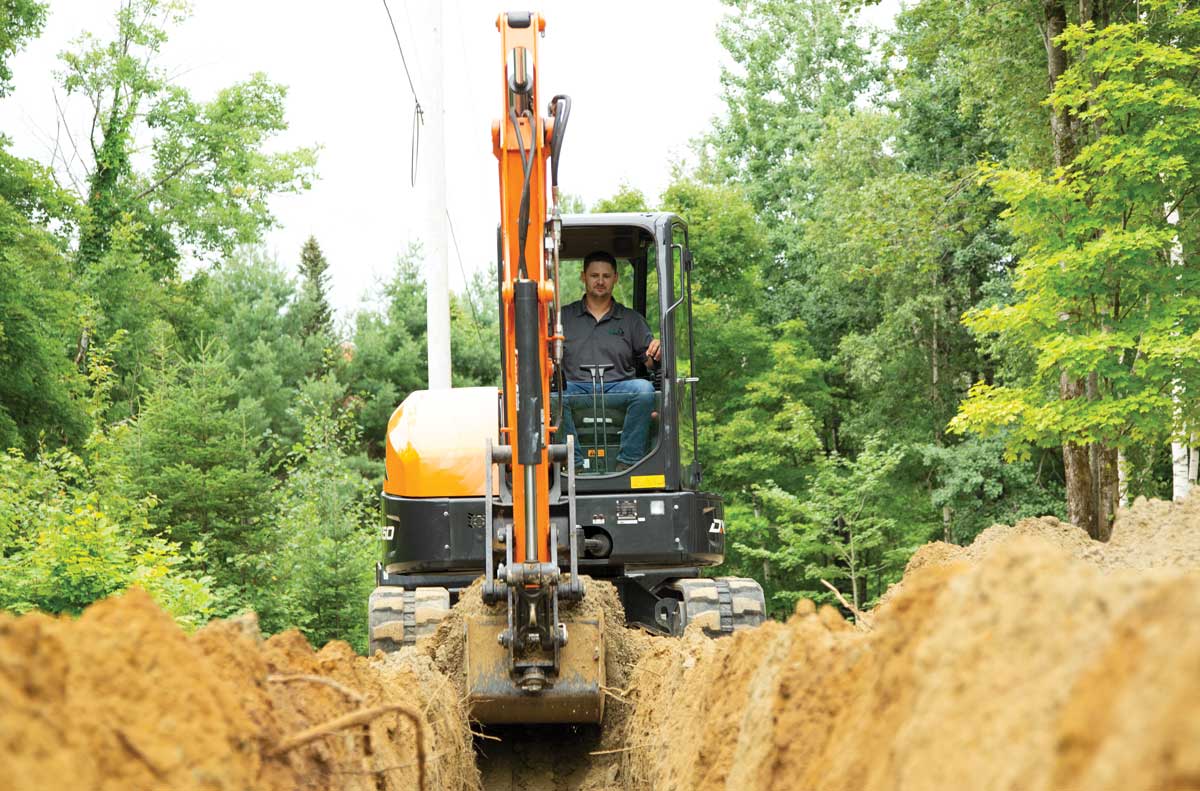 He started finding jobs by advertising his services on a regional website called Front Porch Forum. Those past clients now recommend him on the website to other posters seeking excavating contractors. It's proof that his attention to customer service is paying off.
"It's rewarding to get on there and see two or three former clients chime right in and say, 'You need to call Green State Excavating,'" Hassett says.
Leasing Vs. Buying Equipment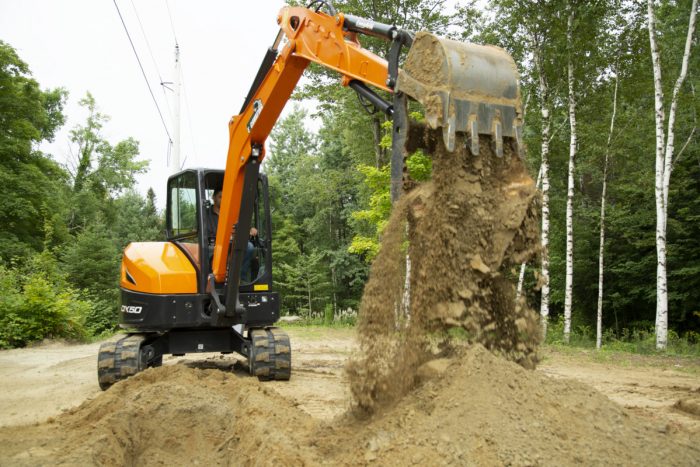 When Hassett closed his first company, he had to sell some pieces of equipment he owned, while those he leased went back to the dealership. He's learned from that experience. When starting his new company, he knew he wanted to lease all his machines. He likes the dependability of newer equipment. He also likes having an agreed-upon residual value of his mini excavator with his dealer.
"A lease gives me a checkpoint after three years," Hassett says. "If, after three years, the construction market is still good and the excavator is worth more [than the residual value in his lease terms], I can buy it. I could even buy it, then sell it and capture that difference. If the construction market tanks and the excavator is worth less [than the residual value], I can walk away."
After briefly renting equipment, Hassett's first leases were for a compact track loader, 7-yd dump truck and reduced tail swing Doosan 5-ton mini excavator with a long arm, hydraulic thumb and angle blade. He chose the 5-ton size, which he leased from G. Stone Commercial in Middlebury, because it was the biggest machine he could transport with either his pickup or dump truck.
Mini excavators are making big waves on jobsites all over North America. Click here for the latest news on these machines and the companies that make them.
"I don't want to lose the ability to move it with anything," Hassett says. The reduced tail swing and long arm fit his work on properties with existing structures.
"When you're tight near a garage in a confined space, the reduced tail swing helps a lot," Hassett says, "With the long arm, when you're in the wide open, it's just much easier to dig when you don't have to reposition [the machine] every time."
At first, he thought the angle blade was a gimmick. Now he says he would never buy an excavator without one because of the time it saves. For example, when backfilling a trench, Hassett angles the blade and reverses the DX50-5K mini excavator parallel to the ditch in a straight line. The machine's angled blade pushes the dirt in like a dozer would, and he can keep moving the mini excavator straight without repositioning. With a normal, straight backfill blade, he says he would have to position the excavator perpendicular to the trench, push a pile into the trench and then reposition the excavator to move the next pile.
"The angle blade saves a ton of repositioning," Hassett says.
Mike Slusark is a strategic communications manager with Two Rivers Marketing, Des Moines, Iowa.