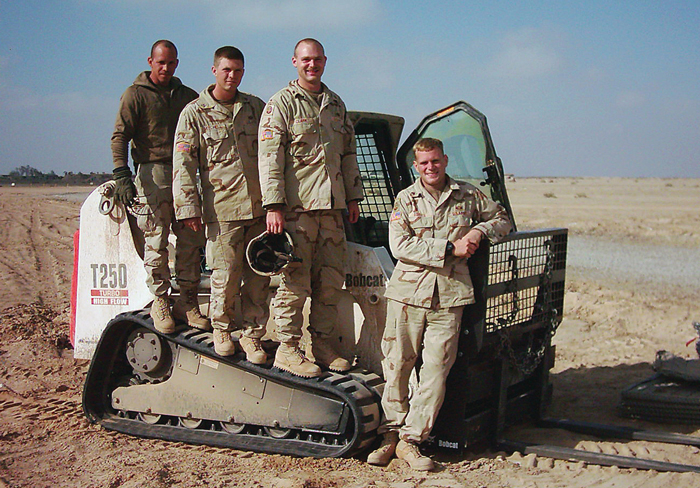 Ah-ten-SHON! A broad coalition of construction employers and associations have collectively pledged to hire 100,000 veterans over the next five years (OORAY!). During the Feb. 10 "A National Symposium: Veterans' Employment in Construction," hosted by the U.S. Department of Labor and Joining Forces, First Lady Michelle Obama and U.S. Secretary of Labor Thomas E. Perez celebrated a broad coalition of construction employers and associations that are hoping to hire 100,000 veterans over the next half decade.
Also at the announcement were representatives of the construction companies making these hiring commitments, veterans who have completed apprenticeships in the construction industry and other leaders in the field.
In an op-ed running in the Wall Street Journal, Obama wrote: "Today, more than 100 American construction companies came together to announce that they plan to hire more than 100,000 veterans within the next five years. They made this commitment not just because it's the patriotic thing to do, and not just because they want to repay our veterans for their service to our country, but because they know that it's the smart thing to do for their business.
"All men and women who have sacrificed for our country in our armed services deserve opportunities for good jobs worthy of their character and their achievements," Perez said. "The Department of Labor will do whatever it takes to help our veterans translate their skills and leadership into jobs, and I am inspired by the commitment displayed today by the construction industry and all our partners in helping to achieve that mission."
The Bureau of Labor Statistics estimates that construction is one of the fastest-growing industries in the nation, with job growth of more than 1.5 million jobs between now and 2022 — an annual growth rate of 2.6 percent. Construction companies large and small — from national firms like Jacobs and Bechtel, to regional firms like Cianbro Construction, to local contractors and subcontractors across America — are stepping up to ensure their industry welcomes home the nation's heroes with good-paying jobs. More than 80 additional companies are committing their existing training and employment programs to fill new construction jobs with veterans.
The construction industry was represented at the announcement by executives of several participating companies.
"Veterans are invaluable to the construction industry. Men and women who serve in the military often have the traits that are so critical to our success: agility, discipline, integrity and the drive to get the job done right," said Marine Corps veteran Larry L. Melton, project executive for Bechtel. "Bechtel is passionate about supporting veterans, and we continue to expand our efforts to hire transitioning military members."