Construction Apps – Mobile innovations and applications ranging from Dexter + Chaney to Volvo CE.
Payroll Time Entry
Dexter + Chaney, providers of Spectrum Construction Software, has released its new mobile app, Payroll Time Entry. Developed for Android and Apple tablets and smart phones, the Payroll Time Entry app lets supervisors and project managers quickly and easily enter equipment and labor hours directly from the jobsite. Users simply select the appropriate job, then enter time for all equipment and employees assigned to that job. The app lets users assign and reassign equipment and people as needed and provides tracking for supervisors to employ when monitoring the equipment and labor costs associated with their jobs. Payroll Time Entry can be used online or offline. Data is synchronized automatically with Spectrum, Dexter + Chaney's cloud-based construction software. For more info, visit dexterchaney.com.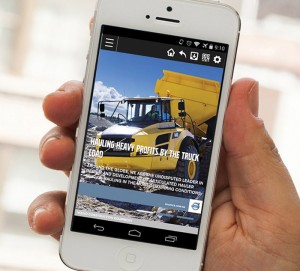 Volvo Construction Equipment Mobile
The Volvo CE Insider app allows mobile device users to easily access the latest information, resources and customer support solutions from Volvo Construction Equipment — 24/7 without an internet connection or cell phone reception. Available for smartphones and tablets, the Volvo CE Insider app offers quick links to product highlights, attachment and aftermarket options, details on special offers, relevant news, videos and Volvo Construction Equipment social channels — Facebook, Twitter, YouTube and Flickr. Detailed product specs allow a user to compare Volvo machines with equivalent competitor models. Each product model listing includes a compare function that offers a side-by-side view of key specs, including driveline, dimensions, performance, capacity and machine weight. The Volvo CE Insider app is available from Google Play or the Apple app store.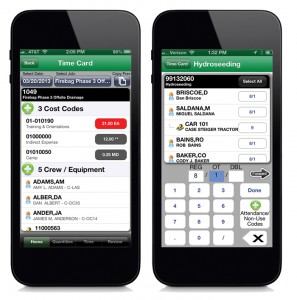 HeavyJob Mobile
The HeavyJob Mobile App from HCSS helps cut foremen's data entry time in half and gets daily job costs and production results in less time. Entering time card information is fast and easy with the ability to import crews or copy from previous time cards — often taking less than 5 minutes to complete. More than 2,100 field personnel now use the mobile app to document everything, including daily diaries, photos, weather, quantities, safety meetings, fuel, subcontractors and materials. HCSS Mobile Apps are compatible with iOS and Android devices, and they work offline so an Internet connection is not required. Since 1986, HCSS has been developing software to help construction companies streamline their operations. For more info, visit hcss.com.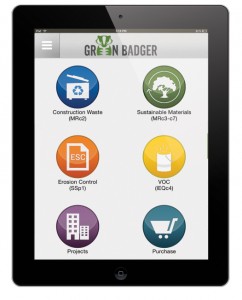 Green Badger LEED Documentation
Savannah-based Green Badger LLC, which successfully launched the Green Badger LEED Documentation App at the Greenbuild Expo in November 2013, has teamed up with SLAAM Ventures, a New York and Savannah-based seed capital firm, to accelerate Green Badger's product development. This product acceleration will allow Green Badger to better meet the needs of the LEED marketplace, which has been demanding a product that will simplify and reduce cost of the LEED documentation process. Using the Green Badger software, LEED professionals including architects, designers, owners, builders and subcontractors, can manage all of their LEED construction credits right from their smartphone or tablet, whether at the drafting table or in the field. TFor more info, visit getgreenbadger.com.
Tags:
Apps
,
Construction
,
Dexter + Cheney
,
Green Badger
,
HeavyJob
,
Software
,
Volvo