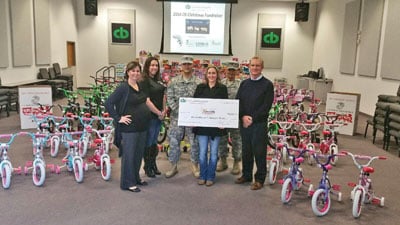 Construction Angels is a 501(c)(3) Non-Profit organization that provides immediate financial assistance and grief counseling to the spouse and children left behind after a construction worker has lost their life on a jobsite. They also offer construction safety information and resources, as well as raise awareness of construction fatalities in the United States. Statistics indicate that 796 construction workers lost their lives in the United States while on a construction jobsite in 2013.*
The charity has expanded rapidly in the state of Florida since it began its mission in June 2011. Its success in assisting families throughout Florida has led Construction Angels to expand into Georgia and Ohio in 2015. Construction Angels relies primarily on fundraisers, associations, corporate sponsors and donations to provide assistance to these devastated families and has been effectively gaining the support of local and national construction associations, companies and corporate sponsorships.
"These men and women work hard to provide for their families while building our homes, roads, bridges and places to work across the United States," says Kristi Ronyak, president and founder of Construction Angels Inc. "Many of the families we have assisted over the years live paycheck to paycheck without any financial planning in place for their families. Their financial and emotional struggles begin immediately, and Construction Angels is so happy to make a difference in these families' lives with support and grief counseling,"
Construction Angels has various fundraisers that take place throughout the year in Florida such as golf tournaments, fishing tournaments and networking events. On April 18, 2015, Doc Reno of Big 105.9 Miami will host the First Annual Alligator Ron's WingFest to benefit Construction Angels. This event will have live classic rock and country bands throughout the day with amazing local restaurants competing for the "Best Wings" and "Best Wing Sauce" titles in South Florida. To purchase tickets or learn more, visit alligatorronswingfest.com.
On top of this event, Construction Angels will be present at the NUCA 2015 Convention in Ft. Lauderdale, Fla., March 24-26.
"We are extremely appreciative of the recognition that the National Utility Contractors Association has given Construction Angels and the opportunity to bring more attention to the charity," says Ronyak. "Construction Angels hopes one day to work together with NUCA Chapters on a national level throughout the United States. NUCA has offered to provide us with a booth at its 2015 convention, so please stop by and introduce yourself. Our charity will provide information and discuss topics with attendees that relate to the safety and fatalities within our construction industry."
For more information about this great charity or ways to help, visit constructionangels.us or contact Ronyak directly at 754.300.7220 or via e-mail at Kristi.Ronyak@ConstructionAngels.us.
*Bureau of Labor Statistics U.S. Department of Labor
Sharon Dressler is the director of Construction Angels Inc. and business development consultant and employee-owner of The Blue Book Building and Construction Network. She can be reached at 954.260.6164 or sdressler@mail.thebluebook.com.
Tags:
Charity
,
Construction Angels
,
home
,
March 2015 Issue