Chicago Pneumatic Power Technique (CP) put together a 2018 campaign to raise awareness for autism. Recently, they held a check presentation ceremony in partnership with Franklin Equipment, a CP dealer. Hosted at Franklin Equipment's facility in Groveport, Ohio, CP presented a $6,500 check to Scott Badesch, president of the Autism Society of America.
At The Rental Show held in New Orleans in February, CP wrapped its CPG 25 generator with the iconic puzzle pieces of the Autism Society of America and announced that for every CPG 25 unit sold at the show, the manufacturer would donate $500. The money raised comes directly from the sale of 13 units.
In addition to purchasing the wrapped show floor model, Franklin Equipment donated another $500 to the cause. The dealer plans to continue to spread awareness for as long as they rent the unit out to customers. CP Midwest regional sales manager Rob Teasley, whose son Austin is autistic, championed the initiative. Rob, with wife Tiffany and Austin, spoke at the event before handing a check over to Mr. Badesch.
"It means a lot to my family that CP would step up and put so much support behind this initiative," said Teasley. "It was a hit at The Rental Show. Attendees walked into our booth to ask about the generator and some of those people were parents of autistic children. It is going to be awesome to see our CPG 25 wrapped generator out on a job site — it will certainly turn some heads."
An additional model will receive the same autism branded treatment for A Tool Shed. Located in Sunnyvale, California, the dealer plans to rent out the unit with proceeds going to an autism charity.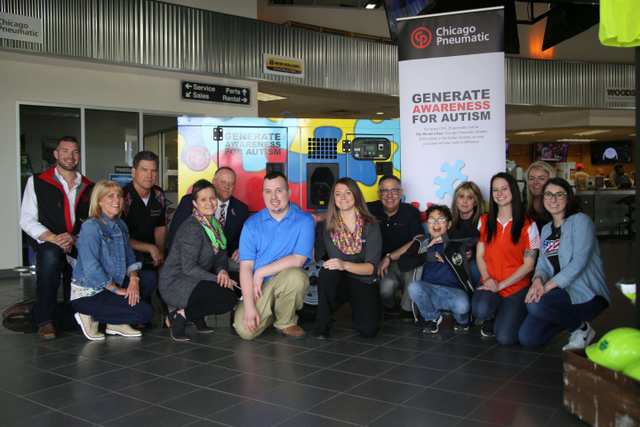 Facts about Autism
Autism is a complex developmental disability affecting a person's ability to communicate and interact with others
Signs typically appear during early childhood
Every 11 minutes someone in the U.S. is diagnosed with autism
The cost of caring for one individual with autism can be as high as $2.4 million, including support needs for everything from medical treatments to costs related to school and employment
The puzzle pieces reflect the complexity of the autism spectrum, while different colors and shapes represent the diversity of people and families living with the condition
Tags:
Autism Society of America
,
Chicago Pneumatic
,
Chicago Pneumatic Power Technique
,
Franklin Equipment
,
The Rental Show