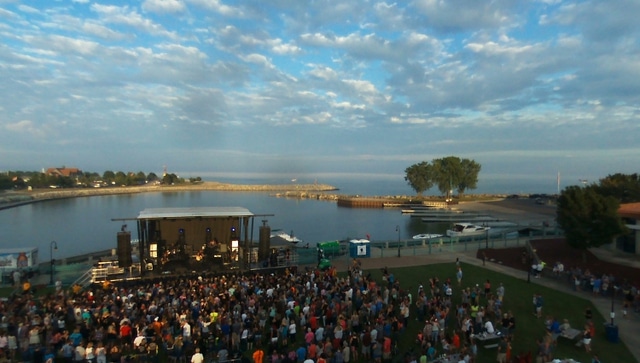 The first ever "Labor of Love Music Festival," hosted by Case Construction Equipment on Labor Day 2015, raised $10,000 for Wounded Warrior Project through ticket sales, a silent auction and a percentage of on-site beverage sales donated by the Racine Civic Centre. Case employees also donated five barrels of food to the Veterans Outreach of Wisconsin, who raised an additional $1,266 through a 50/50 raffle held at the event. Attendance was estimated at 2,000.
Case launched the festival to raise money for Wounded Warrior Project, and to highlight the role that returning veterans can play in filling skilled jobs in the construction and manufacturing industries.
"We were overwhelmed by how the community responded. The Labor of Love Music Festival was launched to help fill the gap of skilled workers in the construction and manufacturing industries by matching them up with veterans coming back from service. In addition to raising funds at the event, we also raised awareness to local resources and our job matching website," said Athena Campos, senior director of marketing — North America, Case Construction Equipment.
Veterans looking for jobs in these industries can begin their search via the Case website.
"We owe a great deal of gratitude to our sponsors, Racine's public officials and to Kip Moore, Bella Cain and Run Carolina for putting on an amazing show," said Campos.
For more on the festival, visit CaseCE.com/LaborofLove. Highlights include a powerful performance of the original song "Heroes" by Wounded Warrior Project representative Sal Gonzalez Jr. (www.youtube.com/watch?v=HotDkT7Fpzs), and photos and videos from other event partners.
Tags:
Case
,
Case Construction Equipment
,
Labor of Love Music Festival
,
Veterans Outreach of Wisconsin
,
Wounded Warrior Project