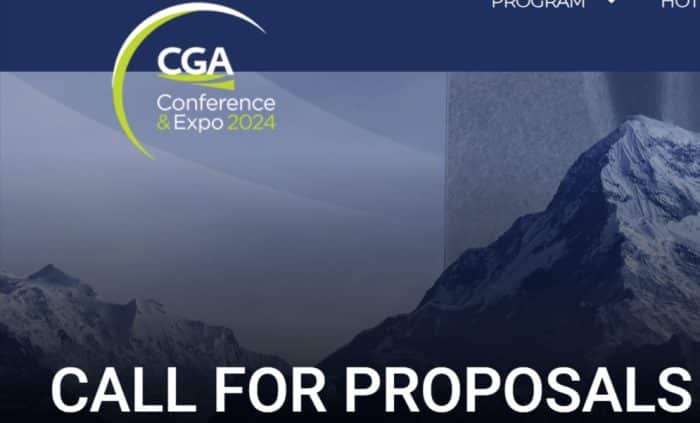 Common Ground Alliance (CGA), the stakeholder-driven organization dedicated to protecting underground utility lines, people who dig near them and their communities, announced that the Call for Proposals for the 2024 CGA Conference & Expo is open now through Tuesday, Oct. 3. CGA is seeking session proposals from industry professionals and subject matter experts to help facilitate thoughtful discussions and formulate concrete actions that the industry can implement to dramatically reduce damages to underground utilities.
The 2024 CGA Conference & Expo, set to take place April 14-18, 2024, in Colorado Springs, Colo., is the damage prevention industry's premier event, bringing together distinguished experts and decision-makers for a week of focused collaboration and innovation designed to address the industry's most pressing challenges. Educational and action-oriented programming will engage stakeholders in thoughtful roundtable discussions, focused presentations, interactive breakout sessions and networking events. Presenting at the 2024 CGA Conference & Expo provides damage prevention professionals an opportunity to have their voice be a pivotal part of the future of damage prevention.
Sessions will be held in a variety of formats, including Outcome Focused Presentations, Moderated Debate/Roundtable Discussions, Panels and the CGA Engage Stage. Key topic areas that are of interest to CGA members and Conference attendees include:

Eliminating inefficiencies in the damage prevention system
Enforcement, exemptions and other safe digging law impacts
Strategies to aid in the 50 in 5 initiative
Technological advancements, including mapping, GIS and AI
Outreach and education efforts to drive public awareness among excavators
Progress and effectiveness measurement tools
Reducing overnotification to streamline the 811 system
Exploring new frontiers in stakeholder engagement
"As the industry works to achieve its "50 in 5" goal, aimed at reducing damages to underground utilities by 50% over the next 5 years, the 2024 CGA Conference & Expo offers stakeholders the opportunity to accelerate progress through shared knowledge, innovative strategies, focused engagement and concrete actions," said Sarah K. Magruder Lyle, president and CEO of CGA. "Uniting diverse expertise and perspectives across the damage prevention industry is a vital step toward identifying strategies that will address the top damage root causes. The 2024 CGA Conference & Expo eagerly invites inventive, outcome-focused proposals from industry professionals and subject matter experts that will foster dynamic discussions and help inspire critical changes to achieve our "50 in 5" industry goal."
Those interested in participating in the damage prevention discussion may submit outcome-oriented, results-forward session proposals using this application through Oct. 3, 2023.
For more information about the CGA Conference & Expo Call for Proposals, visit the conference website or contact Khrysanne Kerr at kerr@commongroundalliance.com.
We'd love to keep in touch! Check us out on Facebook, Twitter and LinkedIn!