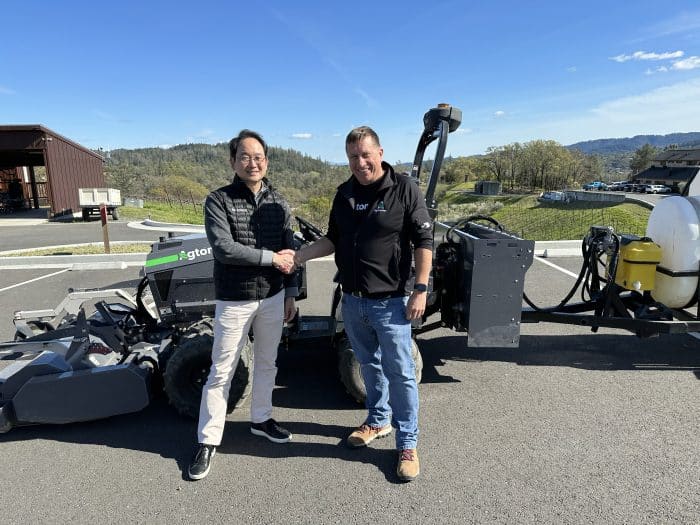 Bobcat Co., a global compact equipment, innovation and worksite solutions brand, announced today a strategic investment in Agtonomy, a Silicon Valley-based, ag tech software company that helps agriculture and land maintenance operators optimize operations through sustainable, innovative solutions.
Bobcat's equity investment is part of a broader strategic partnership with Agtonomy formed earlier this year to create new and innovative ways to enhance Bobcat equipment for increased productivity and performance.
"By leveraging the software solutions developed by Agtonomy, we can continue to focus on productivity gains from Bobcat equipment and advance alternative energy and autonomous innovation in farming and related industries," said Scott Park, CEO and vice chairman of Doosan Bobcat, Inc. "We are always looking to bring the best solutions to our customers. And, given our ongoing partnership, we are excited to pioneer new advances together to empower farmers to accomplish more."
This investment will accelerate development to deliver value to specialty ag farmers and growers to help them lower operating costs, achieve greater efficiencies and address ongoing skilled labor shortages.
"We're delighted to strengthen our partnership with Bobcat, the leading innovator in compact equipment," said Tim Bucher, CEO and co-founder of Agtonomy. "By joining forces, we can rapidly accelerate our impact on the farming community. With our shared commitment to innovation, we are poised to deliver solutions that address the many challenges facing agriculture today."
Agtonomy's technology allows farmers to remotely execute labor-intensive field tasks, such as weeding, spraying, mowing and transporting with more precision. The solution allows farming operations to automate workloads, increase labor efficiency and provides farmers with greater control over the economics of their operations.

"Our dedication to innovation, the future of autonomous operation and alternative-energy solutions makes Agtonomy an ideal company to invest in as we strive to help farmers be more productive and efficient," said Joel Honeyman, Doosan Bobcat vice president of global innovation. "We are committed to integrating smart solutions with our equipment to advance the farming community."
Bobcat offers an extensive lineup of agriculture equipment along with attachments designed for farmers, ranchers and landowners. Through this partnership, Bobcat and Agtonomy will collaborate to create new and innovative ways of enhancing Bobcat equipment for increased productivity and performance to benefit farmers and specialty growers.
Investments like this are a critical aspect of Bobcat's vision to integrate smart and sustainable technological advances with its 65-year legacy of innovation.

Learn more about how Bobcat is transforming the industry through its innovation leadership.
We'd love to keep in touch! Check us out on Facebook, Twitter and LinkedIn!