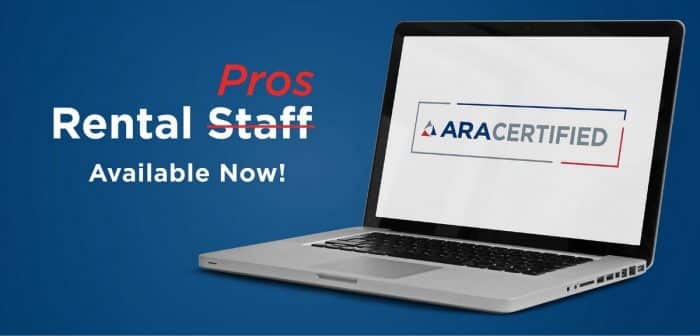 The American Rental Association (ARA) has launched its first ARA Certified programs: ARA Certified — Sales, ARA Certified — Service, and the ARA Certified Mobile Elevating Work Platform (MEWP) program. ARA Certified — Sales and ARA Certified — Service are online professional development programs designed to teach your employees fundamental knowledge about the equipment rental industry they will need on the job. The ARA Certified MEWP training program satisfies the new ANSI A92 standards approved in June 2020.
"The ARA Certified programs we launched in March are a direct reflection of our association's strategic initiatives that are focused on safety and preparing the industry for the future," says Tony Conant, ARA CEO. "These programs establish rental industry standards, professional development and training that you can't find anywhere else."
The ARA Certified MEWP Train the Trainer program is a hybrid program. The classroom portion of the training is all online in RentalU (ARA's learning management system) and then a 4-5 hour live, hands- on training session is conducted by a certified master trainer. Graduates are qualified to train others using the ARA Certified MEWP program. The hands-on training portion is presented by ARA state associations or other local settings for members without an active ARA state chapter.
What can we say? We love rental. So much so that we published a Digital Rental Guide covering everything you need to know when renting a machine. Check it out here!
The initial member reaction to the ARA Certified programs is excitement for the long-awaited arrival of professional certifications for equipment rental staff. "For the past three years, I have been pushing for a certification for equipment like the event segment has with ARA's CERP [Certified Event Rental Professional] program, and it thrills me to know that it is finally happening," says Beth Hoff Blackmer, president, Aspen Rent-All, Basalt, Colo. "We, as individuals and businesses, are always seeking ways to grow personally and professionally. The ARA Certified programs will be a fantastic offering for owners to offer to their staff. It also promotes rental as a safe industry, which is critical in the construction field. I look forward to becoming certified and urge all in the industry to join me."
Work on ARA Certified programs for forklift operations and MEWP operator certifications for rental customers is underway and are expected to be released in 2023. You can get started with ARA Certified MEWP Train the Trainer at ARArental.org/MEWP, and with ARA Certified Sales and ARA Certified Service programs at ARArental.org/Certified.