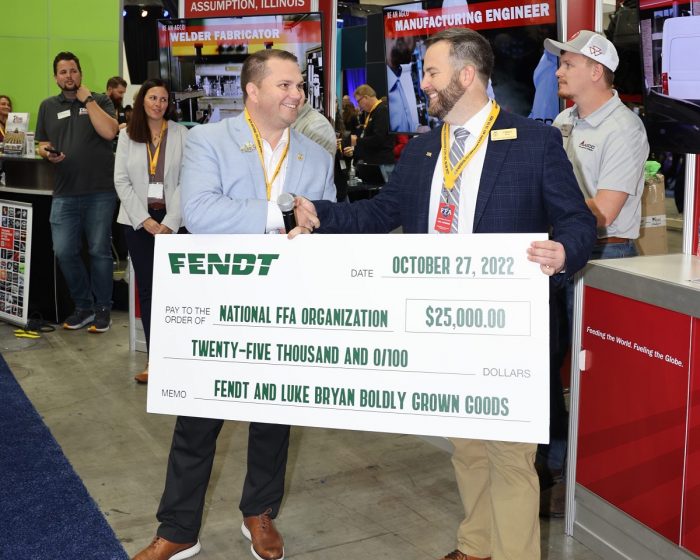 AGCO Corporation, a global leader in the design, manufacture and distribution of agricultural machinery and precision ag technology, today donated $25,000 to the National FFA Organization, the premier youth organization that prepares members for leadership and careers in the science, business, and technology of agriculture, at the 95th National FFA Convention & Expo. The donation is tied to Fendt and Luke Bryan's collaboration to harvest and sell limited-edition popcorn.
Fendt & Luke Bryan's Boldly Grown Popcorn, packaged in Bold Butter and Chart Toppin' Churro flavors, was made available for purchase in August. As a strong supporter of FFA's educational mission, AGCO announced its intent to donate to the National FFA Organization once the limited supply of Boldly Grown Popcorn sold out.
"As a farmer-first company, we are delighted by the enthusiastic reception generated by our collaboration with Luke and we're still amazed that the popcorn sold out in minutes," said Conor Bergin, senior brand manager for Fendt. "Boldly Grown Popcorn proved to be a fun opportunity for AGCO, Luke, and his fans to help FFA prepare tomorrow's farming leaders."
AGCO representatives attended the National FFA Convention & Expo in Indianapolis to make the $25,000 donation in person and celebrate the next generation of leaders.
"We appreciate AGCO's continued support of FFA and our mission to prepare future generations for the challenges of feeding a growing population," said Christopher Bell, FFA's regional director for corporate contributions. "This latest donation will help our organization continue to develop our young members' potential through hands-on experiences to achieve real-world success."