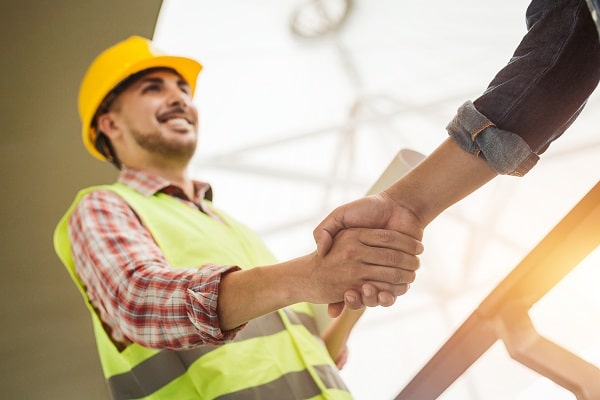 The fear of jobs in the construction and manufacturing industry being automated by machines has never been higher, but research shows these fears should be our top concern as there's another threat much closer. The talent gap in the industry is set to increase with millions of jobs going unfilled in the coming decade.
According to the 2018 Skills Gap Study by Deloitte, 2.4 million jobs will likely go unfilled over the next decade. The economic effect of this? A total estimated loss of $2.5 trillion by the year 2028. With such serious consequences, an outsider would assume that there would be a collective effort by the industry to bring the new talent and bridge this skills gap. Unfortunately, that's not yet the norm. According to a recent study on talent development by FMI, nearly half (43 percent) of all participating construction firms do not have a formal worker development program and 89 percent are reporting worker shortages.
Thankfully, a few firms are leading the charge against this threat.
1. Volvo CE's Road Institute 2019-2020
54 years in the running, Volvo Construction Equipment has brought back its Road Institute program for this year. It is an operator and technician training program that offers courses in operations, maintenance and safety procedures. The course offers a mix of classroom learning and hands-on training on many of its heavy machinery including soil and asphalt compactor product lines.
Though the program is not new, it's good to see Volvo continuing to educate workers and contributing to bridging the skills gap in the industry.
Interested candidates (doesn't matter if you're a veteran or a beginner) must sign up for the program and attend classes at one of the four training centers: Shippensburg and Chambersburg, Pa., and Phoenix. Each session lasts 2-5 days.
2. Komatsu VR Training Program
Hiring external employees is often one of the most expensive processes once the cost of training is included. This is especially true in the industry as operators often require hands-on training with heavy machinery which is both expensive and risky. While most firms are focusing on improving their safety procedures, Komatsu has instead decided to focus on new technologies, particularly, virtual reality.
The WorksiteVR offers construction machine training and testing in a simulator with learning modules, realistic controls, and various pre-defined scenarios. The company also seems to be fully committed to they are set to acquire Immersive Technologies, a global mining technology and workforce optimization firm.
We believe this innovation is taking the industry in the right direction as technology has advanced a lot in the past few years but the construction industry is not making full use of it. If the industry wants to bridge the skill gap, it must integrate modern technology into day-to-day processes.
3. Integral Group's "Fresh Voices"
While most firms are focusing on bringing onboard new employees and at the same time, cutting down training costs, Integral Group, an engineering firm, is focusing on retaining their current employees by making them more invested into the company. They are doing this through their "Fresh Voices" workshops. These workshops are meant to be a retreat for their employees from the usual workplace bustle and act as a platform for diverse and thoughtful discourse, both from a local and global perspective.
These workshops will promote employees to come up with creative solutions and ideas that will shape the company's future — making them feel like a bigger part of the company. According to CEO and founder, Kevin Hydes, "these ideas will be a critical influence on the future direction of our firm in the short, medium and long term."
According to Integral's annual report, participants in the study created a report that was later shared with the entire firm to maximize the impact of the workshop.
The construction industry seems to be on track for healthy growth but this growth will undoubtedly be hampered by the lack of a skilled workforce. That said, a few firms in the AEC industries are taking different approaches, innovating, and experimenting with new strategies to tackle this growing threat, and most importantly, motivating other players in the industry to do the same.
This article was written by Nina Sharpe. She is a content writer for SkidHeaven.com and specializes in writing high-quality content specializing in CTLs MTLs, SSLs and construction safety. Her vice in life is a nice glass of red wine, a great cup of coffee (black) and sandy toes on the beach.
Tags:
FMI
,
Integral Group
,
Komatsu America Corp.
,
Volvo Construction Equipment