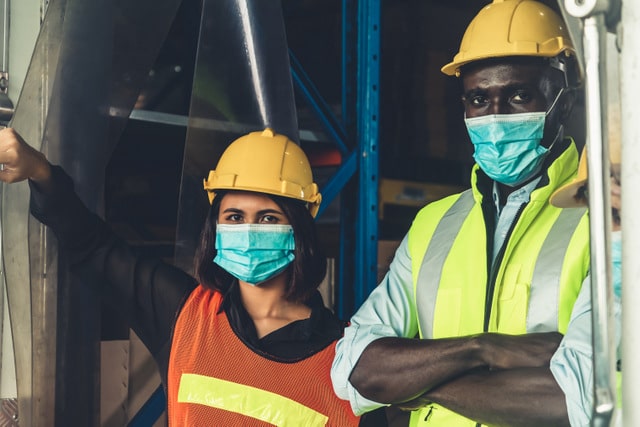 The construction industry added 51,000 net new jobs in December, according to an Associated Builders and Contractors analysis of data released today by the U.S. Bureau of Labor Statistics. During the last eight months, the industry has added 857,000 jobs, recovering 79.1% of the jobs lost during the earlier stages of the pandemic.
Nonresidential construction employment added 29,000 net jobs in December. Nonresidential building was the only subsegment that experienced a net loss in jobs, contracting by 4,300 positions. Nonresidential specialty trade contractors added 18,300 jobs for the month, while heavy and civil engineering added 15,000.
The construction unemployment rate rose to 9.6% in December from 7.3% in November and is up 4.6 percentage points from the same time last year. Unemployment across all industries remained unchanged at 6.7%.
"The case can be made that the U.S. economy is back in recession," said ABC Chief Economist Anirban Basu. "Retail sales began to slip in October, and according to today's release, the nation is now losing jobs. With significant segments of the economy still completely or partially shut down, the likelihood is that further jobs losses are forthcoming.
"Given the estimate that the nation lost 140,000 jobs, nonresidential construction's performance looks brilliant," said Basu. "Indeed, during much of the pandemic period, nonresidential construction has represented a relative bulwark of stability, buoyed by its frequent status as an essential industry and a large backlog coming into the crisis. December was no exception, with the segment adding 29,000 jobs during the month."
"One of the brightest aspects of the employment report is the growth in jobs in heavy/civil engineering and among nonresidential specialty trade contractors," said Basu. "Job growth in heavy engineering suggests that infrastructure spending continues to be an economic stabilizer as the pandemic lingers. ABC's Construction Backlog Indicator survey shows that the infrastructure segment has held up reasonably well throughout the recession. The growth among nonresidential specialty trade contractors may be an indication that many building owners are using the absence of office workers and visitors to modernize structures, keeping many construction firms, including smaller contractors, busier than they otherwise would be.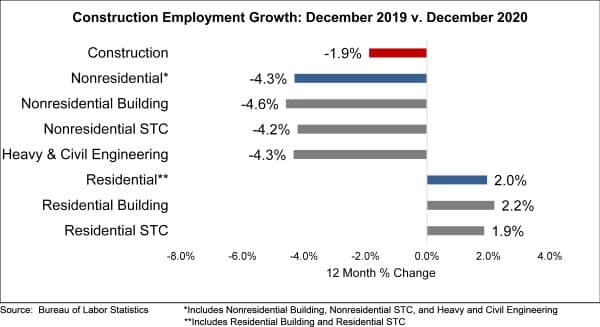 "The expectation remains that as vaccination proceeds, the U.S. economy is poised for a significant uptick in growth during the latter half of 2021," said Basu. "That will set the stage for improving industry performance in 2022 and beyond, particularly if the new administration is able to push forward an aggressive infrastructure stimulus package."
Tags:
Associated Builders and Contractors