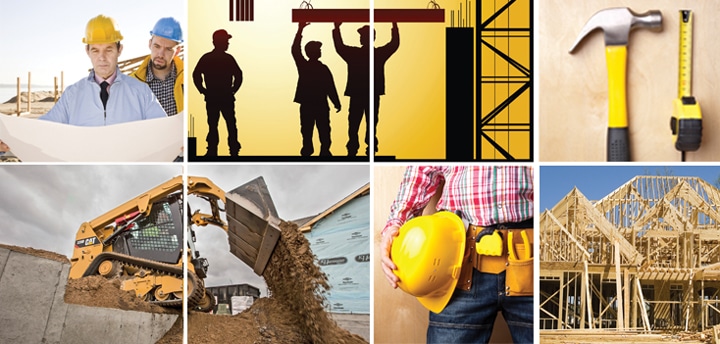 As always, the construction outlook has a mixture of good signs and bad. For instance, the unemployment rate for construction workers is now in line with the unemployment rate for all workers at around 4.5 percent. There are still many people unemployed who aren't in the count as job seekers anymore, and that will be a difficult problem to fix as workers are displaced by technologies or employers relocating, growing, downsizing, etc. The construction industry is in the middle of this situation as employers find it difficult to hire skilled workers at the right time and in the right place. Employment, along with the fight for higher/lower wages that goes with it, will continue to be a challenge for the economy.
• GDP is up.
• Employment remains high.
• Wages in the construction industry are up.
• The Federal Reserve managed to increase the interest rate and expects to have more increases in 2017.
• The CPI remains low.
• The price of oil and gas is working its way up again.
• Consumer confidence is high.
Even considering many good signs that the economy is tracking in the right direction, there are no signs of over exuberance in the forecast. For construction, FMI expects a 1 percent increase in construction-put-in-place growth over the 5 percent in 2016. Our forecast is tempered by many forces, including a downtick in the fourth quarter FMI Nonresidential Construction Index, which dropped just 0.4 points to 56.9. In the fourth quarter of 2015, the index stood at 59.5. While the trend indicates a slower outlook for nonresidential construction, the index is still solidly in positive territory as it has been since the first quarter of 2012. While most of the economic components of the NRCI slipped lower, backlogs increased from 10 months to 12 months with expectations that backlog growth will continue in the near term. Looking at markets, the outlook continues to be positive for all markets through 2017, but the three-year outlook is less rosy.
Many NRCI panelists are concerned about how many global and political events might affect the economic picture in the next year. We asked construction executives which events normally made it into the planning cycle. For instance, from the survey comments, we heard: "We do a lot of senior care work, and the residential housing market affects this work directly. When the cost of homes plummets, seniors postpone entering these facilities, which hurts our business." Overall, the top-three ranked positive factors included private sector investment activity, specific construction market sector trends and consumer sentiment and spending decisions. U.S. monetary policy and the results of the elections also ranked as high positives for 2016 expectations. On the other hand, the top-ranking issue on the negative side was the results of the U.S. elections. This was followed by concerns about unemployment rates and U.S. monetary policy.
Given the general economic caveats above, even though we expect slow growth for construction overall, there will be some significant changes in given market sectors and regions. For instance, lodging construction has been on a major capital improvement plan in recent years. We expect growth to drop from 19 to just 9 percent in 2017. Manufacturing construction took a breather in 2016, but we expect it to get back in the game at 8 percent growth for 2017. And, this is without being certain what incentives or disincentives the incoming administration will enact. Growth in office space has had a significant recovery in the past three years, and even at just 8 percent growth for 2017, it will continue to outpace the overall economy in 2017. Health care construction will likely get more attention than it would like in 2017, as the health care system is again overhauled. At this time, we expect a 4 percent growth rate for 2017 in health care construction.
Residential Construction
After four years of double-digit growth, we expect single-family housing to gain 7 percent for 2016 and grow by 6 percent in 2017. With the prospect that interest rates will continue to rise in 2017, housing affordability will be a greater concern. If job growth continues along with wage increases, it may offset rising interest concerns. It may be the good weather or the expectation of higher costs, but housing starts in October 2016 at 1,225,000 were 4.6 percent higher than during the same period in 2015. Looking out past 2017, affordability and choice of smaller homes will keep growth on the low side.
The market for multifamily homes slowed to just 9 percent growth in 2016. That is closer to a long-term average before the Great Recession. In the rush to recover since the recession, multifamily housing has become overbuilt in some regions. However, vacancy rates are likely to recover, especially if potential homeowners continue to sit on the sidelines. One must also consider continued tight housing supply, as the current inventory of houses for sale in the United States is just 5.1 months compared to 12.2 months at the height of the recession. That is a national average, so consider that many hot metro areas have very high shortages and lower affordability. Millennials also face a considerable mountain of student loan debt as well as difficulty finding jobs that pay what they expected to decrease their debts. These factors and others have kept many living with their parents longer than earlier generations.
Commercial
The solid growth rate of 8 percent for commercial construction in 2016 will slow to just 6 percent in 2017 and drop to around 3 percent by 2020. The expected slowdown in commercial construction is due more to a change in consumer buying habits than overall spending, which continues to edge higher. The continuing trend to shop online from a smartphone is hurting traditional big-box stores the most. For instance, after the year ended, Sears announced it will close more than 30 Sears and Kmart stores in early 2017. The move from traditional shopping venues will likely result in a merging of online and brick-and-mortar shopping with brick and mortar becoming more of a destination or event-related atmosphere. Some of the fastest-growing areas in commercial retail construction have been drinking places and food services; however, building materials and garden supply stores are currently experiencing the highest growth rate.
Power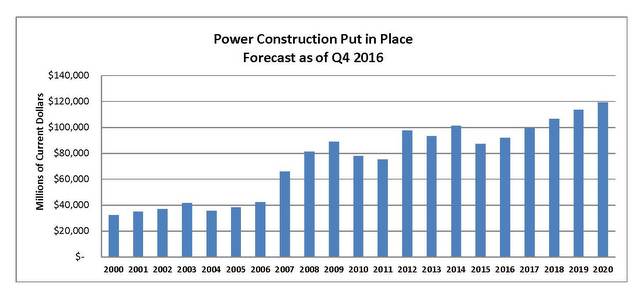 Power construction for power-generating facilities grew 6 percent in 2016 to reach $92 billion for construction put in place. We expect another 8 percent growth in 2017. New electrical capacity has been largely generated by solar and wind facilities from large facilities to rooftops in your local shopping mall. Traditional power plants must be updated to keep up with changing requirements as well as to manage distributed generation sources. Most expect the incoming administration to approve the Keystone XL pipeline, which could increase construction by year's end. The power industry will continue to consolidate as the average consumer reduces power use, but growth will be slow but steady in 2017 through our 2020 forecast horizon.
Highway and Street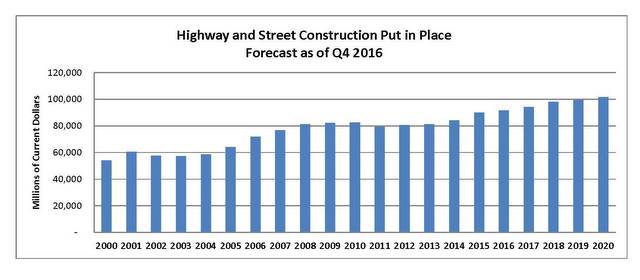 Highway and street construction increased just 2 percent in 2016 to $91.6 billion. FMI forecasts 3 percent growth for 2016 and another 4 percent in 2017. The Fixing America's Surface Transportation (FAST) Act for highway and transportation funding removed some uncertainty for highway funding; however, we do not expect a significant jump in spending over current levels. President Trump has vowed to increase infrastructure spending, although the details are uncertain at this time. Much of the new spending is expected to come from public-private partnerships or some variation on that approach.
Tags:
Construction Forecast
,
February 2017 Print Issue
,
FMI
,
FMI Construction
,
home