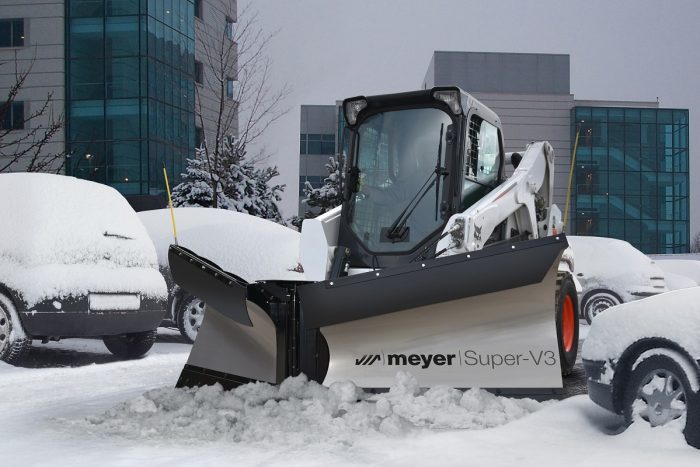 Winter may be on its way, but there's no need to put away your skid steer or compact track loader. When paired with the right snow plow or blade, these machines become the perfect solution for snow removal.
"Using a skid steer or compact track loader for snow removal is a great way to utilize a piece of equipment you probably already have and getting more out of it now vs. it sitting idle for the winter," says Jason Mattson, regional sales manager, Meyer Products LLC. "Maneuverability and speed make these units ideal for snow removal because they can turn on a dime and get into tight spaces for precision work. You can also clear large areas faster than a standard pickup with a plow. Plowing with a skid steer or CTL also requires less vehicle maintenance than a standard truck."
There are a bunch of options when selecting a snow removal tool for a skid steer or CTL. Sure, a bucket could push snow, but dedicated attachments like snow plows and blades are popular choices and come in a lot of varieties. These include V, snow, angle, straight, pusher and more, and the choice all depends on your needs.
Like any attachment, knowing your application is the first step in finding the right tool. This involves identifying what your needs are and the areas you want to clear. For example, a simple straight snow blade can be set to the ideal height and angle to push and clear snow. V-plows can be adjusted in several plowing configurations and be tailored for the exact job at hand. The widths of these attachments can be as narrow as 3 ft or as wide as 12 ft depending on the size of skid steer or CTL. Mattson asks, "Do you plan on doing large parking lots with it or are you looking to clear walkways and sidewalks with it? Knowing that will help you choose the right size blade."
Beyond width, Rick Knuth, product manager, Boss Products — a division of The Toro Co., adds that the host machine's engine horsepower should be considered, as well as the plow or blade's features. Winter work is tough, so you need a durable attachment. These tools are typically constructed of steel or polyethylene and can be outfitted with accessories to increase productivity (we'll talk more about those later on).
"We recommend a minimum of 45 hp for our 6- to 9-ft wide plows and a minimum of 70 hp for our 10-ft and up plows," he says. "As for the plow, a steel trip-edge provides better scraping and cleaner surfaces than rubber edges. Bolt-on wings allow quick and easy replacement if wing is damaged. A floating or pivoting attachment improves plow performance on uneven or rough surfaces."
What's Out There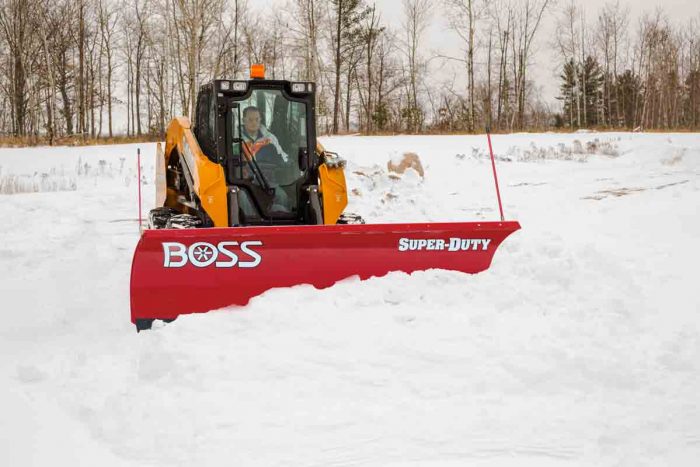 Like I mentioned before, there are a lot of snow removal attachments to choose from — you can even check out compactequip.com for more — but let's take a look at some of the products from Boss and Meyer.
Boss currently offers three styles of plows for skid steer and compact track loaders — hydraulic angle plows, steel trip-edge box plows and rubber-edge box plows. Knuth the 8-, 10- and 12-ft Boss SK Series Box Plows are the company's most popular snow plowing attachment,.
"Some features include a high-efficiency moldboard that provides superior rolling effect of snow and reducing resistance and the bolt-on wing design allows quick and easy replacement of a wing if damage occurs," he says. "A steel cutting edge provides superior scraping and cleaner surfaces than traditional rubber-edge box plows. Cleaner plowed surfaces require less deicing material, lowering overall job costs."
According to Mattson, Meyer's Lot Pro Straight Blade Plow remains one of the company's most popular plows whether it's on a truck or a skid steer/CTL application.
"Available in sizes from 7 ft, 6 in. to 9 ft, it is a full trip style plow that has a wide variety of accessories to match it perfectly to your needs," he says. "Like all Meyer commercial plows, it's backed by our industry-leading five-year warranty."
Beyond the Blade
Need to outfit your blade or plow for a specific job or harsher conditions? Mattson says popular accessories or add-ons for snow removal attachments include deflector kits, curb guards, wing kits and even polyurethane or rubber cutting edges for clearing sensitive surfaces.
Knuth highlights some accessories for Boss' hydraulic angle plows:
A rubber deflector to help prevent snow blowing over the blade and improve operator visibility.
Curb guards to protect the edge of blade when plowing against curbs.
Plow wings to increase the plow's width.
Cast-iron plow shoes for plowing on gravel or other conditions that require the cutting edge to be raised above the plowing surface.
Aside from accessories to beef up your plow, manufacturers also make attachments for salt spreading. For example, Boss offers the Quick Cube System that's ideal for storing and spreading salt/deicing material on a jobsite.
"The all-in-one salt spreader improves response time as well as provides an off-site salt storage system," says Knuth. "Once the operator completes the plowing task, they simply disconnect the plow and attach the Boss Quick Cube System to spread salt on the property. One operator can complete plowing and salting functions, so there's no need to dispatch a salt truck when plowing is complete."
Pam Kleineke is managing editor of Compact Equipment.
For reprint and licensing requests for this article, please click here.
Tags:
BOSS Products
,
Meyer Products
,
October 2021 Print Issue