When you first think about the ways to put your compact utility tractor to work, warm weather activities such as mowing, digging ditches or harvesting crops likely first come to mind. But whether you're using your tractor on your own property or commercially, there are countless ways to effectively use a compact utility tractor through the snowy winter months. The key is knowing which attachments you need to get the job done.
As the eastern Canada territory manager at Kioti Tractor, I spend much of my time traveling across the country speaking with dealers and customers who spend many months of the year managing the heavy amount of snow and ice we're accustomed to here. Whether they're looking for a blade and snow blower combo to efficiently move snow, a cab to keep warm or specialty-tread tires for maneuverability that'll withstand the elements, there's a lot to consider.
But before diving into the range of attachments available to tractor operators, it's important to make sure that you are starting off with the right tractor. When selecting which tractor to purchase, make that decision with the summer in mind too. Let your local dealer know the types of work you'll be focused on with the machine during warmer weather.
Once you've established which tractor will meet your summer needs, you can then purchase the necessary winter attachments with spec requirements that are in line with your tractor. In short, buy your winter attachments to fit your tractor — not the other way around. The only exception to this rule would be if you are purchasing your tractor for snow removal only. In that case, you can build the ultimate snow removal machine to suit your snow removal needs.
Now that you have the right tractor to put to work, it's time to determine which winter attachments will help you accomplish all the snow-related tasks you want to complete. Here's a rundown of the essential winter weather attachments, with everything you need to know to make that important decision.
Push or Pull Blades
Also known as a snow pusher, a push or pull blade is a stationary attachment that will push or pull snow in a certain direction. The blade can be extendable or rigid, ranging from about 6 to 14 ft in width and can be attached to the tractor frame or the front loader. When added to the loader, the blade adds a significant amount of weight to the front of the tractor. It's therefore best used in jobs just around a single property. A frame-mounted version is much better suited for commercial applications. Choosing the right blade depends on matching it to the capacity of your tractor. Be sure to check the blade's specs to confirm that it's compatible. If the blade is too small, you'll find yourself pushing snow into your own path. If it's too large, you could overwork the tractor.
Angle Blades
A cousin of the push or pull blade, the angle blade is often attached to the quick-attach mount of the loader while a snow blower is in back. The angle of the blade can be controlled by the driver and pushes snow to one side or the other — an especially helpful tool for clearing long driveways. The angle blade is also best for work around a single property when attached to the loader. And, once again, you want to be sure that you are purchasing an angle blade with spec requirements that are compatible with your tractor.
Snow Blowers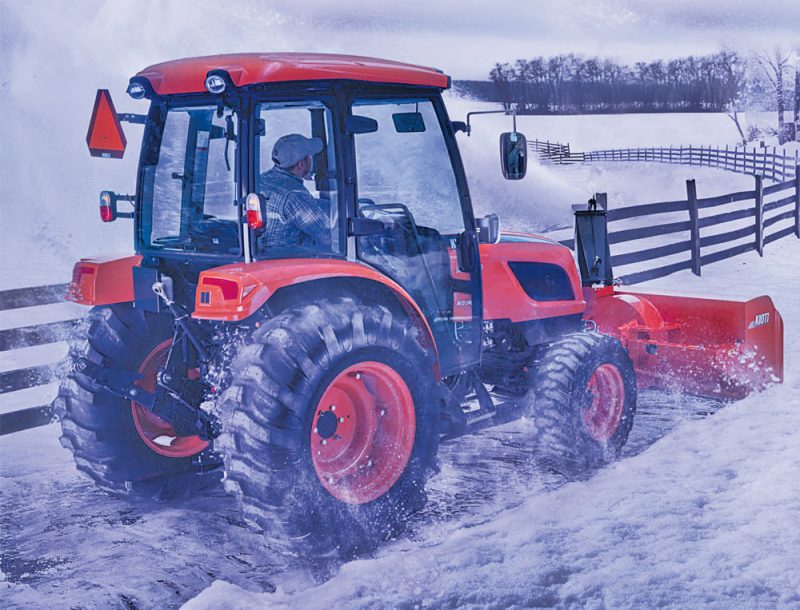 It's hard to imagine winter work without thinking about snow blowers. While front-mounted snow blowers tend to be slightly more expensive, they're an ideal choice for those looking to manage snow on personal property as well as commercial users that are working in tight quarters. These snow blowers are easy to operate and allow you to remain facing forward to see where you're blowing the snow. Plus, they're simple to take on and off your tractor. Rear-mount snow blowers can be placed in the rear of the tractor and paired with a blade up front.
A snow blower can make or break an entire winter attachment setup for your tractor, so choosing the correct one is essential. All snow blowers come with a designated rating of how much engine capacity they pair well with. Keeping your tractor's horsepower in mind will ensure the snow blower you choose works properly. If you choose a snow blower that's too heavy for your tractor's capacity, you'll find yourself with some major repair bills.
Sand and Salt Spreaders
Paired well with a front-mount snow blower, spreaders allow you to drop sand or salt behind as you're clearing snow in front of you. So long as your spreader is heavy enough to balance the weight of the snow blower in front, there's little downside to adding this simple attachment to finish off your snow clearing project, commercially or on your own property.
Cabs
When you're out in the cold clearing snow, a cab can keep you warm. If your tractor didn't come with a cab, ask your local dealer for field cab options that can be added onto the machine after purchase. Don't forget to include options like the rear windshield wiper, rear defrost and working lights. If the cab isn't equipped with air conditioning, you can remove the doors and open the windows when warmer days return. Cabs are a foolproof way to make winter work a little more comfortable.
Winter Tires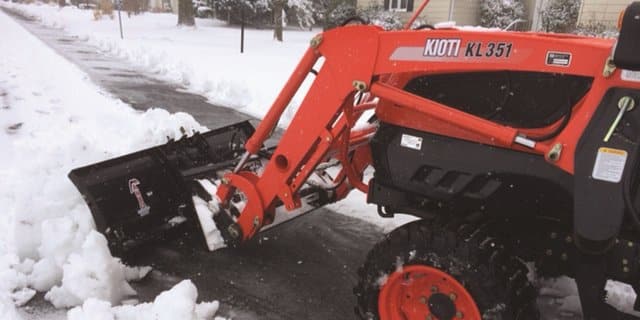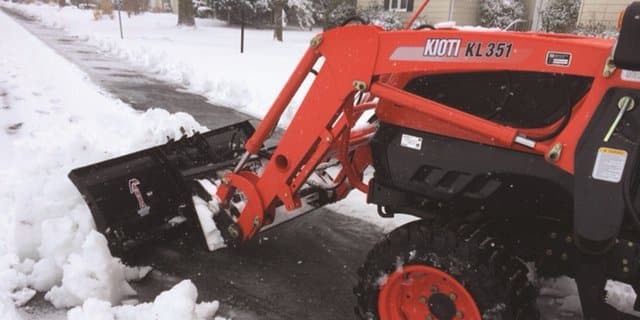 Finally, consider adding multi-use tires with a winter-friendly tread that provides a comfortable ride on hard surfaces plus superior traction. Keep in mind that you want to avoid adding too much width to your tractor with the tires, as you'll run into trouble with a blade or snow blower that's narrower than your tires. Now that you've got the best tractor for the job suited up with the necessary attachments, there's one final step before heading out into the snow: performing a winter maintenance check on your tractor. Taking a few simple steps can help you spend more time getting work done instead of delayed by repairs:
Make sure you have the proper oil in your tractor for the colder temperatures you're about to face. Using a low temperature or synthetic oil in the wintertime can get your tractor moving more quickly and provide better lubrication in the cold. Be sure to consider the manufacturer's oil specifications for your tractor.
Start off the winter season with a fresh tank of fuel and try to keep the tank full when not in use.
Check that your fuel and air filters are clean and have been recently replaced.
With the right tractor and attachments, plus proper maintenance, there's a lot you can accomplish with your utility tractor once the snow starts falling. Now it's time to soak in the beauty of nature in winter, pull on your warmest gloves and get to work.
Ron Wilkie is the eastern Canada territory manager for Kioti Tractor.
Prepare for the Cold
Ensure Your Compact Utility Tractor Is Ready for the Chilly Season
October is the optimal time to run through a series of cold-weather checks and procedures for preparing both compact tractors and implements for cold winter jobs. Here's a good start:
Follow the operator's manual for winterizing your tractor.
Check fluids. This includes checking, refilling and replacing fluids as needed.
Check the condition of your coolant and make sure it is has the proper mix to prevent freezing.
Grease the tractor at all grease points.
Verify that your battery is in good working condition.
Make sure your fuel is winterized before the cold weather begins.
Check your tires. This includes checking for proper tread depth, proper inflation and making sure there is no tire damage. Also, check the wheel lug nuts for proper tightness.
Check that all lights are functioning properly. Days are rapidly getting shorter, and you'll rely on these lights more in the winter.
Check all safety devices such as ROPS to make sure they are in place and secured properly.
Check all hydraulic hoses for damage or leaks.
Verify that the air filter for your engine is clean and free from damage.