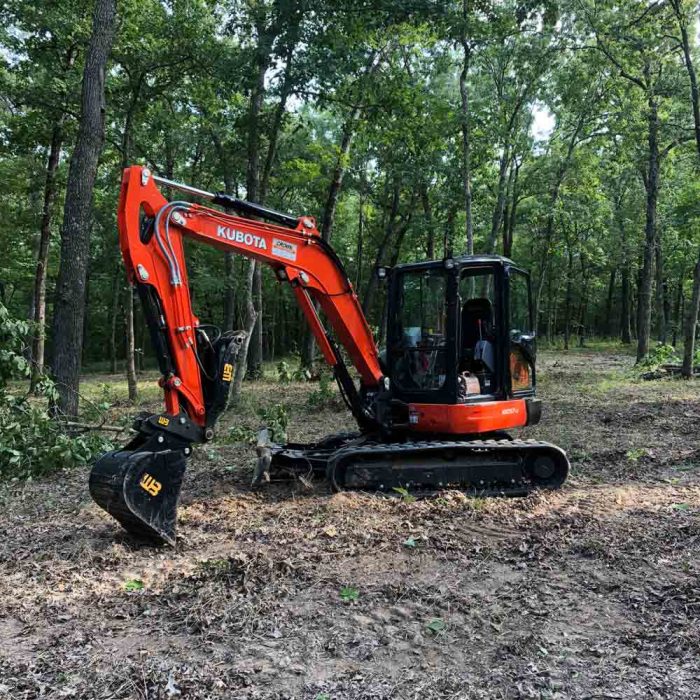 Werk-Brau's compact productivity package includes a Heavy-Duty Excavator Bucket, a Main Pin Hydraulic Thumb and D-Lock Coupler, providing greater versatility and production for excavators from 5,000 to 25,000 lbs. This utilitarian combination allows users to dig into virgin soil, move rocks, logs, debris, and other materials, demolish structures, clear pipelines, and more. A quick coupled D-lock coupler makes switching between attachments quick, safe, and reliable, so the correct attachment is always at hand. With standard bucket sizes from 10 in. to 42 in. (1.78 cu ft to 20.10 cu ft) there is a Compact Productivity Package for all compact excavator models and sizes (1.0-MT/5,000-lb machines to 11-MT/25,000-lb machines).
The Heavy-Duty Excavator Bucket is built to last with high quality T-1 steel utilized in all critical or high wear components and heavy-duty horizontal wear straps protect the bucket bottom. Each bucket is engineered with tapered side plates and a dual taper radius that reduce wear and make dumping easier.
The Main Pin Hydraulic Thumb is specifically designed to aid in handling or loading irregular shaped objects, debris, rocks, or anything that cannot be handled with a bucket alone. With approximately 120 of thumb rotation, it retracts against the stick and can be left on the machine during normal excavation.  Each Main Pin Hydraulic Thumb is custom designed to work with existing OEM/factory cylinder mount, and to match the bucket width and tip radius of the bucket it is being paired to. Two, three and four tine versions are available to suit specific project needs.  High strength steel is used throughout the weldment with hardened pins, and greaseable bushings at all pivot points, ensuring long life and easy maintenance. 
The D-Lock Coupler is a very simple mechanism with only six total parts and is the ideal complement to a Werk-Brau Bucket and Main Pin Hydraulic Thumb. Safety is assured as an automatic front lock locks the front pin in the event the rear pin is not secured. The unlock process is designed to release only when the operator intends to do so, in a controlled and safe manner, eliminating accidental releases. Multi-pin centers and multi-pin diameters allow the coupler to pick up all attachments in the same weight class even with different pin diameters. Its compact design improves machine performance. With only two hydraulic lines required installation is simple, and since no greasing or lubrication is required, they are virtually maintenance-free. These unique features and its wide-ranging capacity (from 1.0 to 11 MT) make Werk-Brau D-Link couplers one of the safest, most reliable hydraulic couplers in the world.
One of the best parts of small equipment is the variety of attachments. From buckets and breakers to mowers and plows, click here to see what's out there.
Tags:
Werk-Brau