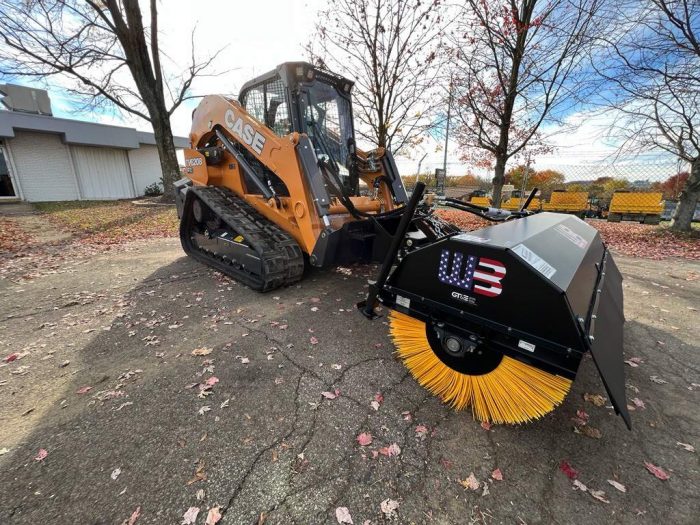 Werk-Brau has some cool new attachment news. The company just announced new Skid Steer Angle Brooms that can swing 30 degrees left or right of center for effective and efficient cleaning and clearing or snow, dirt, debris, grass and more. Polypropylene brush with wire filaments provides long service life even in adverse conditions. Hydraulically driven brooms of 6- or 7-foot widths are powered by a single hydraulic motor capable of 10-22 gpm flow (standard), with dual hydraulic motors (20-44 gpm) or a low flow (8-16 gpm) motor available as options. A standard skid steer quick coupler and storage stand is provided for simple mounting, dis-mounting, and storage. Broom speeds of up to 200 RPM are attainable, depending on the prime mover, making this Angle Broom an ideal attachment for skid steer loaders of all makes, models, and sizes.
Werk-Brau Angle Brooms are American-made and available with industry leading lead-times; some models are stocked for immediate shipment. Wafer style brush has 32" outside diameter (OD) x 10" inside diameter (ID). Brush core can be installed with either end to the left/right with no effect on sweeping performance, to simplify installation. Brush and core assembly can be removed from frame without disconnecting drive motor hoses. Brush hood is manufactured from 16-gauge steel with formed edge fold for additional strength. Robust end plates are 12-gauge steel for more durability. Brush hood covers 140-degrees of brush and includes pre-drilled holes for easy installation of front deflector. Dirt deflectors are standard on all models.
Brooms are standard with a single, low-speed, high-torque, 18-cid hydraulic motor. Motors are coupled directly to the brush core through a 1.25-inch 14-spline shaft. Motor is mounted outside of brush frame and is protected by formed ¼-inch guards. Hoses are provided from hydraulic motor to bulkhead or valve on broom. A spring system to dampen transportation bounce is included.
Finish is black polyurethane topcoat with epoxy primer for protection from the elements. Steel surface undergoes a phosphatizing acid bath to clean and etch the surface for superior adhesion of primer and paint. Optional accessories include low flow drive motor, dual standard flow drive motors, dual low flow drive motors, a 45-gallon sprinkler system mounted on the brush hood, sight indicators, an oil cooler, and a hose kit.
Werk-Brau manufactures a complete line of OEM and replacement attachments for excavators, mini excavators, backhoes, mini and full-size loaders, crawler loaders, and skid steers. Since 1947, they have been industry leading innovators, designing, and producing standard and specialty products for the heavy equipment industry. Their products are made in the USA and sold through equipment dealers and distributors worldwide. More than 75 years after their founding, the core principles of the company remain relevant — "provide customers with the utmost service, quality, and maintain the quality that bears the Werk-Brau name."
One of the best parts of small equipment is the variety of attachments. From buckets and breakers to mowers and plows, click here to see what's out there.
Tags:
Werk-Brau