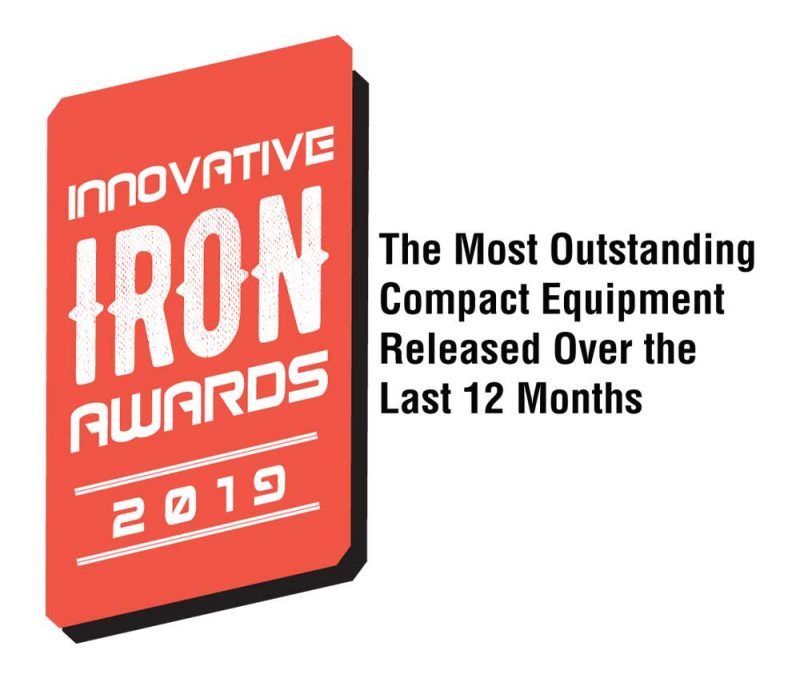 Wielding hydraulic tools like a breaker, backhoe, bucket or broom, a tool carrier can be the ultimate do-everything machine on a project site, but a tool carrier is nothing without its attachments. Compact Equipment is a magazine dedicated to tool carriers, machines like skid steers, track loaders, wheel loaders, mini excavators, telehandlers, utility vehicles and beyond, so that means we're constantly covering the hydraulic- and PTO-powered attachments these machines utilize (from tree spades to silt fence installers).
At the end of the year, we like to call out the coolest new attachments that entered the market. These next four pages are filled with pioneering attachments that can give your fleet a new multifaceted approach.
Bobcat Bob-Dock System
Operators can sit back, relax and change out attachments with ease thanks to the Bobcat Bob-Dock system. This cutting-edge, hands-free hydraulic attachment mounting system is designed for strong, easy and repeatable hydraulic connections, without needing to leave the Bobcat compact loader cab. Introduced at World of Concrete back in January, the Bob-Dock system allows an operator to simply line up the loader with the attachment's Bob-Dock adapter plate and press the Power Bob-Tach switch inside the cab. The Bob-Tach system secures the attachment, while the Bob-Dock system automatically connects the hydraulics. The attachment is then ready to use. When you're done using the attachment, retract the Bob-Tach wedges and pull away. The hydraulics instantly release, providing simple, hands-free removal. For more info, visit bobcat.com.
John Deere Backhoes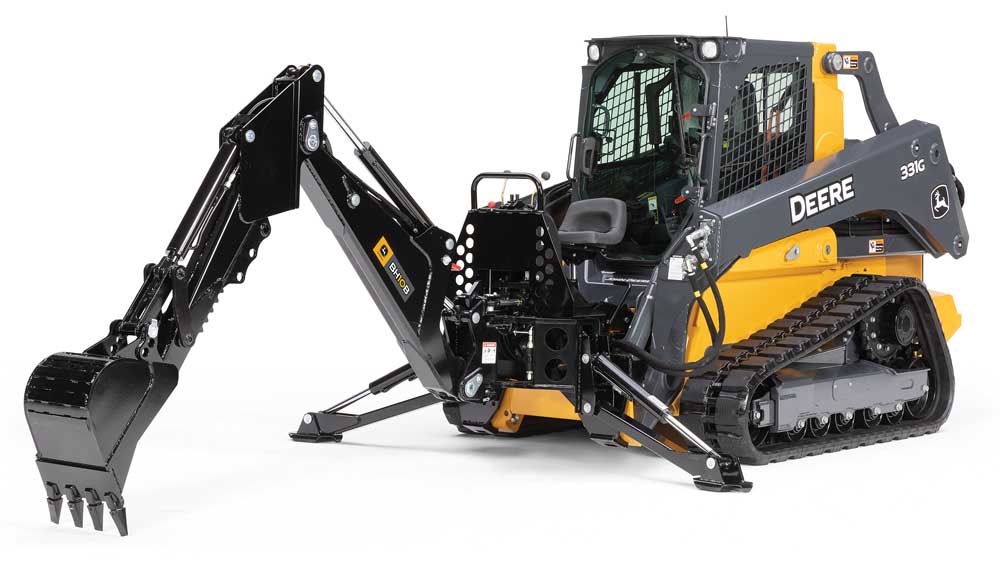 Diversify your operations and get digging with the BH9B, BH10B and BH11B backhoe attachments from John Deere. Released in April, these backhoes are ideal for operators working in tight spaces due to their swing speed control capabilities and 180-degree capabilities to maximize efficiency and power on the jobsite. The backhoes were designed to improve operator visibility with a low-profile design and standard-tilt capabilities making it easier for operators to gauge their surroundings from within the machine. The breakout force for these models range from 3,895 to 5,675 lbs, giving operators the power they need to move materials on tough jobs. For more info, visit johndeere.com.
Caterpillar PL161 Attachment Locator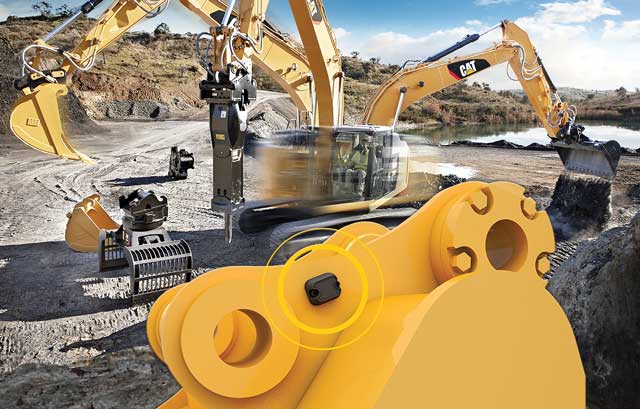 Keep an eye on your attachments with Caterpillar's PL161 attachment locator, the most advanced OEM integrated technology solution for attachment tracking. With the ability to track location and utilization, users can know where their attachments are across all worksites, reduce the number of lost attachments and plan for attachment maintenance and replacement. The PL161 attachment locator can be used on attachments and non-powered assets as an affordable option for last known location tracking, and it integrates easily into users' operation for full fleet management of machines and attachments from one dashboard on a smartphone or tablet. Bluetooth range is up to 100 ft, depending on the environment and any obstructions. The device is battery powered with an estimated life of two years. For more info, visit cat.com.
Danuser Mega Mixer
Need mega mixing power? That's no problem with the newly enhanced Mega Mixer from Danuser. Introduced in June, the Mega Mixer model provides increased torque for mega mixing so operators can be more productive on the jobsite. Features include an easy-to-operate discharge end with new handle control gate for better flow control and reduced spillage. Mounts on both sides of the Mega Mixer allow the operator flexibility to dispense on either the right or left side to better meet specific project needs. Unique features include an intermediate mount separate from the host vehicle that provides greater reach for clearing trenches and removable chutes that allow for easier accessibility in tight areas. For more info, visit danuser.com.
Fecon Deck Mulcher
Unwanted brush take notice: Nothing stands in the way of the Fecon Deck Mulcher. This new attachment is wider than conventional deck mulchers, providing more productivity per pass, even in the most demanding environments. Ruggedness and dependability are built in, with features to enhance performance, service life and safety. A stump-jumper feature allows the attachment to ride over stumps without risking bolt shearing, and the extra blade mass increases cutting inertia and enhances performance in thicker materials. The Deck Mulcher can mulch smaller materials faster than traditional drum mulchers, making them ideal for right-of-way clearing and maintenance projects, forestry clearing and more. Fecon Deck Mulchers are available in three sizes with cutting widths of 62, 74 and 86 in. and weights from 1,950 to 2,450 lbs. For more info, visit fecon.com.
Paladin Compaction Wheel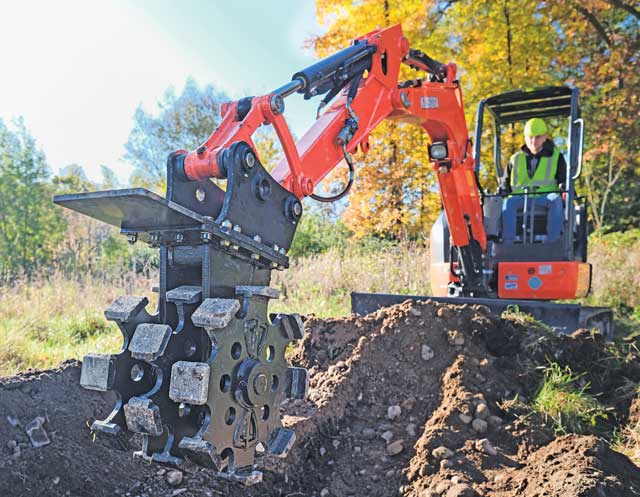 Paladin Attachments said no thanks to the status quo when it decided to redesign its mini excavator compaction wheels. The new, innovative Paladin design takes the old workhorse to a new level by enhancing serviceability and maintainability of these tools. It can be fully disassembled using only standard shop hand tools and does not require torching to remove main components, as with many competitive designs. The main shafts are fully hardened and supported with extra-long, self-lubricating and sealed bushings for extended life. For reliability, Paladin's TWC family of compaction wheels introduces a fully integrated lubrication channel that's not exposed to damage during normal use. The TWC line covers machines from 1 to 27 metric tons and trench widths from 12 to 32 in. For more info, visit paladinattachments.com.
Epiroc ER 250 Drum Cutter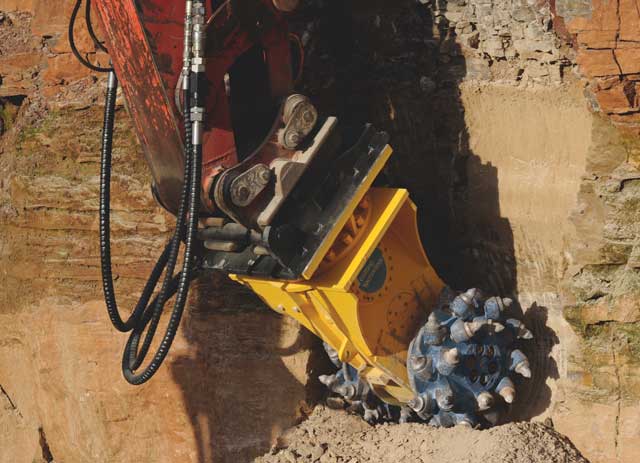 There's no getting stuck between a rock and a hard place with the Epiroc ER 250 Drum Cutter. The powerful transverse drum cutter is ideal for rock or concrete wall and surface profiling, trenching, soft rock and frozen soil excavation and demolition. It can be equipped with an optional dust suppression system to help maximize safety and to help achieve OSHA silica dust regulations. At a service weight of 1,260 lbs, the ER 250 double-head machine is suitable for carriers of 17,600 to 33,000 lbs. The ER 250 uses robust spur gears for optimal energy transmission and reliability. The ER 250's central fixing system allows the drum cutter to rotate 360 degrees without having to be disconnected from the excavator. For more info, visit epiroc.us.
Vacuworx SL 2 Subcompact Vacuum Lifting System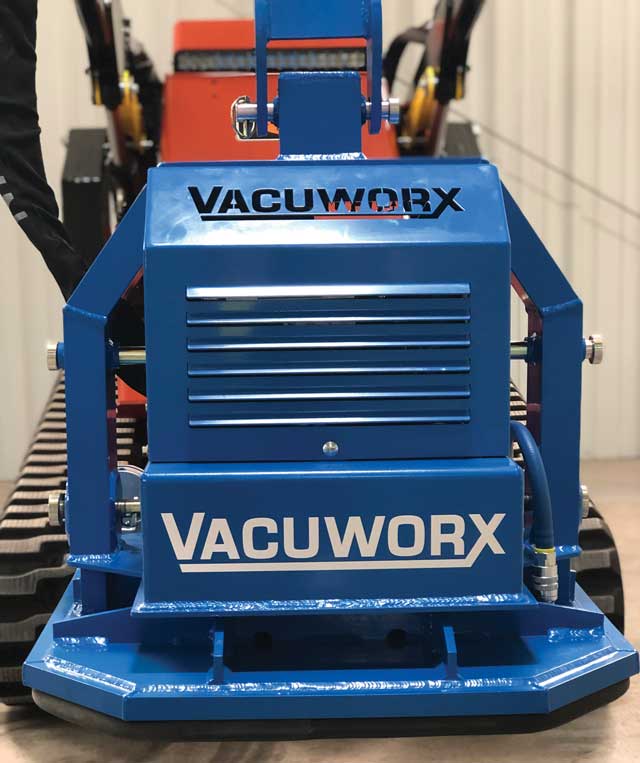 Handling cumbersome concrete slabs is no worry with the SL 2 Subcompact Vacuum Lifting System from Vacuworx. Originally launched in 2016, the vacuum lifter revolutionized the way saw cut concrete was handled on jobsites, saving man hours, promoting safety and reducing debris. Now, the lightweight system has been updated with an improved hydraulic system and modular pads to work with more machines and in more applications. The SL 2 now features a base unit — available with manual or wireless remote control — with modular pad options. All system components are fabricated from high-quality aluminum to maximize overall lifting capacity with the host machine. The base unit and pad together weigh approximately 100 lbs. For more info, visit vacuworx.com.
T-Rex Hammer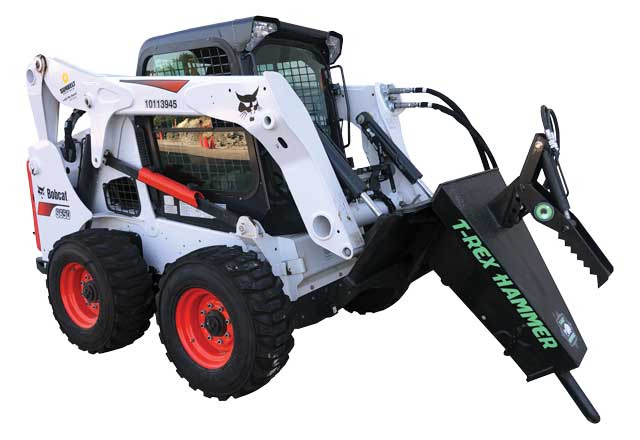 We're not sure what cool thing to say when the attachment is already awesomely named the T-Rex Hammer, so let's cut to the chase. The T-Rex Hammer is a cutting-edge concrete breaker that will assist concrete companies with faster and safer demo. This breaker with patented claw allows the operator to hammer, grab and load, never having to change attachments. T-Rex comes on 550-, 750- and 1,000-ft-lb class hammers and will directly wire into any skid steer or compact track loader. The T-Rex Hammer can increase your efficiency drastically and make your operation more profitable, adding more versatility to your operations. Sounds perfect to us. For more info, visit t-rexhammer.com.
MTW Power Box Rake
Tackle almost any terrain with the MTW Power Box Rake from MTW Specialty Products. The Power Box Rake is the ideal choice for breaking up, raking and leveling hard-packed soil, gravel, sod and other terrain effectively and efficiently. MTW's stronger steel frames and simplified controls help commercial operators and do-it-yourselfers refine more material in less time while minimizing downtime due to breakage and repairs. Three models are available for both hydraulic skid steers and PTO tractor applications and can be ordered with weld-on teeth, replaceable teeth or carbide teeth. All units come standard with airless solid rubber tires, and manual adjustments can be made to deflect material from 10 to 20 degrees. For more info, visit mtwpowerboxrakes.com.
SnowWolf ActivEdge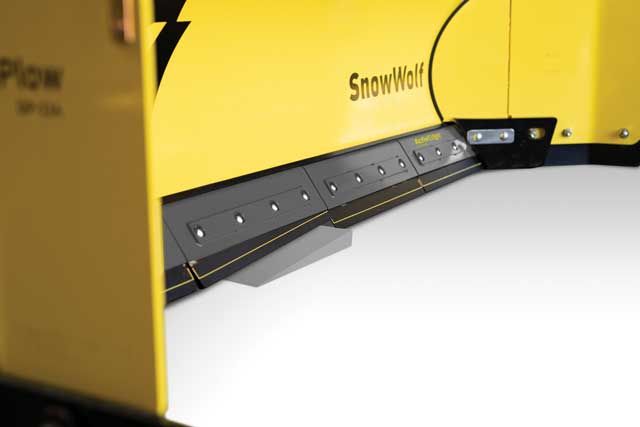 Winter weather does not stand a chance against SnowWolf's cool new ActivEdge. This floating sectional cutting edge with propriety composite springs is a patent-pending upgrade option for SnowWolf's standard AR400 steel cutting edge on the QuattroPlow, QuattroPlow XT, QuattroPlow TR, UltraPlow and UltraPusher TE. Like traditional sectional plows, the ActivEdge has multiple sections that move, or float, over obstacles or uneven surfaces. Since they conform more closely to the surfaces, regardless of contours or obstacles, the result is a cleaner scrape than is possible with a one-piece plow. The long-lasting cutting edge is AR400 steel, an alloy created specifically for maximum abrasion resistance, toughness and durability. For more info, visit snowwolfplows.com.
Woods Equipment Compact Super Seeder
Choose more precise seeding and less waste with the Compact Super Seeder from Woods Equipment. Designed for compact or sub-compact tractors and ATVs or UTVs, this versatile, full-featured attachment is ideal for small-scale planting such as food plots, lawns, gardens, wildflower meadows, waterways and roadways. It is available in 48- or 60-in. widths to maneuver easily into narrow spaces, make tight turns and reach areas unreachable with a larger tractor. The Compact Super Seeder design is based on months of research with end-users who ranked their needs for a compact seeding tool based on several factors such as precise metering, maneuverability, a wide range of planting options, durability and stability — giving operators an attachment ideal for their applications. For more info, visit woodsequipment.com.
Solesbee's Stump Puller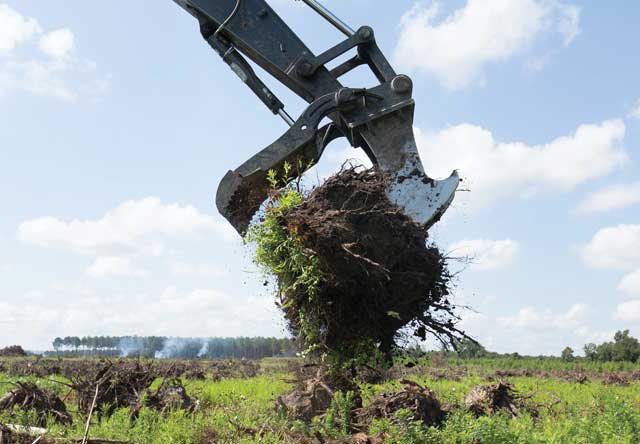 Don't get stumped dealing with land-clearing projects. Turn to Solesbee's excavator Stump Puller. Solesbee's manufactures the attachment with high-strength alloy steel and replaceable wear tips for extended service life. The attachment's two shanks easily cut through roots so operators can remove stumps without displacing a large amount of dirt. The shank's curved design significantly increases breakout force for slicing through tough surfaces when extracting forestry material. Additionally, the shank's replaceable wear tips extend the attachment's service life by allowing operators to simply change out the tips as opposed to purchasing a new stump puller. The Stump Puller can be paired with Solesbee's excavator thumbs to lift and stack stumps, limbs and debris. For more info, visit solesbees.com.
Meyer Super Blade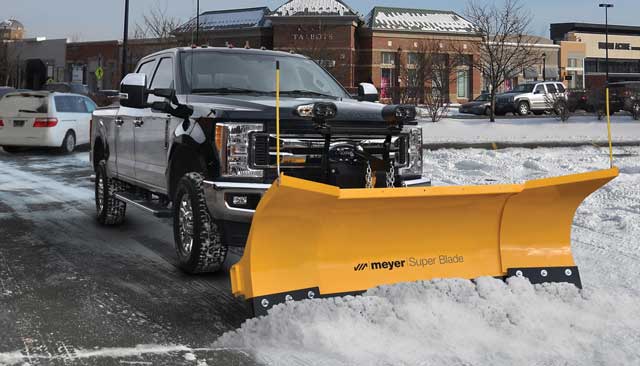 The aptly named Super Blade is bigger and stronger than any other automatically adjustable plow on the market, boasts the snow experts at Meyer. With the press of a button, it can expand from 8 to 10.5 ft and back again or anywhere in between. The wings extend as a pair, or independently, at your command (and you will command). The Super Blade is 32 in. high in the center of the moldboard, while the outer adjustable wings measure 36 in. high, giving operators unprecedented plowing efficiency. For added strength and reliability, the Super Blade features a tubular pivot bar, with a heavy-duty center support, running the entire length of the critical snow impact area of the blade. Also, the wings are reinforced with ribs to take on the toughest plowing jobs worry-free. For more info, visit meyerproducts.com.
Tags:
Bobcat
,
Cat
,
Caterpillar
,
Danuser
,
Epiroc
,
Fecon
,
home
,
John Deere
,
Meyer
,
MTW
,
November December 2019 Print Issue
,
Paladin
,
SnowWolf
,
T-Rex
,
Vacuworx
,
Woods Equipment