Wielding hydraulic tools like a breaker, backhoe, bucket or broom, a tool carrier can be the ultimate do-everything machine on a project site, but a tool carrier is nothing without its attachments. Compact Equipment is a magazine dedicated to tool carriers, machines like skid steers, track loaders, wheel loaders, mini excavators, telehandlers, utility vehicles and beyond, so that means we're constantly covering the hydraulic- and PTO-powered attachments these machines utilize (from tree spades to silt fence installers).
At the end of the year, we like to call out the coolest new attachments that entered the market. These next four pages are filled with pioneering attachments that can give your fleet a new multifaceted approach.
Cat Smart Attachments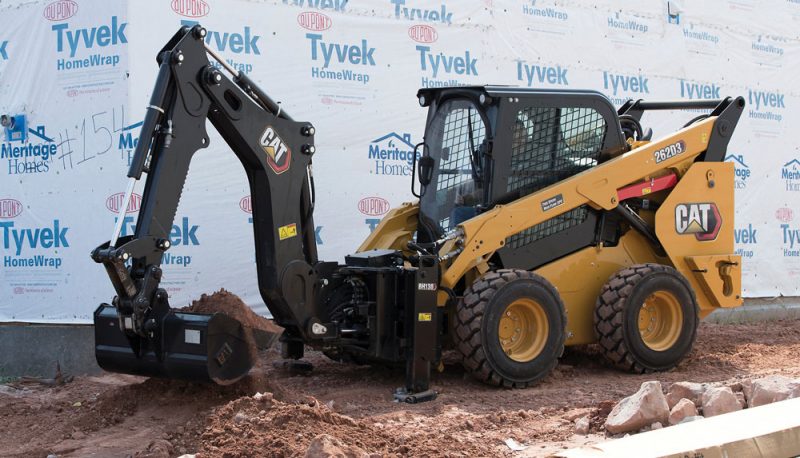 Phones, TVs and now Caterpillar attachments are earning their digitized "smart" badge. Cat released its first three Smart attachments — a dozer blade, grader blade and backhoe — which when matched to certain Cat D3 Series skid steers and compact track loaders will unlock attachment-control mode changes in the standard joysticks, gifting the operator better precision control. Assist features enhance the dozer and grader blade into entry-level grade control apps. The backhoe sports side-shift, takes attachments off the boom and can be operated in excavator pattern. The grader blade even has foldable wings. For more info, visit cat.com.
Trimble Earthworks 2.0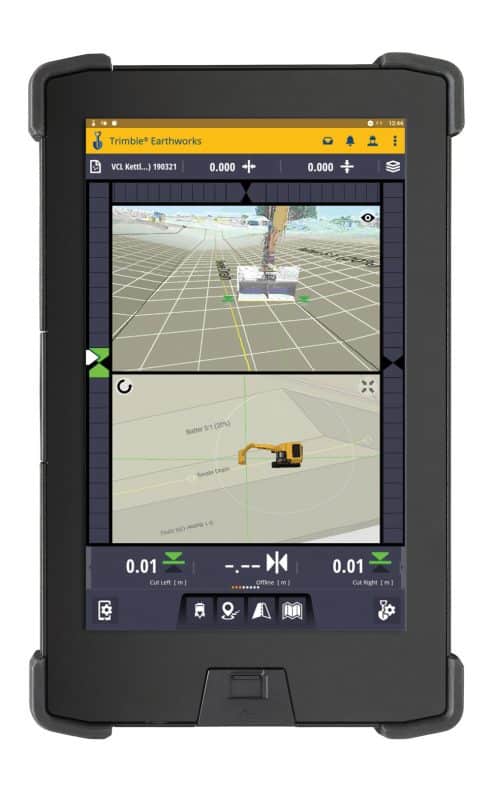 The technologists at Trimble revamped its already (ahem) ground-breaking grade control platform in 2020 with Version 2.0. So many amazing features for so many different machines, just not enough space: mastless motor grader configs; Earthworks Assistant App for in-cab learning material; horizontal steering control for dozers; augmented reality for excavators; integrated Trimble Loadrite Payload Management; and beyond. The coolest part: Trimble Earthworks 2.0 is now also available for compact grading attachments with dual GNSS, single GNSS and total station guidance options. For more info, visit civilconstruction.trimble.com.
Danuser EP Auger System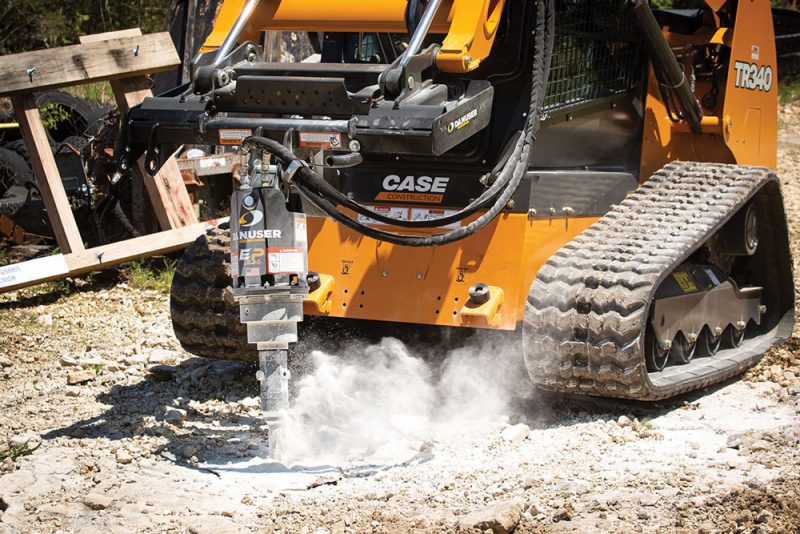 Power hungry hole diggers need look no further than the new EP Auger System. Its planetary gear drive is up to 42 percent stronger than the competition, according to attachment-maker Danuser. That robust planetary gear drive and motor delivers greater torque for drilling through hard, compacted surfaces, while featuring easily accessible check-and-fill plugs for easy maintenance. An array of models are offered from 6 to 35 gpm and 1,500 to 3,500 psi, perfect for utility tractors, backhoes, excavators and skid steer and track loaders. Other improvements include a new, beefy skid steer quick-attach mount. For more info, visit danuser.com.
One of the best parts of small equipment is the variety of attachments. From buckets and breakers to mowers and plows, click here to see what's out there.
Vacuworx PHD Portable Vacuum Lifting System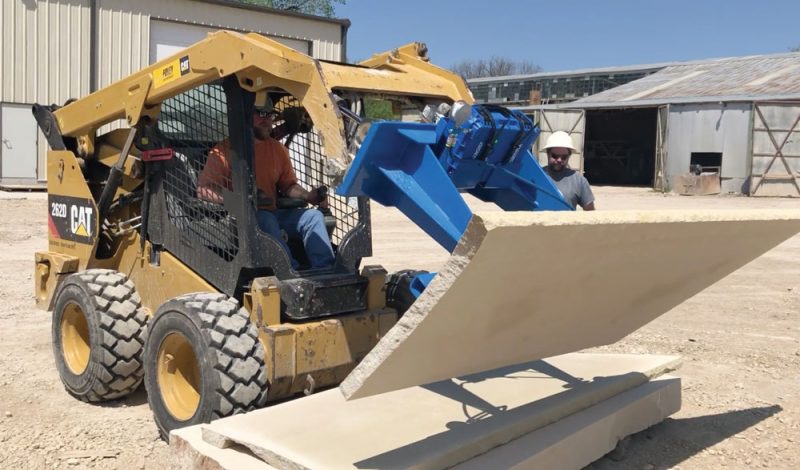 A battery-powered vacuum lifting attachment that weighs just 25 lbs yet generates enough power to lift up to 2,500 lbs is an easy innovative implement pick. The PHD Portable Vacuum Lifting System can be mounted on everything from mini skid steers to forklifts to demolition robots. Vacuworx designs all its vacuum attachments as ultrasafe, so of course the PHD incorporates a remote control so the operator doesn't sit next to heavy loads. It's designed with a 12V 30 amp/hour rechargeable lithium-ion phosphate battery and twin pump design to work faster, safer and (here's a theme) smarter. For more info, visit vacuworx.com.
Level Best Grader Blade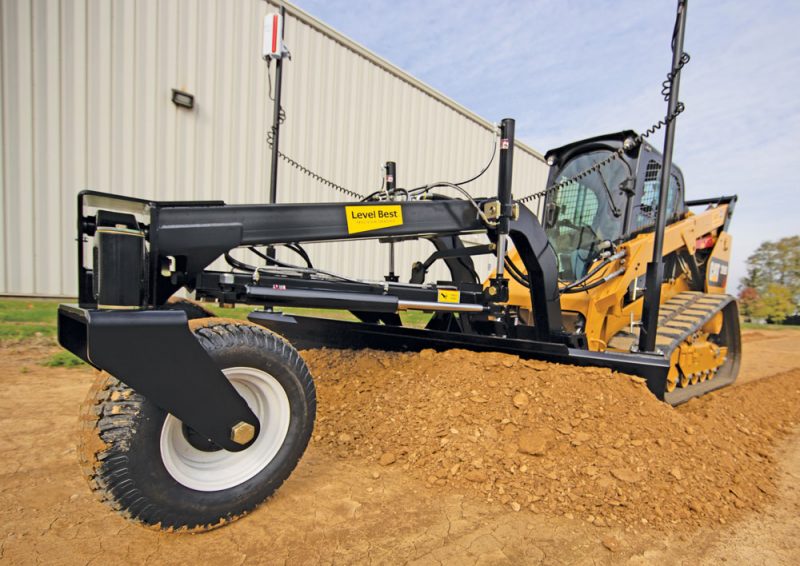 Level Best has been making top tier grade control attachments for decades, but its new unit is a radical departure from its standard grading box design. It is accurate up to 0.1 in. of spec, easy to use even by inexperienced operators and is compatible with virtually all makes of today's popular compact track loaders and skid steers. Both box and blade automatically adjust more than 50 times per second in guidance mode, something no other equipment in the category does. Hydraulics use counterbalance valves for zero drift and greater safety. This new Precision Grader Blade adjusts in four different directions to cut and move soil to form windrows, and it works with 2D guidance, 3D guidance and in manual mode. For more info, visit levelbestgrading.com.
Epiroc HATCON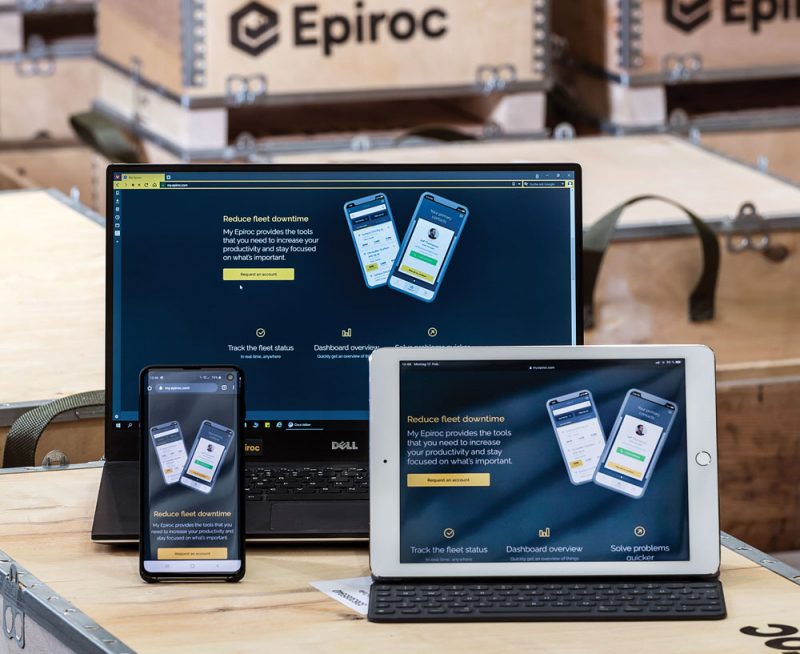 Atlas Copco's spinoff attachment brand Epiroc is now offering telematics tech on tough working attachment categories like breakers and drum cutters. HATCON or Hydraulic Attachment Tools Connectivity is a remote monitoring device for breakers and drum cutters that keeps track of location and operating hours to improve efficiency and safety. The cloud-based platform My Epiroc gives customers notifications about service, creates task lists and provides an overview of the entire fleet. HATCON is available factory mounted or as a retrofit kit for Epiroc premium range breakers and drum cutters. For more info, visit epiroc.com.
Fecon Standard-Flow Mulcher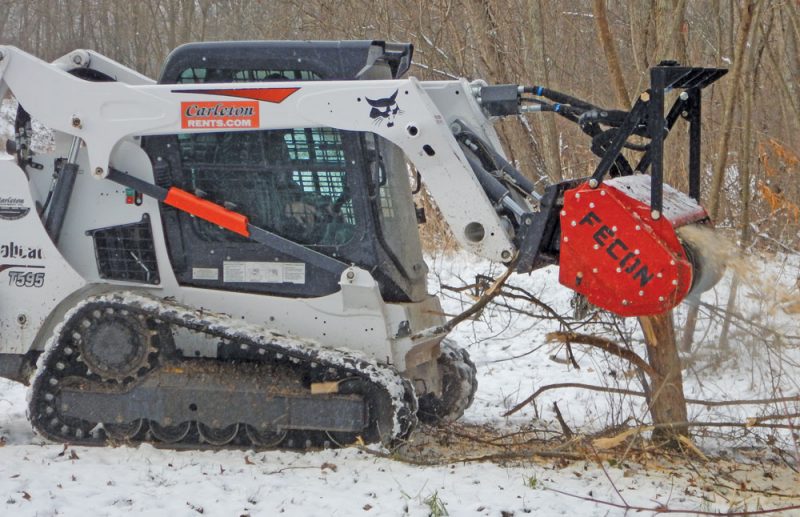 Track loaders with brush cutting attachments have become so popular, Fecon introduced a standard-flow mulcher head for loaders with less auxiliary gpm. This standard-flow mulcher has reversible tooling and optimal rotor diameter that were designed specifically for the hydraulic power of standard-flow loaders. It also features a variable displacement hydraulic motor, allowing users to adjust the head with the turn of a screw should the application change from say soft wood to hardwood or smaller to larger material. A variable displacement motor also spins the rotor faster, stalls less and recovers more quickly. For more info, visit fecon.com.
Lowe Core 8 and 8U Augers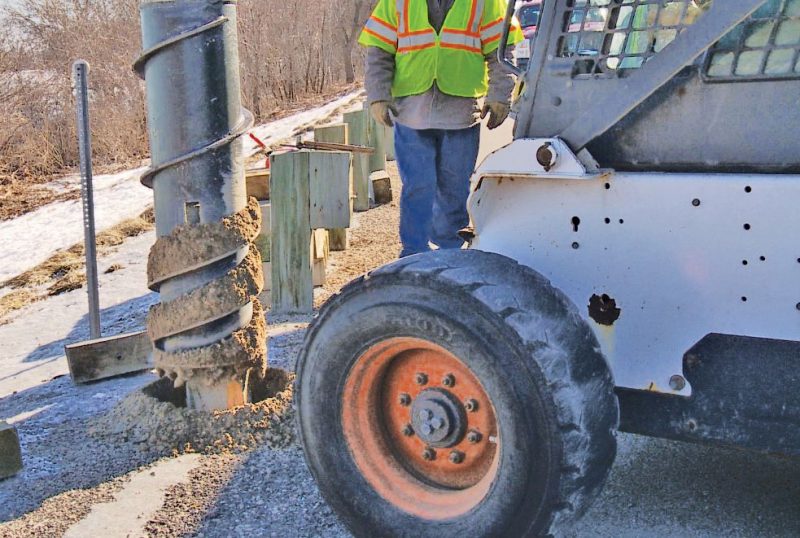 This Nov./Dec. issue is always a herald for the winter work season, and cold work is definitely cool with Lowe's Core 8 and 8U augers, designed for road crews who are removing or replacing rail posts, even more so during winter. Core augers are engineered for post removal from frozen or highly compacted ground. With conical carbide teeth, high-strength steel construction, a 12-in. inside diameter and a 17-in. outside cutting diameter, the Lowe Core augers can dig around square posts that are up to 8 in. across. They easily attach to a wide range of skid steer and compact track loader models. For more info, visit loweman.com.
Loftness L Series Low-Flow Battle Ax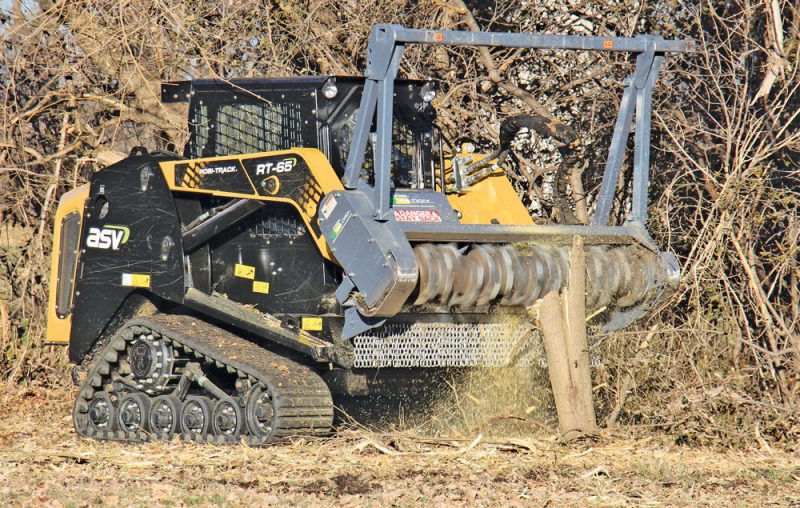 Seeing similar demand for lower flow brush work, Loftness expanded its line of Battle Ax horizontal drum mulchers with the new L Series, designed for low-flow skid steers with 16- to 30-gpm hydraulic flow ratings, available with 51- and 61-in. cutting widths. Like other Battle Ax models, the L Series features a new rotor design with built-in depth gauges, which function similarly to raker teeth on chainsaws to prevent the attachment from engaging too much material at one time. This unique design is ideal for managing the amount of material being fed into the attachment than ring-style rotors, which many operators find to be overly limiting. For more info, visit loftness.com.
Kubota CC30 Concrete Claw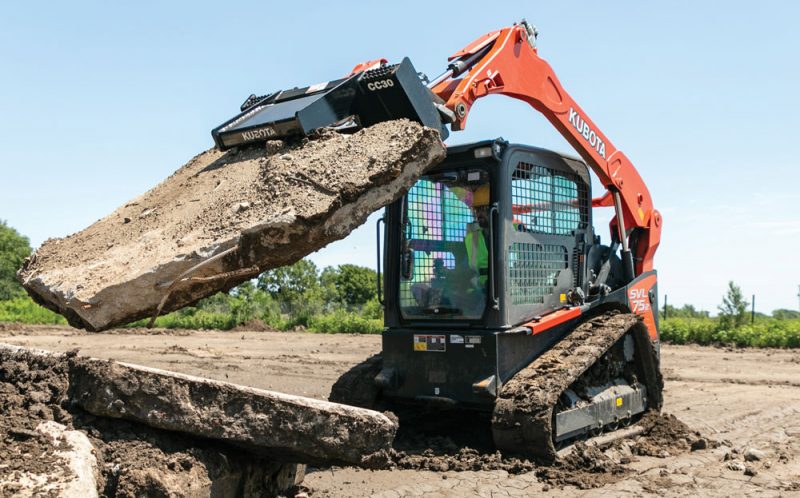 Call in the claw. The Kubota CC30 Concrete Claw is used for digging and removing large sections of concrete floors, driveways, sidewalks and other large slabs. Simply slide the teeth under a concrete slab, lift and load the slab under the pin-under top for clean and efficient concrete removal. The CC30 Concrete Claw features a universal quick-attach hitch that fits a wide variety of loaders and makes the attachment easy to attach. Its high strength T1 steel side panels resist bending and its specific design will save customers from damaging their standard buckets when removing concrete. For more info, visit kubotausa.com.
Montabert Water Mist System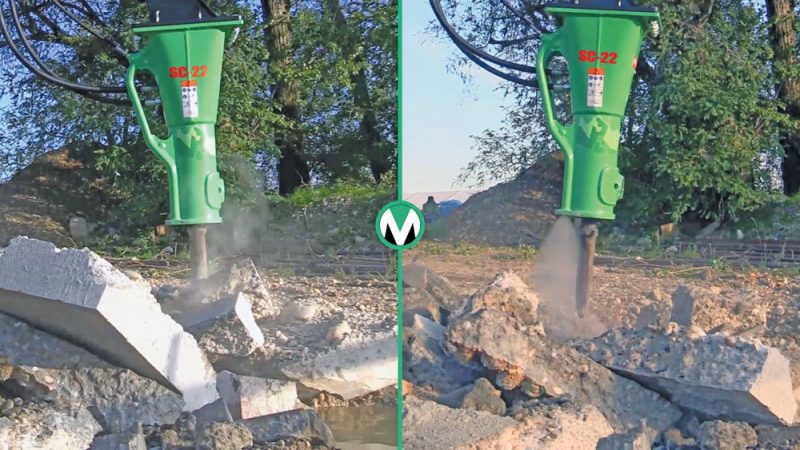 Montabert, a world leader in design and manufacturing of hydraulic rock breakers, introduced its new water mist system at CONEXPO-CON/AGG 2020. The feature was created to mitigate silica on jobsites following OSHA regulation changes. The spray feature will include an integrated hose protection design with a water inlet port. Breakers with this feature will have two lifting points for improved safety and a water nozzle that provides a wide-angle spray. The optional water spray will be available on Montabert's smaller breakers including the SC-22 and SC-28. For more info, visit montabertusa.com.
Werk-Brau Extreme Duty Excavator Buckets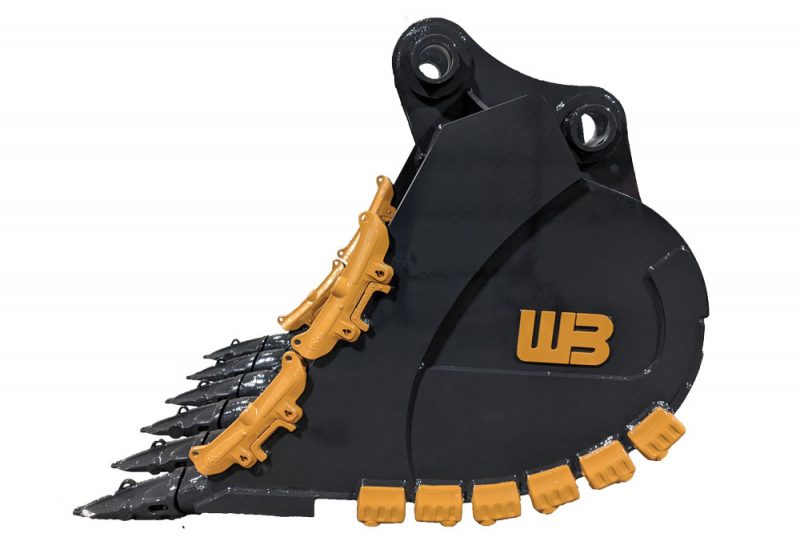 Werk-Brau's new extreme duty excavator buckets are aggressive. They feature a serious dig angle, rugged construction with abrasion-resistant AR400 through AR500 steel and horizontal wear strips to effectively excavate in the toughest conditions. Designed for durability and effectiveness, even in brutal conditions, they are made in the USA with industry-leading lead times. Standard sizes available from 3/8 to 10 cu yds in various widths, with special designs and capacities available on request. The buckets are ideal for demolition work, shot rock, abrasive applications, moderate prying and material handling when paired with a tough thumb. For more info, visit werk-brau.com.
Keith Gribbins is publisher of Compact Equipment.
Tags:
Cat
,
Caterpillar
,
Danuser
,
Epiroc
,
Fecon
,
home
,
Kubota
,
Level-Best
,
Loftness
,
Lowe
,
Montabert
,
November December 2020 Print Issue
,
Trimble
,
Trimble Earthworks
,
Vacuworx
,
Werk-Brau