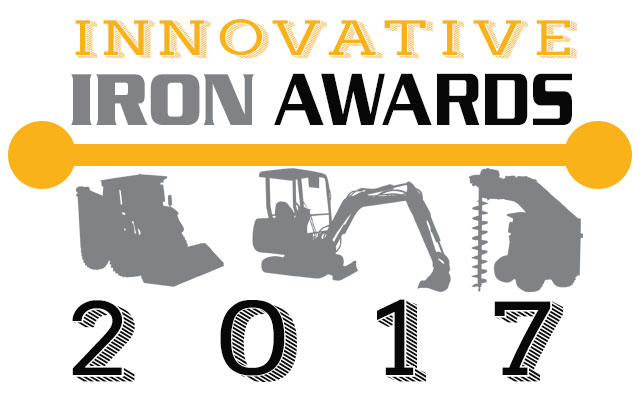 Wielding hydraulic tools like a breaker, backhoe, bucket or broom, a tool carrier can be the ultimate do-everything machine on a project site, but a tool carrier is nothing without its attachments. Compact Equipment is a magazine dedicated to tool carriers, machines like skid steers, track loaders, wheel loaders, mini excavators, telehandlers, utility vehicles and beyond, so that means we're constantly covering the hydraulic- and PTO-powered attachments these machines utilize (from tree spades to silt fence installers). At the end of the year, we like to call out the coolest new attachments that entered the market, so here's our list of pioneering attachments that can give your fleet a new multifaceted approach.
Turbo Mulcher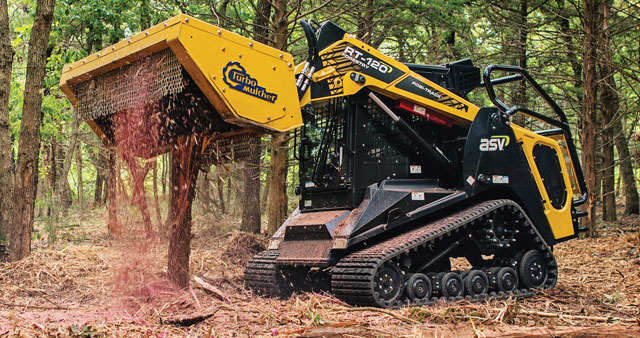 Meet the Turbo Mulcher. It has the widest cutting path on the market, it's engineered to reduce the carrier's hydraulic load by 63 percent compared to traditional drum mulchers and it reaches peak efficiency at only 1,600 rpms. Its maker, Dougherty Forestry Mfg., also boasts that its direct drivetrain requires the least amount of maintenance of any mulcher attachment on the market. The company incorporates its own specialized carbide cutter teeth to maximize durability and produce fine mulch. The Turbo Mulcher is built with a deck-forward design that mows brush as efficiently as it mulches trees. Dougherty has been producing land clearing attachments for 16 years in Oklahoma. For more info, visit doughertymfg.com.
Earthworks for Excavators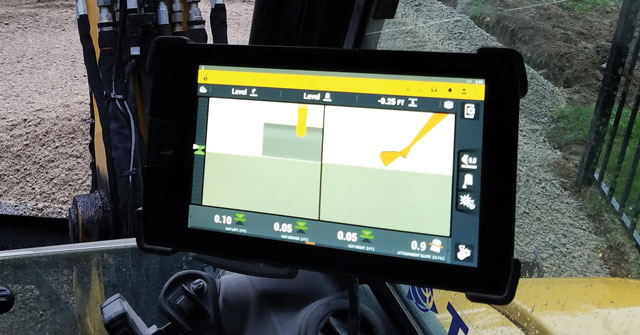 Trimble Earthworks for Excavators (even compact excavators) is now one of the best machine control platforms on the market. Earthworks for Excavators provides the industry's first integrated 3D aftermarket grade control automatics, allowing operators to create smooth, flat or sloped surfaces more easily. When the excavator is placed in Autos mode, the operator controls the stick, and Trimble Earthworks controls the boom and bucket to stay on grade, reduce overcut and increase production. The system is built on the Android operating system and runs on a new 10-in. Trimble TD520 touch screen display. For more info, visit construction.trimble.com/earthworks.
Mega Mixer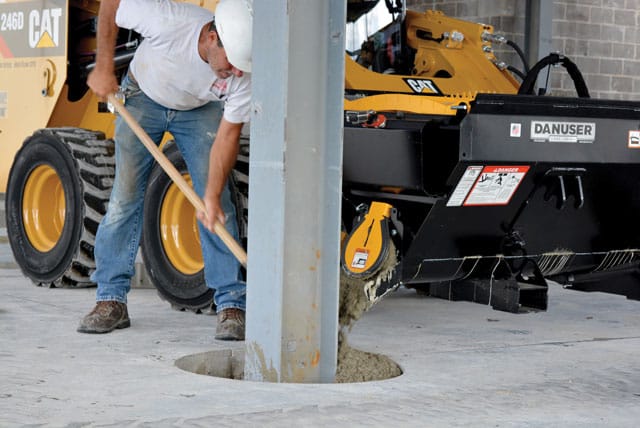 This perfectly named attachment for skid steers and track loaders is designed to scoop, mix and dispense a wide variety of materials ranging from concrete to livestock feed. Danuser's Mega Mixer holds up to 3/4 yard of concrete, and there is an optional hopper extension to make it 1 full yard capacity. This sucker mounts from both sides which means it discharges up to 2-in. diameter materials to the left or right. The Mega Mixer also includes a lockable discharge gate to minimize spillage and has a built-in scraper blade on each side. It works with bag/premixed concrete, feed, rock, mulch, topsoil, sand and asphalt. For more info, visit danuser.com.
AccuGrade Box Blade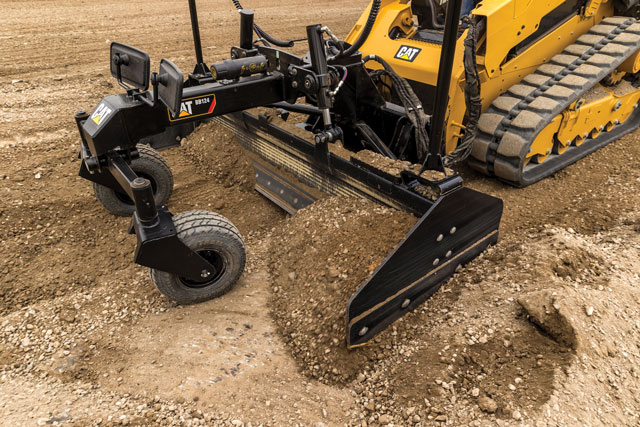 Caterpillar's AccuGrade Box Blade entered the market in March, and its integration of highly accurate and easy-to-use components and features for a skid steer/track loader box blade attachment caught our collective attention. Cat Grade Control solutions are easily added to this attachment from 2D laser and sonic to 3D GPS and UTS. Control of the blade can be done manually or automatically through the integrated joysticks in the cab. When in automatic, the operator only needs to concentrate on machine movements and material distribution. Wear components on the blade itself, side wings, side cutters, cutting edges and masts, are all bolt-on and/or are dual sided for two lives. For more info, visit cat.com.
High-Dump Bucket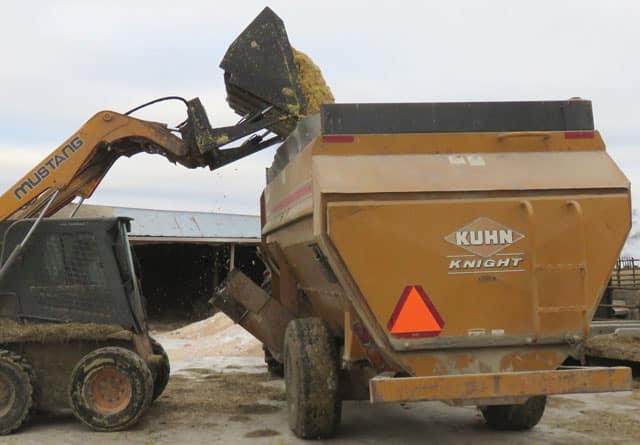 Bradco's High-Dump Bucket from Paladin is available in four widths and is the highest lifting roll-out bucket on the market, says the company. The Paladin model has a 74-in. lift height compared to standard general-purpose buckets. The High-Dump also extends the dump angle to 118 degrees, adding more than 30 degrees vs. competitive models for greater versatility. It also has cushioned hydraulics for smooth operation. Load feed bins and trucks or stack material higher. All can be conquered with the Bradco High-Dump. For more info, visit bradcoattachmentsonline.com.
Compact Modular Vacuum Lifting System
Picking up hard-to-handle objects has never been easier. Designed to specifically work with compact equipment like skid steers and track loaders, the CM 3 Compact Modular Vacuum Lifting System from Vacuworx is easily adaptable to different material handling needs with an interchangeable pad system. It can be used for applications such as moving concrete slabs or trench plates. The system utilizes the auxiliary hydraulics from the host machine and can be installed in just minutes. Vacuum lifting is a safer and more efficient alternative to traditional lifting methods such as anchors, hooks, slings and chains. For more info, visit vacuworx.com.
QuickCube
Boss' QuickCube attachment is a revolutionary new ice control system that will change the way snow and ice professionals work for the better. It's an all-in-one spreader and salt storage unit that's operated by a skid steer. Each gravity-fed QuickCube hopper holds up to 1,000 lbs of deicing material. The QuickCube drives efficiency by combining on-site salt storage and spreading. The weather-proof, QuickCube hoppers can be filled and left at customer locations; no more back-and-forth trips during storms or relying on remote salt piles, tarps or shelters. For more info, visit bossplow.com.
Tilt-Lift Plow
Hiniker Co.'s new 1700 Series Tilt-Lift plow brings to the market a high-quality, full-function plow at an economical price. The unique Hiniker lifting action keeps the moldboard positioned below the level of the truck lights, eliminating the need for auxiliary plow-mounted headlights. This reduces overall cost and installation time, as well as maintenance requirements and weight. The 1700 Series plows are available in 7 and 7 1/2-ft widths and feature a 26-in. tall torsion trip-edge moldboard with a stainless-steel surface. The self-aligning, drive-in Hiniker Quick-Hitch mounting system allows users to connect within seconds. For more info, visit hiniker.com.
Severe Duty Brush Cutter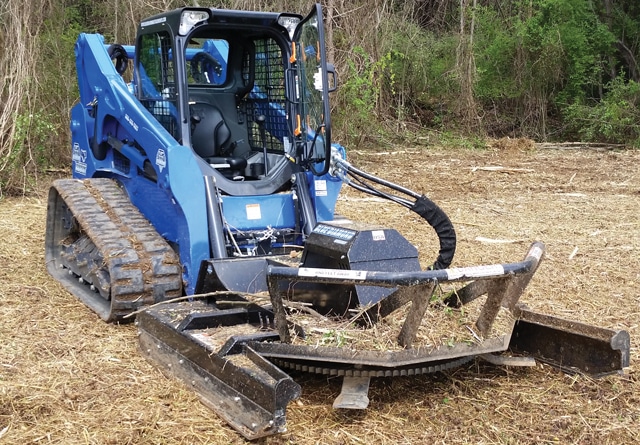 Blue Diamond Attachments doesn't muck around. Its Severe Duty skid steer/track loader brush cutter is built with the highest quality piston motor on the market, says the company, and is offered in high- and standard-flow configurations. From grass to 10-in.-plus trees, this monster cutter handles it all, with more than 500 lbs of blade carrier shredding everything in its path. Weighing just over 2,000 lbs, this cutter is a heavy beast with replaceable and adjustable skid shoes. You can also alter grass cutting height. If you don't like the cutter, it comes with a 100 percent satisfaction guarantee. For more info, visit bluediamondattachments.com.
Battle Ax
Loftness' gnarly named Battle Ax is not a reckless destroyer. It's actually the first and only mulching attachment to have a rotor with depth gauges. These depth gauges work like raker teeth on chain saws to regulate the amount of material being fed into the machine. This design is an improvement over the traditional ring-style rotors, which can be overly limiting. It also offers high performance with both knives and carbide cutting teeth. The Battle Ax is available with 41-, 51- and 61-in. cutting widths, and the variable displacement piston motor on the Battle Ax is designed to accommodate the output of various excavators. For more info, visit loftness.com.
SCL/EX/VT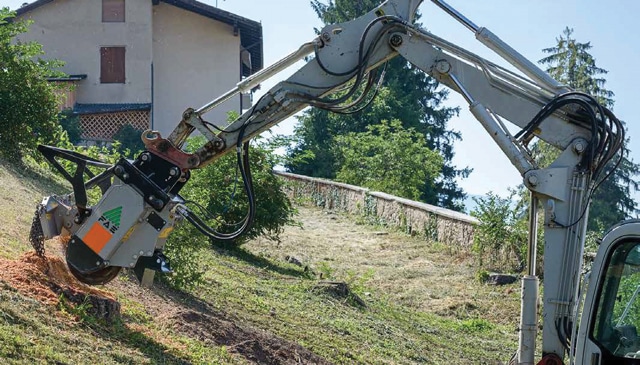 Like its namesake, FAE is sticking with letters for its latest innovation — the new SCL/EX/VT. Ths excavator stump cutter is designed and developed for hard-to-reach stump applications. This attachment is for excavators ranging from 7 to 15 metric tons with a flow range of 27 to 42 gpm. The SCL/EX/VT rotor's diameter is 27 in. This machine's compact size and heavy-duty, larger disk make stump removal easier. The SCL/EX/VT stump cutter adds a degree of dexterity allowing operators better control in removal. The design includes an enclosed anti-dust machine body and bolt-on protection chains. For more info, visit faeusa.com.
Tags:
Blue Diamond Attachments
,
BOSS
,
Bradco
,
Caterpillar
,
Danuser
,
Dougherty Forestry Mfg.
,
FAE
,
Hiniker
,
home
,
Loftness
,
November December 2017 Print Issue
,
Trimble
,
Vacuworx