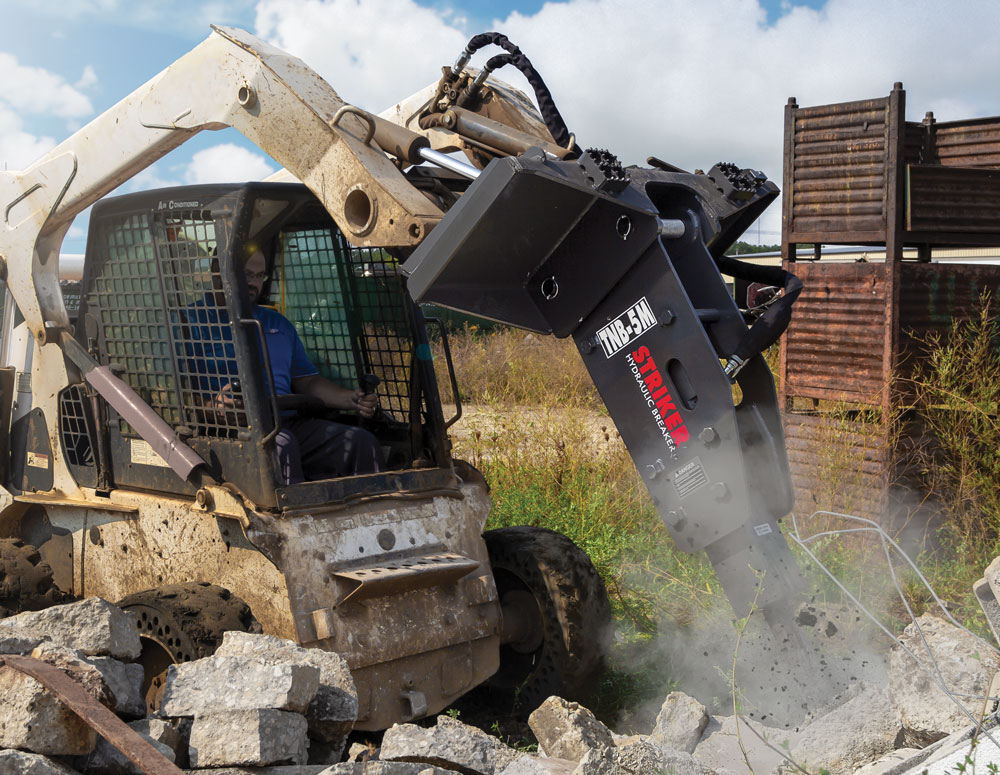 Demolishing rock or concrete is noisy, dirty work. It is a brute-force labor even when a compact piece of machinery is doing most of it. Consider the dynamics: A breaker piston fitted at one end with a high-tensile steel bit hammers into a targeted surface, battering it at a rate of hundreds of blows a minute. The finely engineered breaker or hammer attachments effectively harness the percussive violence — employ it, in a word, as a destructive tool. While breaker/hammer attachments for skid steers/compact track loaders and mini excavators vary somewhat from manufacturer to manufacturer, they all share some common characteristics. To wit:
They Punch Hard and Fast
Breaker blows on compact machines are delivered anywhere from 150 to 1,500 times a minute depending upon the hydraulic gallons-per-minute (gpm) flow rate of a carrier. While all that force is concentrated on the point of a bit, some of it is propelled backward. The series of skid steer-sized breakers manufactured by Epiroc (until January of last year, the name was Atlas Copco) tries to harness the rearward thrust using what it calls its Energy Recovery System.
Rich Elliott, Epiroc product manager, likens the recovery system to bouncing a hammer off an anvil. "That's almost exactly what we do. We capture the energy and recycle it for the next blow, getting up to 25 percent more percussive performance. And all of our breakers have the system."
Striker brand hydraulic breakers don't use this standard "accumulator" technique for redirecting force. "We have an enclosed system of nitrogen and use that to power our breaker," says David Nakamura of Toku America. "It's dual purpose. It helps accelerate the piston and, on the other end, cushions it when it comes back up so there is less reaction for the machine."
Nakamura says Toku consciously chose not to employ an accumulator. "We feel that it is a savings not to have one. You don't have to maintain it — the rubber bladder inside an accumulator has a certain life, a thousand hours or whatever, and then needs to be replaced. Not having an accumulator definitely is a maintenance cost-savings."
The longevity of the nitrogen charge is a selling point also made by Ron Peters, product manager for Edge brand breaker attachments. "Under normal use, you just have to check the nitrogen charge once a year, and we have charges available when they are needed. If you use the breaker a lot, maybe check it twice a year, but otherwise it probably is good for a year."
Breakers Must Be Durable
They must be durable to contain the explosive force in each thrust of the piston. One of the ways breaker manufacturers build in durability is by minimizing components. Epiroc calls its small hammer products "Solid Body breakers," an allusion to the single casting construction method employed for the body of the breaker. The manufacturing process creates relatively slim breakers, which is an advantage for working in tight spaces.
An Edge breaker has a mono-block design with two moving parts. The breaker's advanced hydraulic circuit provides increased flow to the valve and piston, giving operators faster cycle times and increased tool penetration. Toku Striker breakers and Paladin Strike Force breakers also tout two moving parts — a control valve and piston.
Ananth Parameswaran, vice president of marketing and product management at Paladin Attachments, explains why fewer parts are better. "Basic engineering reliability theory confirms that the lower the number of components or sub-systems, the less opportunity for failure and the higher opportunity for reliability. For breakers, this simply means that because there are fewer moving components, the hydraulic clearances can be maintained at a reasonable manufacturing level without compromising performance."
They Are Quieter and Cleaner
The quiet is relative, of course. "Noise is definitely a factor," acknowledges Nakamura. "We offer breakers that are in boxed housings to suppress noise. If a contractor is going to be working in a noise-sensitive area, he would order the boxed housing. Or he can get the housing later when he needs it to get a few less decibels at work."
Workplace studies say earplugs should be worn by construction crew workers when noise emissions exceed 85 decibels. Hydraulic breakers that don't try to mitigate the percussive noise operate in the 90- to 100-decibel range. Epiroc offers a range of breakers with noise solutions. The EC breaker models are inside a box lined with polyurethane to dampen noise and vibration. "Our SB models offer a little bit more noise and vibration dampening," says Elliott. "They operate a little more quietly compared to the ES models and are quieter to use in urban areas or next to a hospital or school."
Dust also is an issue. Epiroc SB breakers were the first in the industry to offer an integrated water-spray dust suppression system. It was introduced years ago because of environmental regulations abroad. The system is newly relevant in the United States because of hovering OSHA silica dust rules. It is a standard feature on the SB Series of Epiroc breakers, with a port already cast in the breaker body for affixing a water line.
Paladin's breakers for skid steers and compact track loaders are not engineered for noise abatement, though larger Paladin models are. The manufacturer — which introduced its Strike Force breakers in 2016 — does not offer a built-in dust suppression because, says Parameswaran, "historically, these systems are prone to failure. Remotely stationed water spray systems remain the most effective."
Power-to-Weight Ratio
Such a value has not been computed for hydraulic breakers. Logically, a certain amount of weight is an advantage when a tool is bearing down on a seemingly impenetrable material. Yet the efficiency of a breaker generally is deemed more important than its dead weight.
"Some people like to put big breakers on a small machine thinking it will break more rock, but sometimes that's not a good idea," Nakamura says. "The combination of weight and force produces a lot of energy going back through the excavator or skid steer. If it is too much, it will start damaging the carrier. Maybe not immediately, but it can develop problems after months of work."
Epiroc breakers are more about performance and efficiency than weight, according to Elliott. The mono-block design of the company's EC Series breakers are round and have no corners or long tension bolts which reduces the operating weight compared to bolted-together housings. "You can put our breaker on smaller machines and still get the power and performance from the breaker," says Elliott
"Breakers have some of the highest stresses found in construction equipment," Parameswaran notes. "A good breaker design uses high tensile strength material to absorb this power without adding unneeded weight that can compromise stability."
Edge's product manager says the gpm flow of the unit carrying the breaker should be the primary consideration in picking a breaker, rather than weight. "Most skid steers put out in the range of 18 to 19 gallons per minute," Peters says. "With breakers, you should check the gpm first and choose a size of breaker from that."
So, today's breaker attachments for compact machines are hard-hitting and come in relatively quiet versions, but how do they hold up under the strains of their destructive work? Wear items wear out, of course — the chisel, the retainer and bushings going first — but automatic-grease options spurt a little lubricant each blow to keep other friction to a minimum. And, against all odds, the tools keep battering. Toku offers a vote of confidence that its demolition attachments will continue to pound away: a three-year warranty on the body of each Striker breaker. Hard to beat that.
Giles Lambertson is a freelance writer for Compact Equipment.
Tags:
Breakers
,
Edge
,
Epiroc
,
Hammers
,
home
,
January 2019 Print Issue
,
Paladin
,
Striker