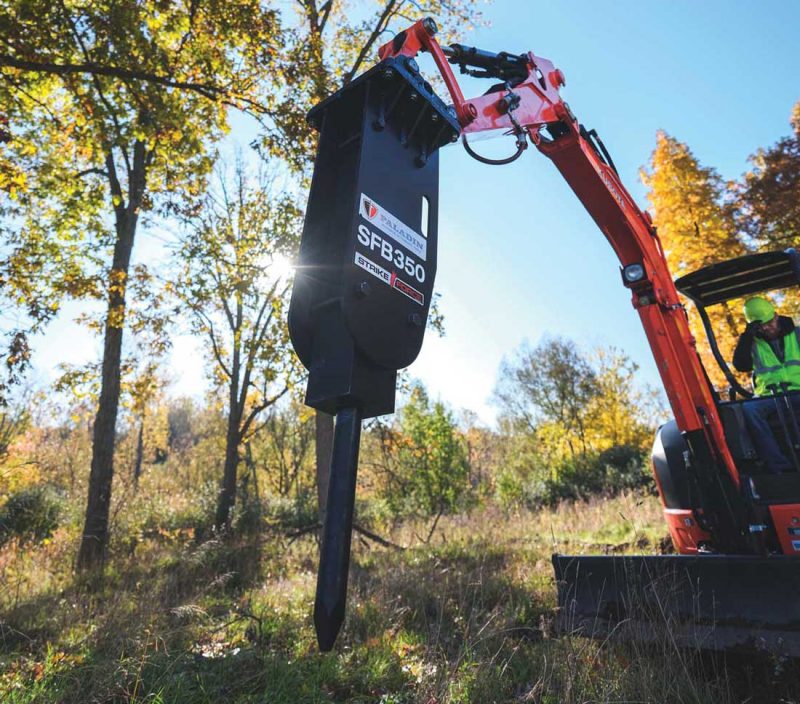 They are called breakers or hammers and are, in effect, vertical battering rams that pound and pound until rock or concrete shatters or splits under the pressure. It's a tough job and breaker attachments mounted on compact equipment do it with increasing efficiency. The breaker has been incrementally refined over the decades. Product managers of 60 years ago would still recognize today's breakers and be impressed by their performance.
"We have evolved our product," says Rich Elliott, hydraulic attachments product manager at Epiroc, which serves mining and civil engineering customers. "Epiroc had its first breakers in the 1960s, and in the past 50-plus years they have changed quite a bit. We're always trying to improve our breakers for performance, production capacity and reduced maintenance."
Epiroc most recently introduced two specialty models for tunneling applications. They feature a stainless-steel piston and collar, a front shield and a dust cover to protect the breaker mechanism from both debris falling on it during overhead work and from dust entering and fouling moving parts.
The company offers two distinct product lines — Premium and Essential. Elliott describes the Premium line as having more "bells and whistles" than standard equipment — such as an air port for underwater applications and an automatic lube system. "The Essential line is still a high-quality product, but customers who know they are never going to run the breaker under water don't need to pay for something they are never going to use."
Montabert's SC Series breakers for compact equipment were introduced in 2004. According to sales manager Tim Miller, "small continual changes" have been incorporated over the last 15 years. "Nothing dramatic." The hammers notably have been made more easily serviceable so that, for example, they don't have to be detached from a carrier for some maintenance procedures. The Montabert breaker is fully hydraulic, which is to say there is no nitrogen gas employed to give the tool a downward jolt. "So long as the carrier can provide hydraulic oil to it, our breaker will function. Our customers definitely appreciate the fact that there is no requirement to keep the tool charged with gas."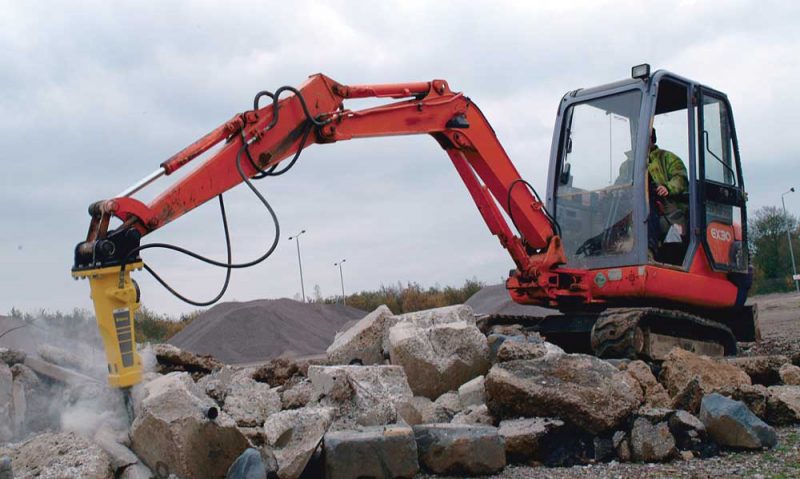 Miller says Montabert has the luxury of having a proven breaker design that doesn't need periodic redesign. "We can test any suggested changes thoroughly. No need to introduce another model just to get something new out there. Our goal always is to have the tool working the same after a couple years of use as it worked the first day."
For close to 40 years, Striker breakers have been a product of Japanese manufacturer Toku. Only in the last decade has Toku targeted the U.S. non-quarry market. The hammers are hybrids, employing both nitrogen gas and hydraulic oil to drive the piston downward. "We lift the piston using oil like any other breaker, but use both gas and oil to fire the piston. If you lose some gas, you still have some driving power," says David Nakamura, president of Toku America.
The newest Striker model for compact machines is the 6M, a 770-lb hammer needing 11 to 19 gpm oil flow to operate. It was designed especially for backhoe use and is slightly more powerful than the 5M. "People wanted a little more oomph," Nakamura says. The most popular Striker model, however, is the 4M, a 560-lb tool. "There is a huge market for that size. It is just right for a skid steer or small excavator."
Two prominent hydraulic breaker lines — Paladin and Stanley — are now under one umbrella after Paladin Attachments was acquired in March by Stanley Infrastructure. Larry Pillers, senior product manager for Paladin, says combining the two lines created a synergy that will benefit customers. "We can address multiple value propositions to give customers the best option and support them fully with one expansive customer service support and dealer network."
Pillers concurs that the 500-lb breaker segment is the main driver in the compact machinery market. Stanley Infrastructure has two models in that class: Paladin Strikeforce SFB500 and the Stanley MB05. "We will continue with both models because each delivers somewhat different capabilities and value positioning depending on customer need." The newest Stanley-Paladin model is the MB10, a 750-lb hammer designed for larger skid steers/track loaders and backhoes. It can deliver 1,000 ft-lbs of striking force.
When Kinshofer acquired Hammer products, it incorporated the Hammer line, rebranding it as the KSB Series. "Kinshofer has retained the Hammer product range in its entirety," says Francois Martin, North America general manager. "The breakers have been a success so far, and we intend to make the advantages of the product available to a much wider audience." The KSB breakers also will be available through the Kinshofer subsidiary Auger Torque, which will specialize in skid steer utilization.
The universal impulse to re-engineer and improve a successful product is evident in the hydraulic breaker industry. Montabert's Tim Miller puts it this way: "Since the Stone Age, people have been working with hammer and chisel. We always are trying to improve our hammer and chisel to increase the efficiency of our breakers." Miller calls durability "the constant driver" behind breaker improvements. "It is a pretty simple product since its introduction back in the 1940s. Now it is doing the work on smaller machines."
Pillers looks back on 25 years of work with breakers and concludes that better seals and superior manufacturing are the difference today. "Both have improved for the higher quality brands. These improvements add reliability and durability but do so at a price to the customer. In this case, you definitely get what you pay for."
He adds that another general upgrade benefiting customers is in lubrication, both in the automated systems and the grease formula itself. "Grease has improved over the past decade with use of a hammer paste becoming more prevalent," he says. "Hammer pastes are much more higher-temperature capable and typically include solid lubricants to help protect the tool-to-bushing interface."
Martin agrees that tighter nitrogen seals have become a standard expectation in gas-fired breakers and his company is doing its part to make it so. "The Kinshofer design allows 300 percent more gas tightness due to a specially designed compound seal made by Freudenberg, a German seal manufacturer. This reduces downtime and assures longer periods of maximum output."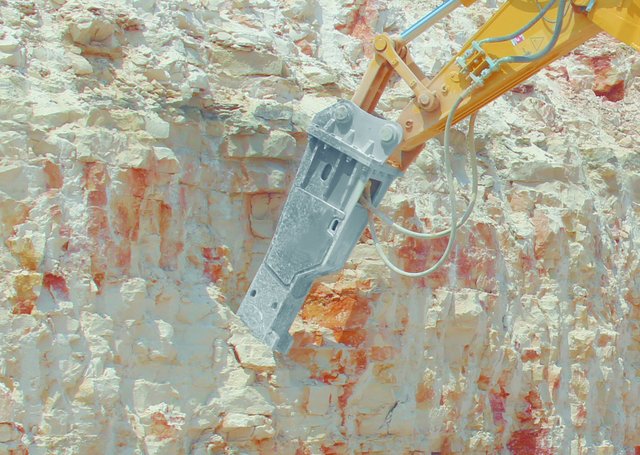 Engineering breakthroughs have wrought breakers with more punch per pound, according to Elliott. "One of the differences between today's breakers and their predecessors 40 or 50 years ago is weight," says the Epiroc product manager. "We have been able to reduce the product's weight by up to 40 percent. The increase in efficiency is a huge thing."
He adds that the life span of breakers has increased as well. "It depends on the machines' maintenance, but when you maintain them and replace what needs replacing when it wears out, well, some of our breakers have been out there 30 years. We refurbish them and they go back to work."
Nakamura cites easier maintenance as a characteristic of today's breakers. "That's the direction they're moving. When you have to rebuild a breaker, there is a cost to it. The lower that cost, the better. Companies are strengthening their hammers so it doesn't cost as much to overhaul them."
Monitoring the utilization of breakers is something Kinshofer is focusing on for the future, according to Martin. "We're working on a tool-tracking system for fleet management, to record the working history but also to help the user maintain the breaker on schedule." The tracker will be an option on smaller breakers and standard on the new KFX Series of larger hammers.
Though demolition is dirty work, dust suppression features are not yet a deal-breaker on breakers. "We haven't had too much demand for it," says Nakamura. "It's been a pretty big topic of discussion, but we're not getting many calls for it."
Giles Lambertson is a freelance writer for Compact Equipment.
Breaker Grapple?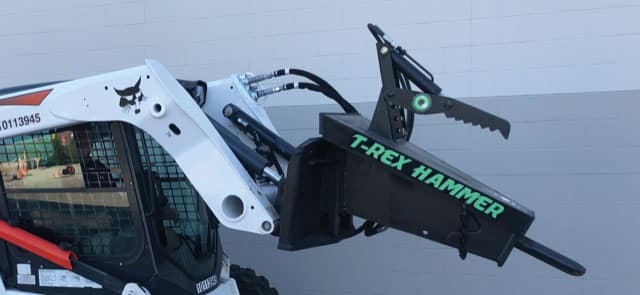 Invention sometimes is accidental, almost serendipitous. A guy, say, in Omaha, Neb., might climb out of his skid steer after breaking up some concrete and off-handedly remark to his boss, "We ought to put a claw on the breaker."
Thus, was T-Rex Hammer born in 2012. The crewman's idea was massaged, patented and finally prototyped before production began six months ago. "Everyone says, 'Why didn't someone think of this sooner?'" says Red Welke, founder of the Omaha company producing the new tool. "The concept was very simple, but there also were a lot of details to be worked out." The T-Rex is a breaker with a hydraulic claw attached to the top of the housing. After a skid steer or track loader breaker loosens a slab of concrete, the nose of the breaker is slipped under the broken slab until the concrete rests on the breaker housing at which point the claw clamps the slab in place. The concrete then can be lifted and dropped into a waiting truck bed.
"What we have found is that, on average, we can tear out a parking area slab of concrete four to five times faster than doing it the traditional way," Welke says.
The company is most excited to announce a manufacturing partnership with Toku America who currently manufactures and distributes the Striker Hydraulic Breaker. Starting in 2020, T-Rex Hammer will sell a retrofit package to contractors who want to fit their current breaker with the T-Rex claw. For more info, visit t-rexhammer.com
Get attached to this link to find out more about breaker attachments!
Tags:
Epiroc
,
home
,
Kinshofer
,
Montabert
,
Paladin
,
Paladin Attachments
,
Striker