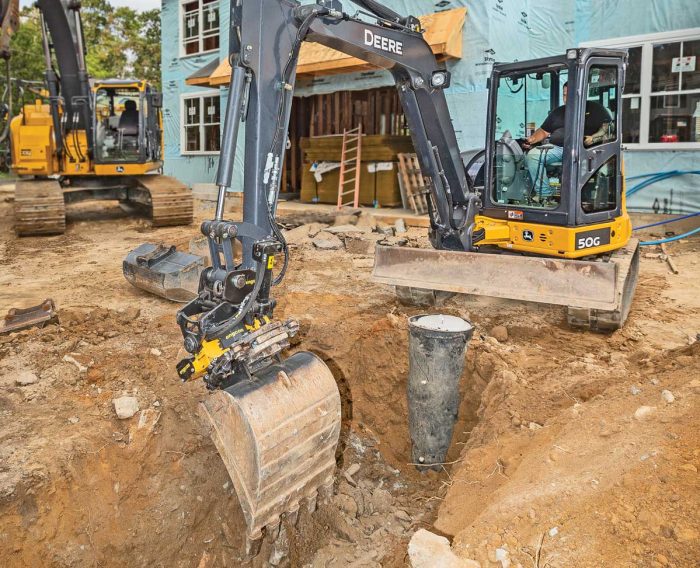 No matter the market segment, increasing productivity is always top of mind when purchasing equipment or attachments. That's why it's no surprise that the tiltrotator, used for decades with great success in Europe, is gaining market share in North America.
Allowing an excavator operator to tilt and twirl an attachment 360 degrees, the tiltrotator delivers versatility in a wide range of applications, including grading, general excavation, compaction, asphalt cutting and pick-and-place work. Picture digging precisely around pipes (sometimes with the bucket mouth up), grappling oddly angled concrete from a pile, brush cutting hard-to-reach shrubbery or placing various lengths of lumber into the back of a truck. Let your mind spin with the possibilities.
Why Buy?
In the hands of a skilled operator, a tiltrotator can turn a standard attachment into a powerfully flexible tool.
"A tiltrotator-equipped excavator offers enhanced value for customers, especially those working in tight, challenging jobsites or tackling applications that require precision and versatility, such as site development, underground work and landscaping," says Justin Steger, solutions marketing manager at John Deere Construction and Forestry. "Using a tiltrotator, the time required to complete tasks such as digging, contouring and backfilling is significantly reduced, increasing jobsite production and enhancing the operator's user experience. Additionally, with a tiltrotator, wear on the machine's tracks is decreased as a result of reduced travel."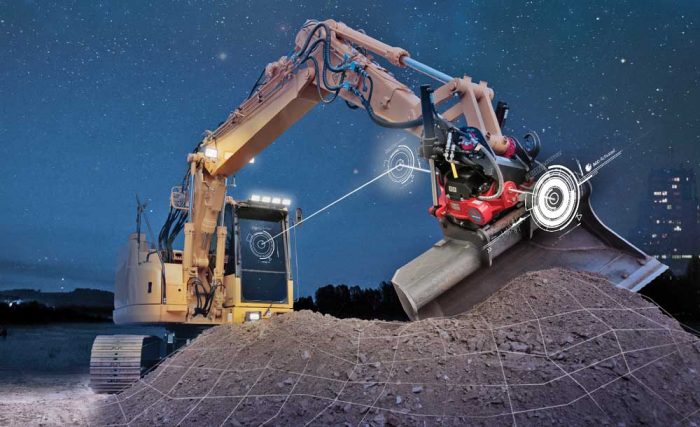 Some of the attachments paired with tiltrotators are popular attachments in general, according to Per Skaaret, product specialist with Kinshofer USA. "Buckets, grade beams, grapples and tamper plates are probably the most used attachments underneath tiltrotators — and the integrated grapple on the tiltrotator itself, of course."
For most manufacturers, buckets are popular choices, as well as hydraulic grapples, which are great for rock piles, landscaping and grabbing sections of pipe. Grading beams, useful for pond building and golf course development, are also common options. While not an attachment, 3D or 2D grade control systems from the likes of Leica, Topcon and Trimble can also be integrated with the tiltrotator to make operations even more precise.
Mini excavators are making big waves on jobsites all over North America. Click here for the latest news on these machines and the companies that make them.
"Tiltrotators make a machine very, very versatile," says Aaron Kleingartner, product and dealer marketing manager at Doosan. "You have this infinite ability with an attachment that might have additional rotating or articulating components on it to place material efficiently. If you're working with complex 3D grade control systems, you can know where the tip of that bucket is within a level of accuracy — sometimes to sub-inch or even sub-centimeter accuracy. So, if you're working with a very complex 3D model, you can use the additional components to be very precise with the placement of your bucket or other attachment on the end of the arm, which in turn allows the operator to be more efficient."
Customers are recognizing the benefits, says Jeremy Lindsay, sales and marketing manager at Rototilt. "Tiltrotators are a really effective tool. They increase productivity, they decrease the demand for manual labor on the jobsite, they increase safety, they're versatile and they can be used in so many different applications," he says.
Pre-Purchase Prep
While European customers are heavy users of tiltrotators, U.S.-based customers are only starting to understand their importance. Those who do use tiltrotators tend to be savvy purchasers who do their research.
"There are different models out on the market — conventional side-mounted cylinder actuated tilt mechanisms and innovative narrow width cylinderless options, also different types of control systems, coupler configurations, different options for swivels and more," Skaaret says. "It is important for the customer looking into purchasing a unit to find a sales professional to help guide them through the different options available depending on what type of jobs the customer usually takes on and also what types of attachments the customer wants to be able to use."
The installation process can be complex. It's helpful to know when you purchase your compact excavator that you'll be using a tiltrotator, says Lindsay. And while price is always a consideration, he says to buy the most durable tool you can afford, as there are variances in materials, durability and aftersales support. Also, an issue to remember prior to purchasing a tiltrotator is the complexity of the unit itself. With a steep learning curve to achieve maximum productivity, an operator with limited skill or training will not deliver the efficiency the tiltrotator is capable of providing.
Thumbs Up
Speaking of great grappling tools, the addition of a thumb to any mini excavator will add dexterity. Your choices are available in two main categories: rigid or hydraulic. An operator sets the position of a rigid thumb manually. This type is helpful if you frequently use other hydraulic attachments. Many mini excavators come with one set of auxiliary hydraulic lines installed on the arm. Owners can use a rigid thumb with an accompanying hydraulic attachment. New technology has led a majority of operators to favor hydraulic thumbs instead of rigid thumbs. A hydraulic thumb connects to the machine at the base of the arm and includes hydraulics to precisely control the position of the thumb. The hydraulic thumb has a much greater ability to grab different sizes of material. It can move with the bucket if you articulate it, and it gives you better placement options and better pickup options than a rigid thumb. Depending on your setup, you may need to install a second set of hydraulic lines or use a diverter kit to operate a hydraulic thumb. Info provided by Doosan.
"A novice operator is likely not going to be very efficient with a tiltrotator," Kleingartner says. "If you aren't using it regularly, you can become pretty inefficient really quickly if you don't know what you're doing with this type of attachment. A lot of times people get frustrated with that. If you're going to be using this type of attachment, you're going to want to have an operator to whom you dedicate some time and training to make sure that they understand it and can use this type of attachment efficiently."
Like any piece of equipment, proper configuration, having the necessary components and understanding available options generate the best results.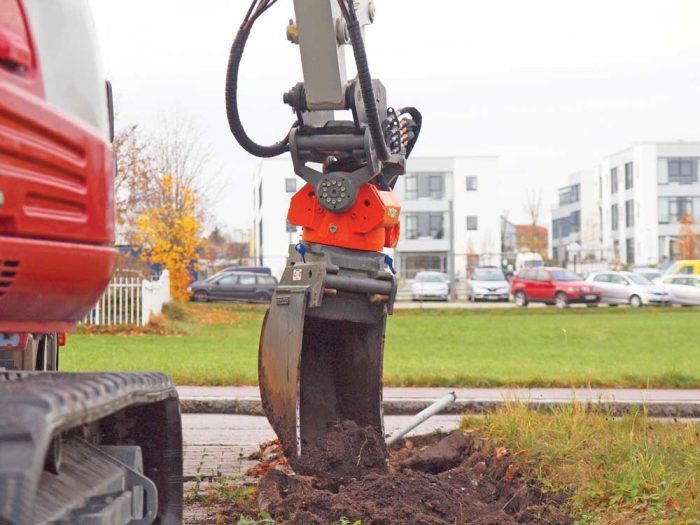 "Oftentimes, there is a secondary monitor and joysticks added to the machine with additional functions and buttons needed for proper operation," says Kleingartner. "There are also provisions needed to make sure the attachment is matched to the system, and the training options available are quite complex. Make sure the operator is fully skilled and ready to make that type of attachment shine on the jobsite."
Of course, you may be in a position where you've purchased used equipment, or you opt to add a tiltrotator at a later time. In that case, a quick-coupler style option is available. "Our upper mount can work on almost any carrier," says Lindsay.
John Deere offers Engcon tiltrotator model recommendations based on weight and ultimately machine size, considering factors such as arm length and counterweight. As mentioned, there will also be lots of other options: integrated grapples (even specialty variants like railroad grapples), safety coupler systems (that allow the change of attachments from the cab), various attachment brackets, joysticks, control systems and locking systems.
The tiltrotator is connected directly to the excavator's arm or beneath the excavator's quick hitch. The tiltrotator is then connected to the excavator's hydraulics and electrical system. Depending on the excavator's extra hydraulics, control is adapted to suit different types of control systems. For John Deere, the most common connection takes place via a single- or double-acting extra outlet on the arm, and the tiltrotator is controlled by a proportional control system known as DC2. The actual control unit (cab module) is located in the cab, and the tiltrotator's functions are controlled using Deere's MIG2 — joysticks with rollers that allow the operator stepless control of the tilt, rotation and grip functions if a grapple has been selected for the tiltrotator. Signals from the joystick and the control unit are received by solenoid valves on the tiltrotator, thus controlling the function selected.
Although many tiltrotators are manufactured to work with a variety of carrier machines, others offer exclusive partnerships. Later this year, John Deere will feature Engcon tilt rotators on their compact and mid-size excavators.
"Our customers can purchase select Engcon tiltrotators through John Deere construction and compact construction equipment dealers starting in the U.S. and Canada in the second half of 2021," says Steger. "The EC204 up to the EC233 models will be available through John Deere dealers and match with John Deere's 26G through 345G excavator machines."
Amy Materson is a freelance writer for Compact Equipment. Tags: Doosan, John Deere, June 2021 Print Issue, Kinshofer, Kinshofer USA, Rototilt, Tiltrotators