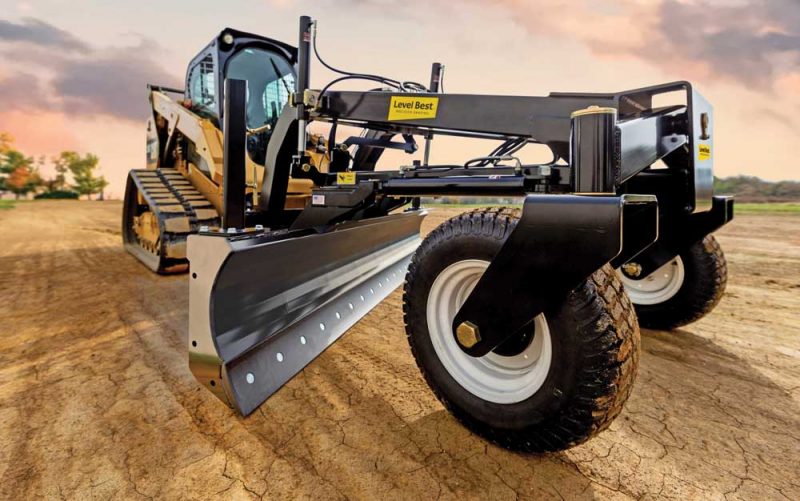 On a sunny summer afternoon, one of the first production units of Level Best's new Grader Blades was ready for the acid test. Without comment beyond basic how-to instruction, we asked a local grading contractor to give it a try on a local worksite. As he began to work the site that had already been rough graded, we wondered what kind of feedback he would give the new machine. Development had taken the better part of two years, so a lot was riding on his first-hand experience and reaction.
As the manufacturer of compact precision grading attachments for skid steer and track loaders over the past two decades, Level Best's new unit is a radical departure from its standard grading box design, which has found broad acceptance. It is accurate up to 0.1 in. of spec, easy to use even by inexperienced operators and is compatible with virtually all makes of today's popular compact track loaders.
Precision grading boxes are not new and neither is the blade design Level Best is introducing in 2020. But there are key differences in the new blade design. First, everyone is familiar with the large road graders, the ones used to carve roadbeds from virgin terrain mostly in the early 20th century to build roads in the rapidly expanding and developing continental United States. A road grader features a large blade capable of rotating its angle of attack to cut and move soil to one side or the other, forming windrows and clearing a pathway. These large machines made short work of carving out roadbeds, smoothing them and, before large snowplowing equipment entered the market, were one of the first machines adopted for large-scale snow removal across the long, straight roads in the Midwest.
But this new unit is much smaller than the familiar road grader, just one more entry into the fleet of compact earthmoving equipment that has become so popular in recent years. Would it add any meaningful new benefits for grading contractors, or would our efforts have been in vain? As we waited for our field test operator to get the feel of the new compact attachment, there was more than one set of nerves on edge waiting for the results.
The concept behind precision grading attachments is simple. Provide unsurpassed accuracy for guided grading, convenience, ease of use and most of all universal compatibility. With so many choices of compact track loader brands, as well as choices of leading guidance systems, could a precision grader attachment be made to work with all possible combinations, in something like a mix-and-match approach? This could save contractors from having to buy a specific brand of power equipment just to drive one compact grader attachment. If it would work with existing equipment, whatever the make and with whatever popular guidance system the contractor preferred, maybe it would be a winner.
Precision grading can dramatically reduce material waste. Precision graders have been proven to help reduce the amount of gravel, concrete and asphalt required for a given job. When you can reliably grade closer to spec, you will waste less material. Contractors with precision grading equipment can then reduce the amount of material overage typically included in a bid. Instead of calculating a standard 10 percent overage for material, for example, precision grading reduces that number to just 2 or 3 percent. This, in turn, helps reduce the total bid for the contract, giving contractors a competitive edge for winning the job.
The new Level Best Precision Grader Blade being tested provides some differences compared to the grader box the company has been making for a long time. A precision grader box fills low spots and levels high spots at the same time. It works in a push-pull fashion, working in forward and reverse to help increase speed and efficiency. Both box and blade designs have hydraulic systems that automatically adjust more than 50 times per second in guidance mode, something no other equipment in the category does. Hydraulics use counterbalance valves for zero drift and greater safety.
With all the ways the new blade attachment can be configured, it's more like a carving knife in your hand. It can achieve almost any kind of cut and at almost any angle. In addition to cutting subsoil and fill material, it can also cleanly scrape sod from the surface. This new Precision Grader Blade adjusts in four different directions to cut and move soil to form windrows. It pivots 30 degrees in either direction on the vertical central axis. It slides from side to side. One corner of the blade can stay stationary while the other end of the blade can be adjusted up or down for either cut or fill. The height can be adjusted to both cut and fill in a single pass, depending on the terrain. Like the popular box design, it works with 2D guidance, 3D guidance and in manual mode as needed. The new compact Precision Grader Blade attachment makes it easier to meet the demanding specifications for complex grading jobs.
Another problem many contractors face is the need for skilled labor, especially when it comes to critical jobs like precision grading. That's why Level Best has paid particular attention to ease of use and simplicity from the operator's perspective. The result is that even an entry level operator can be grading like a seasoned professional in hours rather than months, in most cases. For the contractor, this means that there can be more than just one or two qualified operators available on a daily basis. It's simple enough for any operator to quickly learn and master. This makes one less scheduling detail for busy supervisors and foremen to handle.
With added versatility, the new Precision Grader Blade can be used in maintenance work in addition to new construction, such as carving the sides of road drainage ditches at an angle. Unlike other equipment of its kind, no daily maintenance is needed, thanks to the self-lubricated bushings used (proven effective for over 20 years). The zero-drift hydraulic valve holds grade perfectly. The heavy-duty caster wheels are foam-filled for zero downtime, and the cutting blades are easily reversible in the field to help maximize uptime.
The Level Best Precision Grading Blade attachment is made in the United States and carries a three-year warranty. Training and support are available through power equipment dealers, through guidance system dealers, as well as online for detailed instructions on how to benchmark or set up a job. There are troubleshooting videos online, parts are available for same day shipping and an 800 number is available directly from the manufacturer. These support systems help ensure the equipment is always ready for work. Compact precision grading attachments have a rapid payback, with cost about half that of a new pickup truck.
So, what did our test subject think of the new blade attachment? After operating the new attachment for a couple hours, he finally ambled over to our truck. "This might sound crazy," he said. "But as an operator, in manual mode you feel like you can place a literal handful of material exactly where you want it. I've never experienced anything like it. In guidance mode, it's a no-brainer." We breathed a sigh of relief. First indications are that we may have just added another valuable tool to the grading contractor's arsenal of attachments.
Jansen Herr is president of ATI Corp., maker of Level Best Precision Grading Equipment.