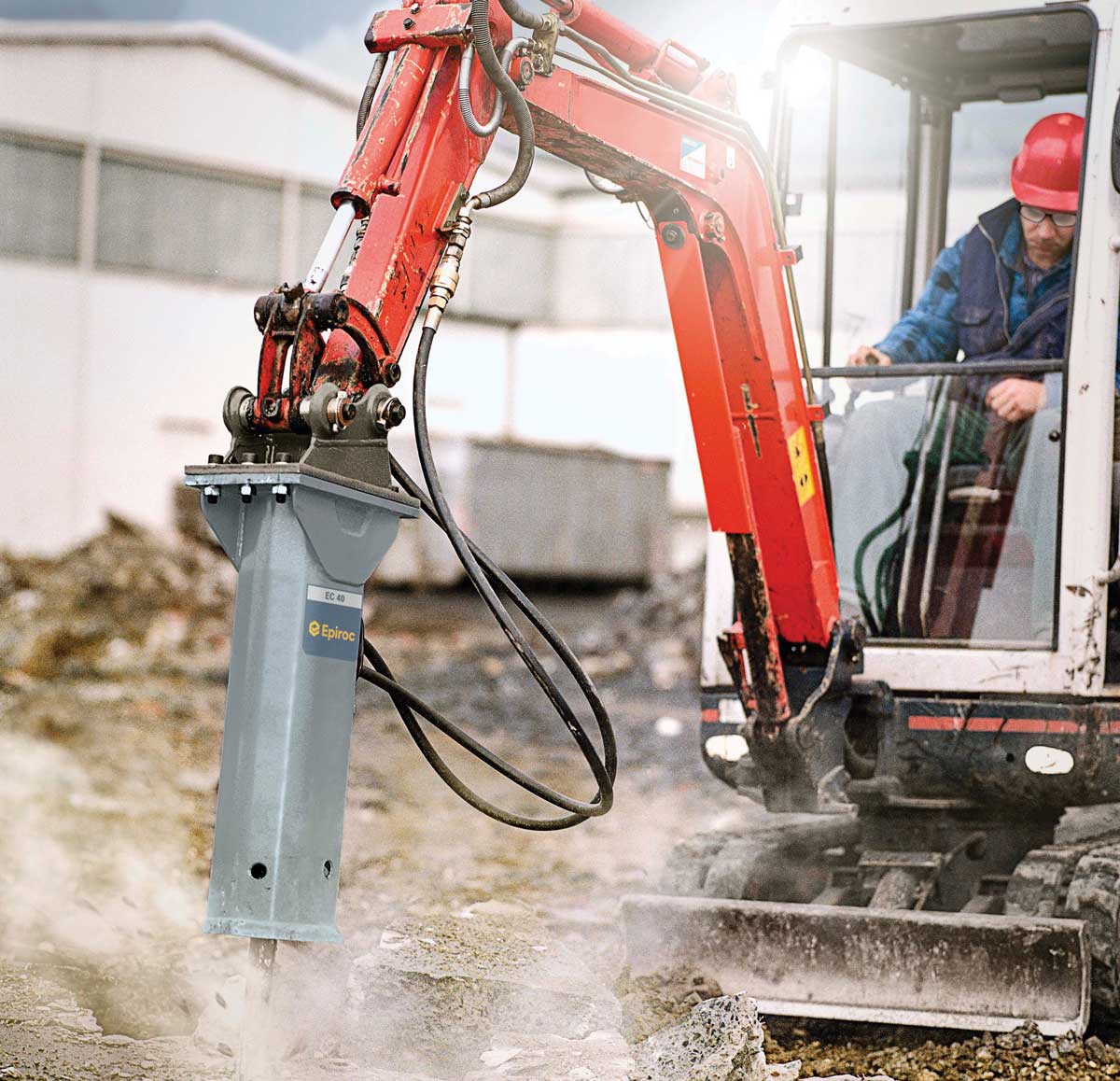 When it comes to hydraulic breakers, the sheer versatility of these attachments is what makes them a popular choice in rental and a contractor's lineup. Not only can breakers be used in demolition applications but also for road construction, trenching and more.
Hydraulic breaker units can be quickly attached to several different sizes and styles of carriers from skid steers and compact track loaders to excavators and backhoes, making them a top attachment consideration.
In this article we'll discuss the momentum we're seeing with hydraulic breakers in the United States, applications the product is best utilized in, features, top maintenance considerations, trends of handheld to hydraulic breakers and what's next.
Building Momentum in America
Hydraulic breaker attachments have been popular on 15- to 20-ton carriers in Europe for years, due in large part to older, more confined spaces. In the United States, hydraulic breakers continue to gain popularity as rental attachments and within a contractor's fleet lineup for both compact and heavy equipment.
The momentum in the America is due in part to a higher demand for both commercial and residential buildings in cities where constructing new structures usually requires tearing down the existing, aging building in the space, similar to Europe. This is where hydraulic breaker attachments become vital as a part of that demolition process.
Another factor for hydraulic breakers' popularity in the United States is the desire to diversify jobs without additional equipment investment. This can be achieved more affordably utilizing one machine with multiple attachments versus multiple machines equipped with one attachment.
Applications
When it comes down to it, contractors need versatility in their lineup, something hydraulic breakers certainly allow. Not only can the attachment be coupled on a skid steer, compact track loader or backhoe but also an excavator.
Hydraulic breaker attachments are known for their versatility and are primarily utilized for rock excavation, foundation work, demolition and concrete breaking. However, there are a multitude of other applications too. Some examples include landscaping, renovation, trenching, water lines and sewer lines, even gardening.
Application is critical to understanding which size breaker is best for your jobsite. Pairing your machine with the correct size of breaker is important for preventing damage to your equipment. There are three sizes of hydraulic breaker attachments:
• Light-duty: pairs with carriers up to 24 tons
• Medium-duty: pairs with carriers between 25 to 27 tons
• Heavy-duty: pairs with carriers between 27 to 30 tons
Lighter breakers pair nicely with compact excavators, skid steers and compact track loaders, as well as demolition robots. Whereas, medium- and heavy-duty breakers pair properly with wheeled and crawler excavators.
Hydraulic breaker attachments are available to rent and buy. If you don't plan on using it often, renting one for a job is recommended. There is an abundance of exceptional rental companies that can help you find the exact breaker for your needs.
Features
Each hydraulic breaker attachment size is built to be efficient and economically feasible. For instance, the smaller light hydraulic breakers are designed to be simple to handle and extremely versatile. The body of the light size is slim and compact and is also high in serviceability. The medium and heavy hydraulic breakers are both highly durable and adaptable, making them a dependable tool for a wide range of tasks. Although smaller breakers are simple to handle due to their compact design, all sizes are known for their high maneuverability.
Trending Away from Handheld
Safety is a primary concern in the construction industry, and the latest trends show fleets ditching their handheld breakers for hydraulics. The larger magnitude and frequency of vibrations has been shown to negatively affect the entire body, alongside arms and hands. The impact of long-term exposure to such conditions includes damaging joints, nerves, cartilage, restricted blood flow, as well as neck and back problems.
Vibration is an important design consideration with hydraulic breakers, and these units can lower vibrations due to their energy recovery system and integrated control valve. Lowering vibrations can be greatly beneficial to the operator's long-term health.
Another positive feature of hydraulic breakers is their number of parts compared to conventional breakers. Overall, hydraulic breakers have fewer parts for attaching to other machinery, simplifying and speeding up the process. For example, hydraulic breaker attachments require only a bracket or coupler to quickly attach the unit to a skid steer loader.
Maintenance
Knowing how to care for your attachment and following the proper maintenance schedule protects the quality and condition of the attachment.
As with all compact equipment, referencing the operator's manual is key to finding everything you need to know about keeping a hydraulic breaker in top condition. But the most crucial maintenance tip is making lubrication a top priority. A lack of grease is one of the main causes of wearing out bushings and ruining points of breakers.
Hydraulic breakers continue to improve on features, including anti-blank firing systems. Previously, dry firing was detrimental to the unit. That is, once the operator breaks through material, it continues to fire with nothing against the point. Now, an anti-blank firing system is standard on hammers and helps prevent it.
What's Next: Drum Cutters
You may be familiar with drum cutters and what they do, but you may not be familiar with all the perks of utilizing them on jobs. Drum cutters are traditionally used for rock excavation and pipeline trenching by using transverse wheels. However, drum cutters are gaining further popularity with their ability to perform on existing jobs in different, more efficient ways. This product can also now be attached to skid steers.
Drum cutters have the capacity to pick up to 20,000 psi of rock without having to over dig. Avoiding over digging saves the contractor money, as well as causing significantly less damage to the environment. When it comes to the rental industry, drum cutters are a new addition. With all their capabilities, they will continue to gain a foothold within the industry.
Tom Schwind is the business line manager, hydraulic attachments tools — North America, for Epiroc.
Tags:
Attachment Central
,
Epiroc
,
January 2021 Print Issue