Compact utility tractors have the ability to perform an abundance of tasks — making them go-to machines for many professionals and homesteaders alike. Like a multi-tool, there are a variety of attachments and implements to help operators cultivate, renovate and maintain the land. And, when it comes to turf and lawn care specifically, the options are endless. With so many mowing and cutting implement options on the market, the decision on which to purchase can be overwhelming. But, with some key facts at hand, the choice becomes a little easier.
Consider first the size of the property to maintain. Second, survey the terrain — is it grass, grass and brush, flat or hilly? Third, research the horsepower capabilities of the compact utility tractor you're using. Answers to these three considerations will help narrow the choice among the mowers and cutters available to you.
Landscaping Mowers
The most common types of landscaping mower implements for compact tractors are mid-mount and rear mount finishing mowers. Landscaping mower fixed blades with sharpened edges on either end are designed to cut evenly, resulting in a clean crisp finish for the lawn. Complete with uniform clipping discharge, landscaping mowers work best on lawns or grass applications below 6 in.
Mid-Mount Mowers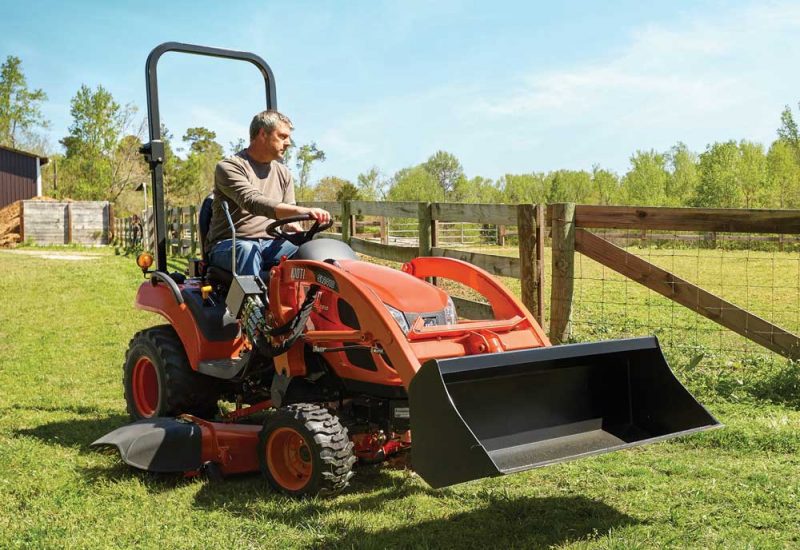 The mid-mount mower or "belly mower" is most compatible with sub-compact and compact tractors. A property under 5 acres — whether flat or hilly — can boast a manicured look from a mid-mount mower. They are also popular among landscapers and athletic turf managers who already use a sub-compact or compact tractor for other tasks.
Positioned in the center of the tractor, the mid-mount mower provides exceptional maneuverability, especially when edging or cutting around objects. With the upgraded drive-over-deck design of more recent mid-mount mowers, installation is easier than previous attachment models. Ask your dealer to help choose the deck size that best suits your needs.
Rear-Mount Mowers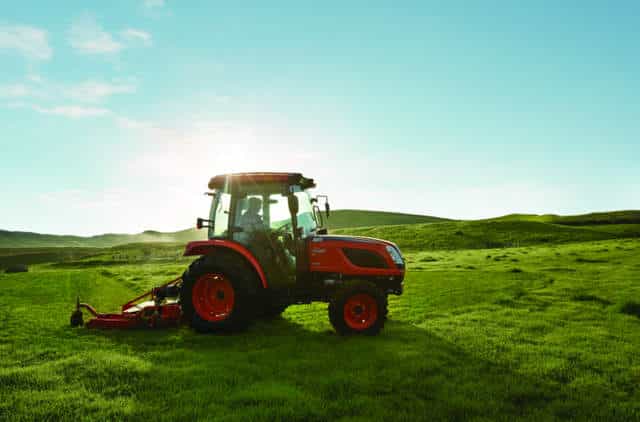 Attached to the tractor via a three-point hitch, rear-mount mowers are easy to hook up, are pulled behind the compact tractor and are ideal for large, open areas. Their ability to be suspended and undulate allows them to work wonders on uneven terrains. Rear-mount mowers also add efficiency, as operators can disengage the blades and keep the mower attached while working with other implements. With certain projects, like moving gravel or grading, the rear-mount mower can also serve as a counterweight for other attachments, like a loader. And, rear-mount mowers are preferable when it comes to backing into and mowing around tighter areas, like around ponds or underneath low-lying limbs.
Flail Mowers
The flail mower has a different design than most other mowing implements with blades shaped like a "T" or "Y" attached to a horizontal drum. They're typically attached at the rear of the tractor and used to provide a finer cut to taller grass where contact with loose debris may be possible — think roadsides. Because of their design, these mowers will bounce and deflect off of rocks and stumps and can take a little more abuse from the land than a landscaping mower. Flail mowers are perfect for taller grass that may not need a manicured appearance, rough terrain and even small brush or overgrown areas.
Rotary Cutters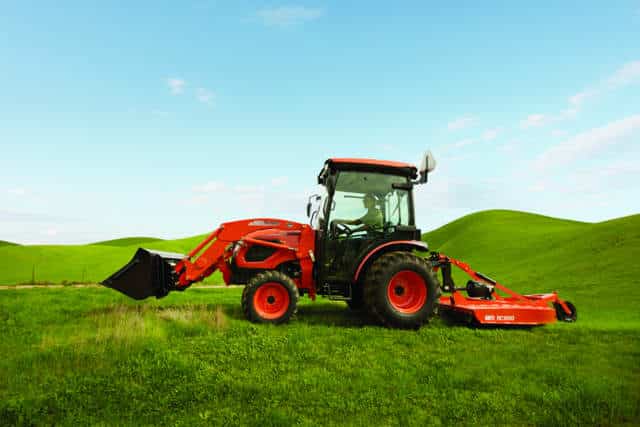 For those tougher terrains, rotary cutters are another good option and probably the best bet when looking to purchase only one mowing implement. Compared to landscaping mowers (with solid-mounted blades that can be easily damaged by obstructions), rotary cutter blades are mounted to a pan (i.e., stump jumpers) in the center, so they swing back when hitting an obstruction. Of course, operators should still avoid obvious obstructions to prevent damaging the machine.
Cutters are common among hobby farmers and horse farmers, as they're perfect for 5, 15 or even 25+ acres, depending on the size of the cutter. While cutters do not provide a well-manicured look (think golf course), they do well cutting obnoxious weeds and Johnson grass, small brush and overgrown areas, ultimately keeping the property looking clean.
Within the rotary cutter category, there are options: single and multi-spindle cutters. Single-spindle cutters, generally, range in sizes from 4 to 8 ft, while multi-spindle cutters range from 8 ft up to 14 ft. They come in multiple levels of durability and are categorized by the "cutting capacity" of debris. Cutting capacities generally range from 1 in. for a light-duty cutter to 4 in. for a heavy-duty cutter. With increased cut capacity, weight and horsepower requirements increase as well. For clipping pastures and grass, a single-spindle or multi-spindle cutter requiring minimal power take-off horsepower may suffice. Others cutting overgrown areas with grass may opt for a heavier-duty cutter. Consulting with your dealer when shopping can help you make the right choice to match your tractor and cutting needs.
Flexwing Cutter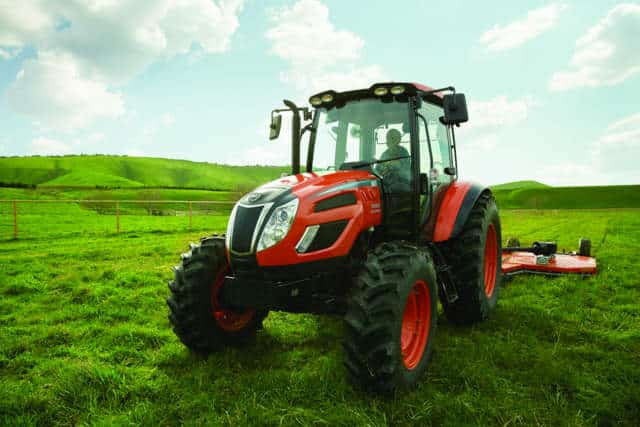 Flexwing cutters are a multi-spindle cutter with a "wing" or section that raises to narrow the unit for transport. Typically used on larger properties or cutting open acreage, these units are commonly used by states and municipalities to maintain highway rights-of-way. Similar to other rotary cutters, these are categorized by cutting capacity and have low-, medium- and high-horsepower requirements.
Unlike other cutters, flexwing cutters have the ability to mow banks and uneven terrain more uniformly, thanks to hydraulic cylinders that can raise and lower each wing, depending on the terrain. When using the flexwing on flat terrain, make sure the machine is level side to side and have the front 1 in. lower than the rear to avoid cutting the grass twice.
Expert Recommended Tips and Tricks
Proper maintenance and care is essential for extending the life of a machine and getting the most out of each use. As a best practice, ask a dealer for best maintenance practices at purchase and refer to the owner's manual regularly.
An initial walk around the equipment before each use is an easy and effective maintenance technique. Always be sure to check and make sure all shields and guards are in place. Since mowing accumulates so much dust, make sure implements are greased often and regularly check the oil in the gear box. As with any mower, frequently checking the blade condition (and sharpening as needed) ensures the best cut at all times.
Depending on property size and the terrain, one mower may be a better fit than others. For example, on my six-acre property, I like to maintain a finish mow, specifically using a rear-mount mower. I especially enjoy the convenience of the rear mount when backing in to mow around my pond — it means I don't have to worry about the damp ground surrounding the pond.
Overall, keep the size of your acreage, the terrain and the turf you will be cutting regularly top of mind when choosing a mower or cutter. And, your local dealer is your go-to expert. He or she can help you match your compact utility tractor to the best implement for your needs.
James Little is a dealer development manager for Kioti Tractor.
Tags:
April 2020 Print Issue
,
Attachment Central
,
home
,
KIOTI Tractor
,
Mowers