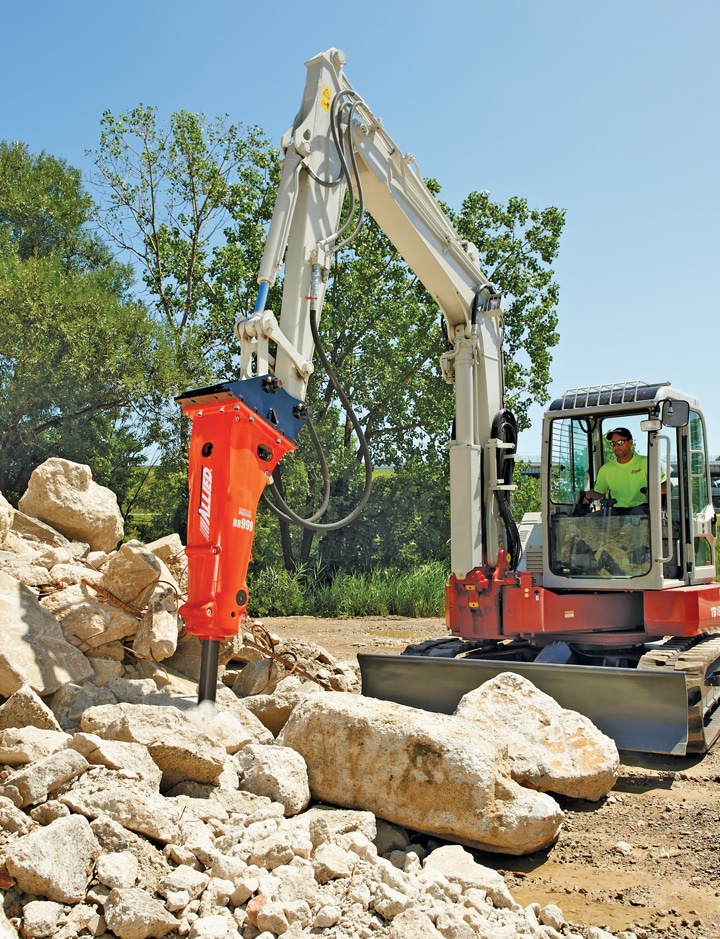 Contractors can buy a compact hydraulic excavator tool to smoothly, even delicately, grade soil or buy an attachment to cradle and lift finish material in long metallic fingers and pirouette with it to a desired location. Such gentle tasks are not the work of hydraulic hammers and vibrating compactors. Huh uh. No way.
These tools bang and shake and otherwise violently interact with material until a rock is shattered, a slab of concrete is torn apart or loose soil is pounded into submission. The good news is that contractors shopping for these demolition and compaction attachments will find no shortage of manufacturers. Several dozen companies build the attachments for compact excavators, so there are plenty of options.
Breakers
The breakers, or hammers, all employ basic percussive technology that dates back a half century. Essentially, a pressurized piston in a housing repeatedly is raised and dropped, striking a hardened bit loosely affixed to the bottom of the breaker. The bit in turn strikes the surface of the targeted concrete or rock until its jarring blows fracture the material. One of three pressure systems is used to drive a breaker's piston: hydraulic, nitrogen or a combination of the two. Most breakers in the marketplace — 60-70 percent by some estimates — are hybrid gas-hydraulic oil devices, but each of the systems has advocates. It can come down to intangibles such as who you know.
"I hate to admit it, but most people buy on personal history or friendship or brand," says Phil Paranic, CEO of Allied Construction Products. "People buy from people." Allied may have 50 competitors for the product, Paranic says, but most of the companies have one percent or less of the market. The remaining half-dozen major producers of breakers compete on engineering and relationships.
For its part, Allied offers both hydraulic breakers and oil-gas hybrid breakers. Its Rammer models rely entirely on a carrier's constant flow hydraulic fluid for their energy. But in the Hy-Ram series, 40 percent of the striking force comes from compression and discharge of low-pressure nitrogen. The nitrogen component obviously reduces demand on the carrier's hydraulic system.
The most popular Allied hammer is Rammer model 777, which produces 700 ft-lbs of pressure and 500-1,700 blows per minute (bpm) depending upon the hydraulic flow of the excavator. It is suitable for excavators as small as 10,000 lbs. The bottom of the Rammer line-up is a 150-ft-lbs model that matches up with mini excavators weighing just 1,800 lbs.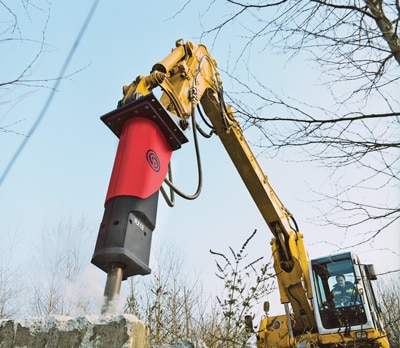 Chicago Pneumatic's RX series of hammers is all hybrid. Greg Petherbridge describes the nitrogen assist feature in explosive terms. "When the piston recoils," he says, "it compresses the nitrogen in the head and shoots the piston out of the chamber like a shotgun blast." He claims the gas assist gives a piston 20 percent more thrust than in a similar hydraulic-only hammer. RX hammers work on excavators as small as 1 ton in weight. The popular RX4 produces 550 ft-lbs of pressure and 530 to 1,300 bpm, depending on hydraulic flow.
Petherbridge touts the housing of the RX, which he says is a "true monobody," unlike hammer boxes that are bolted together. Chicago Pneumatic engineers believe the one-piece breakers reduce the likelihood of a piston flexing or distorting with resulting misalignment and damage to the attachment. Petherbridge says the result is a hammer that doesn't require a major rebuild for five or six years.
Case Construction has begun to sell a breaker built specifically for its excavators by Striker. According to Edward Brenton, Case's marketing manager for mini excavators and backhoes, the hammers are all-hydraulic because "that's what the engineering team and marketing team and customer base decided." The breakers come with a three-year warranty and are matched to Case excavators in the 7,600- to 11,300-lb range.
Paladin Attachments entered the hydraulic breaker market in 2016, introducing a line of hammers produced by Strike Force. "It filled a glaring hole in our lineup," says Mike Cardinal, Paladin's vice president of global sales. "OEM partners have been asking us to bring a breaker to market."
After six months of selling, the biggest seller for Paladin is the SFB500, a 550-ft-lbs model. "Breakers are not a complicated product, but a lot of lessons have been learned. We are trying to incorporate all the lessons learned in my experience and others' experience, make subtle changes, and offer a durable hammer at a competitive price," Cardinal says.
Vibratory Compactors
On the other hand, Paladin does not yet offer an excavator-mounted compactor (which also can be used to drive steel posts and beams). Cardinal says the company soon will correct the omission. "Come see us in March at CONEXPO. That's what we are aiming for. If we are in the breaker market, we should be in the compactor market."
Chicago Pneumatic sells far more hammers than compactors — a ratio of 1,000 hammers to 75 compactors, according to Petherbridge. That is the case even though contractors frequently dig without first having to batter their way through concrete, and most excavated holes need compaction. CP's popular RC350 compactor fits mini excavators weighing 6,000-16,000 lbs. It features an oil-bath for constant lubrication of the shaft that produces the vibration and solid rubber isolators to dampen shock to the excavator.
Case Construction introduced a new line of plate compactor attachments in 2015, targeting utility contractors. The company's SC series of compactors boasts a newly designed plate that is said to distribute vibrations more uniformly for better compacting, and shock absorbers that are more durably mounted. The model SC30 compactor fits all three models of Case mini excavators.
Allied calls itself the pioneer in hydraulic vibratory compactors. It introduced the rotating eccentric weight concept, which creates a pulsing impact that stresses loose soil particles and compresses them. Several Allied HoPac models are compatible with compact excavators, with the 700B being the most popular model.
Giles Lambertson is a freelance writer for Compact Equipment.
Tags:
Allied Construction Products
,
Case
,
Chicago Pneumatic
,
home
,
January 2017 Print Issue
,
Paladin
,
Paladin Attachments