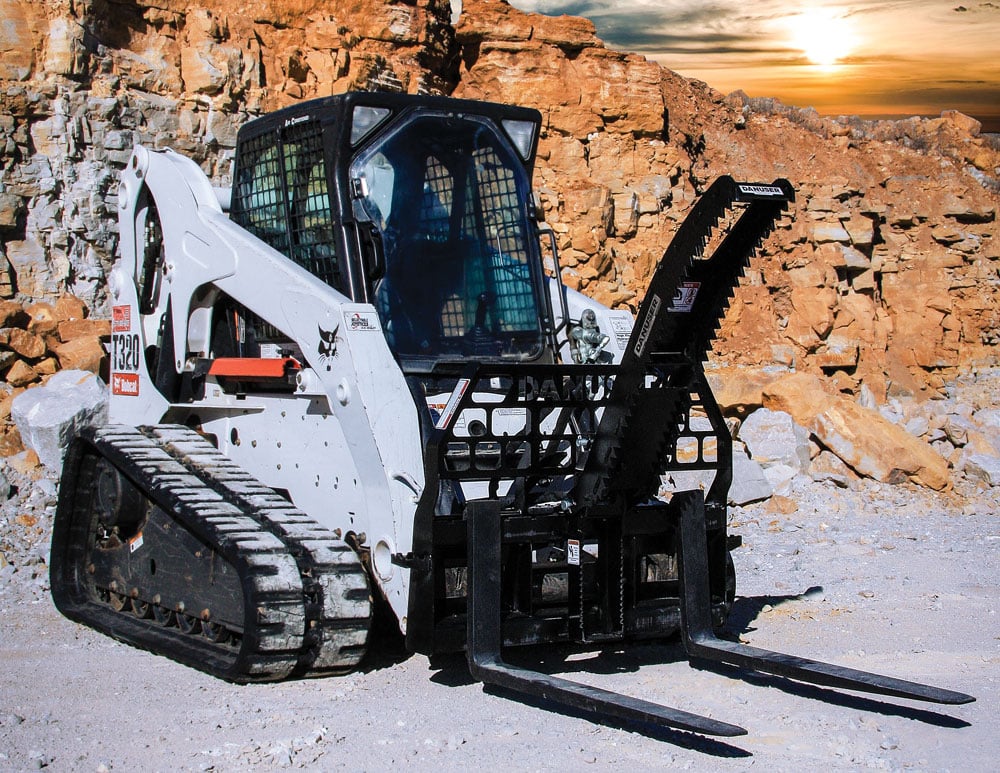 Shopping for pallet forks is one of life's more exciting experiences. Well, maybe that is a bit of an exaggeration, but it can be overwhelming and expensive if you don't do your homework. Don't assume that all pallet forks are the same. Fortunately, heeding the advice in this article will help you find the pallet forks that best fit your needs, and hopefully, reduce the amount of stress involved in deciding which forks to buy.
Size Matters
There is no shortage of pallet forks with versatile options to meet every requirement for equipment owners and operators. Tines come in load capacities ranging from 2,500 to 10,000 lbs, lengths from 42 to 60 in., and typically, adjustable widths. If you will be primarily hauling palleted loads, be aware of your pallet dimensions; a standard pallet is 48 in. by 40 in. Brick guards are available featuring full-width guards for loose loads such as pallets of bricks, or walk-through brick guards which make entering and exiting a skid steer easier. There are also options without brick guards.
Options range from plain pallet fork setups, with just a mount and forks, to more elaborate setups utilizing a hydraulically-actuated grapple to hold loads during transport. Other useful accessories for pallet forks include the hay spike, which cattle operations will find indispensable, and fork frames designed to be compatible with trailer hitches. These add-ons can improve productivity and reduce labor, but whether they will be worth the investment depends on an operator's needs. If you work with a good equipment dealer, a salesperson well-versed in pallet forks can offer guidance and you'll be more confident in your decision.
Do you need light duty, medium (or standard) duty or heavy duty? Load and lift capacity is a key metric for any pallet fork setup. Light-duty pallet forks are designed for small skid steers and compact utility tractors, may have limitations on fork tine spacing that prohibit use for some applications and will have rated capacities no higher than about 2,500 lbs. Smaller skid steers or track loaders with limited lift capacities call for light-duty pallet forks.
Subtract the weight of the pallet forks and frame from the machine's lift capacity to determine the volume that can safely be lifted with your pallet forks. For example, if the machine has a 2,500-lb lift capacity and the pallet forks weighs 300 lbs, the actual amount of the load could not exceed 2,200 lbs. Medium- or standard-duty pallet forks will have capacities around 4,000 to 5,000 lbs, can be used on an array of vehicles ranging from full-size skid steers to tractors and will typically have tine spacing within standardized limits, allowing for use with standard pallets.
Heavy-duty pallet forks will be geared toward the largest skid steers and tractors on the market and will be ideal on telehandlers. They will have rated capacities up to about 10,000 lbs, allowing very heavy loads to be hauled. As with any attachment, be aware of your needs and job applications and select your load and lift capacity based on those needs and on your vehicle's rated operating capacity. A heavier-duty option is more expensive and is not necessary unless you have needs only a heavy-duty setup can satisfy.
Narrow your field by making a list of projects for your pallet forks around the jobsite or farm. Then, determine if your usage is light duty, medium duty or heavy duty. Your equipment dealer should understand your needs and pair you with an ideal set of pallet forks.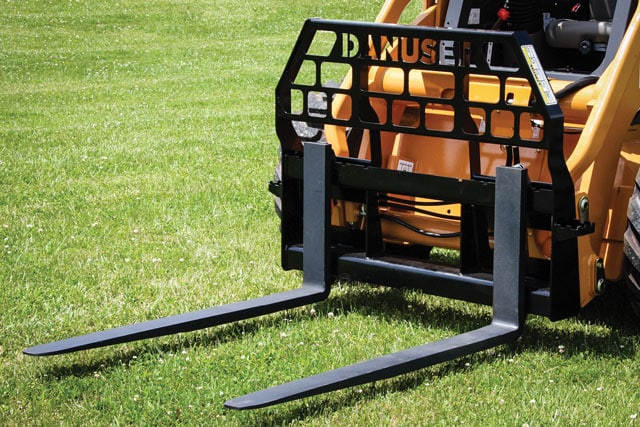 How to Choose the Right Size
Now the fun begins — picking the right pallet forks. Think about how you plan to use these pallet forks. Applications for pallet forks are limited only by rated operating capacities and the imagination. Contractors in the construction industry utilize pallet forks to move building supplies such as roofing material, lumber, siding, fencing, blocks and bricks around and between jobsites. With pallet forks, construction workers can haul these loads much faster, using smaller vehicles like skid steers, than if they were loading and unloading by hand.
On the farm, pallet forks can't be beat. Try handling heavy pallets of seed or fertilizer, hauling fence posts or moving hay bales without pallet forks. The versatility of pallet forks for the farmer doesn't end there. Imagine the farmer who utilizes pallet forks on a tractor with an attached grapple and hydraulic T-post driver. They will be able to put up fence quickly and easily. Any skid steer or tractor equipped with pallet forks will save the operator hours of backbreaking labor and, in many cases, facilitate chores that couldn't be accomplished any other way.
Operation Dos and Don'ts
Pallet forks are simple and easy to use, but there are a few best practices to keep in mind. Keep forks low to the ground when transporting for better visibility and a lower center of gravity. As with any attachment, prior to use read the operator's manuals for the vehicle and the pallet forks and perform whatever maintenance the manual recommends. For pallet forks, that will include pre-use inspection for damage, worn parts or cracked welds, replacing damaged safety signs, checking that all fasteners are secure and, if a hydraulic grapple is included, checking the hydraulic componentry for leaks or wear.
Ensure positive latching of forks and grapple onto the fork frame, and also ensure the fork frame's quick-attach is firmly attached onto the vehicle. Never carry a load with the weight concentrated on just one fork tine. Always spread the load evenly between tines to prevent slippage of the load or damage to a fork tine. Finally, never use fork tines to grub rocks, stumps or roots. There are much more effective and safer attachments for these purposes.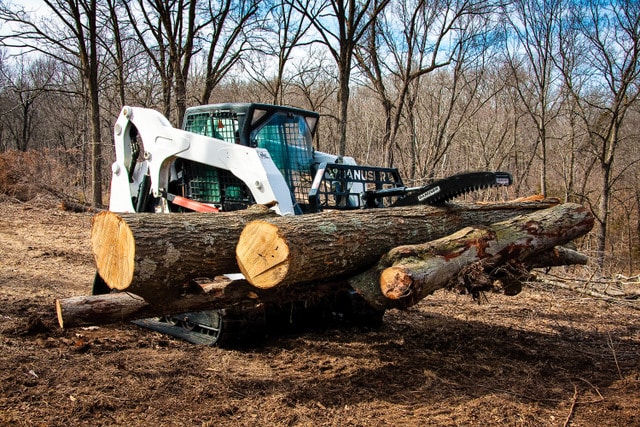 Maximize Your Research
So, you have evaluated your needs, studied the benefits, become aware of your responsibilities, consulted with a qualified equipment dealer and you've finally decided to buy your pallet or grapple fork system. What should you look for? First, it can be difficult to tell a low-quality pallet fork setup from an excellent one, and your dealer can advise on that point, but some things to look for include a higher lifting capacity, a more functional design including adjustable tine width and ability to attach accessories, a good warranty and baseline capabilities that meet or exceed your job requirements.
If you are simultaneously shopping for a host vehicle, pallet forks are a good item to include with that purchase because your dealer can usually pair the vehicle and attachments for a better price. Your dealer may have a brand or brands of pallet forks that they prefer, and dealers usually have good reasons for those preferences. Ask them what those reasons are, reflecting on your needs. Lots of shops offer pallet forks with a solid reputation for quality and service. If you do your homework, the logical choice will become clear fairly quickly.
Shane Kincaid is a customer service representative for Danuser.