In the small tool-carrying equipment categories, attachments make the machine. Skid steers, excavators, track loaders, utility tractors, compact tool carriers — all of these are impressive, mobile, off-highway power plants that can wield a variety of PTO, mechanical and hydraulic implements. Here are a bunch that caught our collective attention.
Land Pride RGA12 and RGR12 Gear Drive Tillers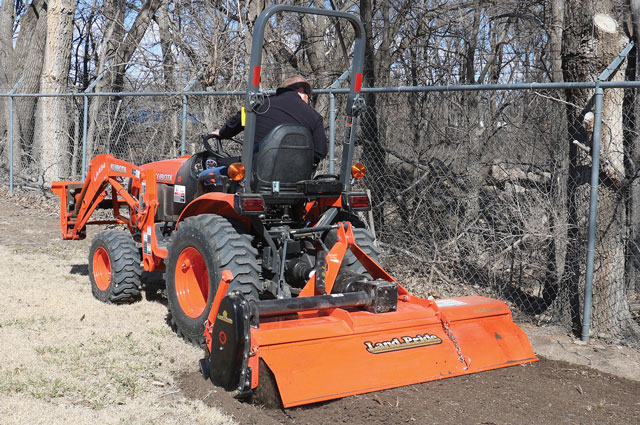 Land Pride is expanding its popular line of three-point rotary tillers with the addition of two gear drive models — the RGA12 forward rotation and RGR12 reverse rotation in six widths each from 42 to 82 in. These American-made tillers feature Category 1 hitches, plate steel A-frames and 540-rpm gearboxes. Both models include a 17-in. diameter rotor, six C-shaped tines per flange and a 7-in. tilling depth. The rotor is powered by a spur-gear drive in an oil bath with a heavy stamped drive cover. The RGA12 and RGR12 models are designed for compact tractors up to 60 hp. For more info, visit landpride.com.
Vacuworx SL 2 and CM 3 Lifting Systems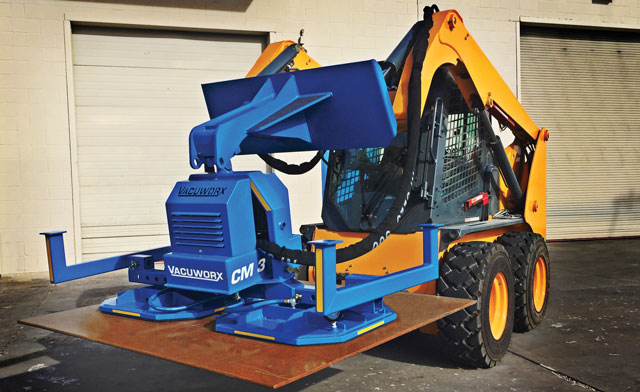 The new wireless remote for the Vacuworx SL 2 and CM 3 vacuum lifting systems offers greater mounting versatility and easy operation. Available as an option for both of these units, the wireless remote eliminates the need to route hoses and a controller to the cab of the host machine, which in turn provides a greater range of motion for the system and allows easy attachment to equipment such as skid steers, backhoes, forklifts and cranes. With the wireless remote, connecting the unit to the host machine is easier than ever before. Simply attach the mounting plate or use the clevis hook connection, then connect the three hydraulic hoses to the host machine. For more info, visit vacuworx.com.
Danuser Mega Mixer
Danuser's Mega Mixer material handling bucket is here just in time for the busy construction season. The Mega Mixer is built for the resourceful laborer that needs multifunctional performance from a material handling bucket. The Mega Mixer can scoop, mix and dispense a wide variety of materials ranging from bag concrete to livestock feed. The built-in cutting edges and robust design make it well-suited for scooping piles of sand, gravel, feed, grains, topsoil and beyond. Mounts on both sides fit your compact track loader, telehandler or tractor, dispensing material left or right. For more info, visit danuser.com/attachments.
---
Fecon Would Like to Introduce Bull Hog & Stumpex Stumper
Bull Hog
Fecon's newly designed Bull Hog mulching attachment for compact track loaders and skid steers brings many great features to customers looking for a quality mulcher. With a severe-duty body, bolt-on skid shoes, stronger push bar and improved mulching chamber, operators will remove trees and vegetation with precision, power and safety. The top of the body is now smooth to avoid debris and water buildup in the trough. The newly designed Bull Hog is still offered with Fecon's smooth drum FGT rotor, paddle style HDT rotor and DCR, depth control rotor. As always, customers can configure a Bull Hog for the exact job at hand. For more info, visit fecon.com.
Stumpex Stumper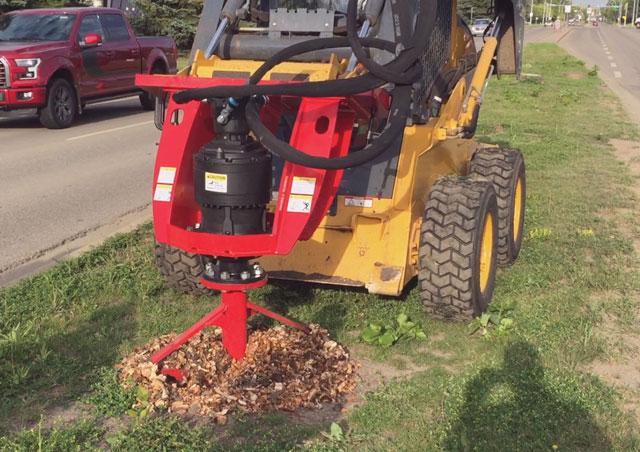 Fecon's Stumpex can stump grind for skid steers with as little as 20 gpm of hydraulic output. Low rpm and 33,600 ft-lbs of torque at 4,000 psi enables the 1,500-lb Stumpex to draw itself down into any species of stump 10 to 28 in. in diameter and up to 20 in. deep in a single pass. Larger diameter stumps are processed by making additional passes. A threaded cone and staggered AR500 cutting blades grind out stump and root material with minimal discharge without requiring any fast-wearing carbide cutting tools. Stump chips stay mostly in the hole, making cleanup after grinding with a Stumpex faster and easier. For more info, visit fecon.com.
---
Pengo Revolution Series Drilling Drives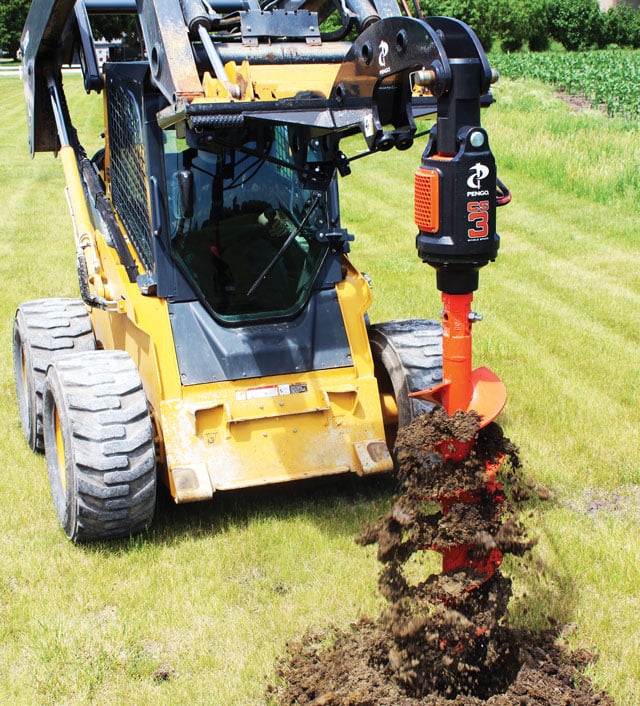 Pengo's latest addition to the Revolution Series Drilling Drives is the CS Series. These compact and lightweight single speed models are designed to work with the Pengo Aggressor, TriMax and Severe Rock Ripper augers. Available in four models, the CS Series features one-piece cast housing and protective vents for hydraulic motor cooling. Combining these drives with a Pengo auger and universal or long reach mount give you a complete drilling package. For more info, visit pengoattachments.com.
Epiroc Breakers with Water Port for Dust Suppression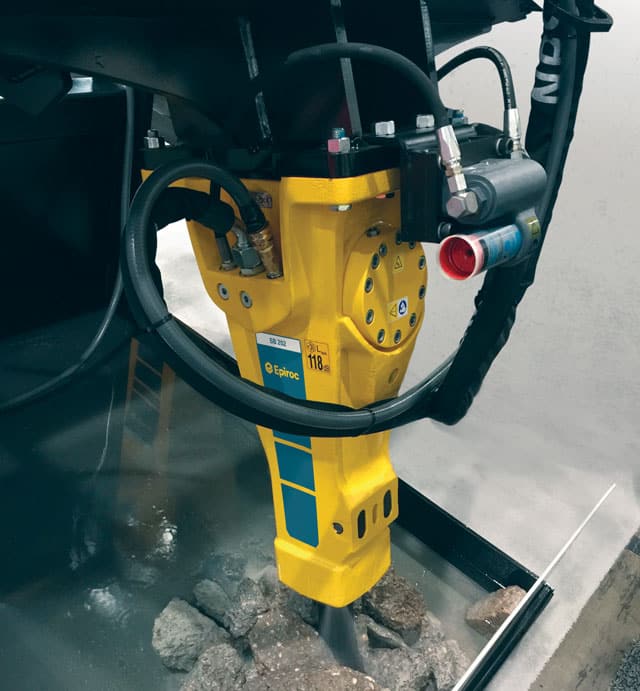 Epiroc SB Series hydraulic breaker attachments are the industry's only breakers to come standard with an internal water port for dust suppression. The feature can assist in compliance with the Occupational Safety and Health Administration's final silica rule dust regulations. With an integrated water channel, operators can spray water at the source of dust creation to keep dust levels down. This improves the working environment, enhances visibility and prevents dust from seeping into the bushings. SB breakers are also designed to protect operators and equipment by reducing noise and vibration. For more info, visit epiroc.com.
John Deere Roll-Out Buckets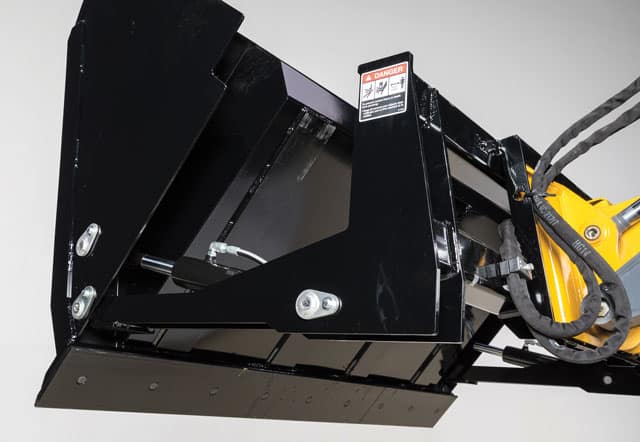 John Deere continues to grow its ever-expanding lineup of Worksite Pro attachments with the introduction of its new roll-out bucket offerings. The 72-in. RB72, 84-in. RB84 and 96-in. RB96 models are designed to best match the attachment to the machine. Optimized for G-Series compact track loaders and K-Series compact wheel loaders (RB84 and RB96 only), these buckets utilize the loader's auxiliary hydraulics to roll out and dump material in order to achieve a significantly higher dump height. The roll-out bucket pivots near its cutting edge for additional dump height. For more info, visit johndeere.com.
Kubota's 4-in-1 CB25 Combination Bucket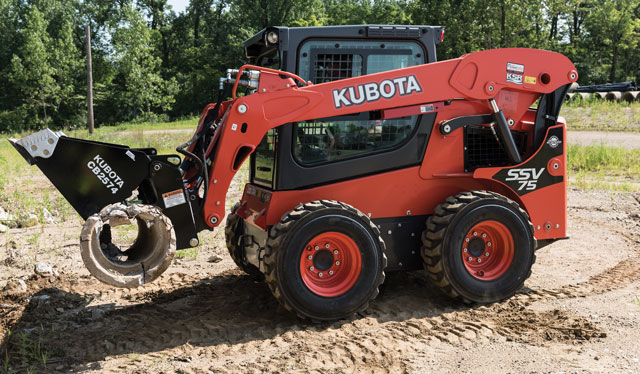 Landscapers can perform grapple, dozer blade, bucket and back drag actions with Kubota's 4-in-1 CB25 combination buckets. Available in 68-, 74- and 80-in. sizes, the CB25 has uses and applications in construction sites, nurseries, orchards and parks. They have the capability to quickly and conveniently turn a skid steer into a combination bucket loader for loading, carrying and dumping dirt, sand and other materials. The jaw can be used as a grapple to pick up loose materials such as large rocks and tree branches. Fully open, the jaw can be used for digging, scraping, leveling, finish grading and beyond. For more info, visit kubotausa.com.
Worksaver Pallet Forks for CTCs
Worksaver Inc. offers pallet forks designed for compact tool carriers to increase productivity. Two models are available, with both models featuring a universal mini-mount. Model MPF-1200 features forks that are 1 in. by 3 in. by 31.5 in., mounted on a frame that is 30.5 in. wide with a rated capacity of 1,200 lbs. The rail-style Model MPF-2000 is rated at 2,000 lbs and utilizes Class I tines of 1.18 in. by 3 in. by 42 in. on a 33.25-in.-wide frame. For more info, visit worksaver.com/mini-skid-steer-pallet-forks.
Ditch Witch MT9 Microtrencher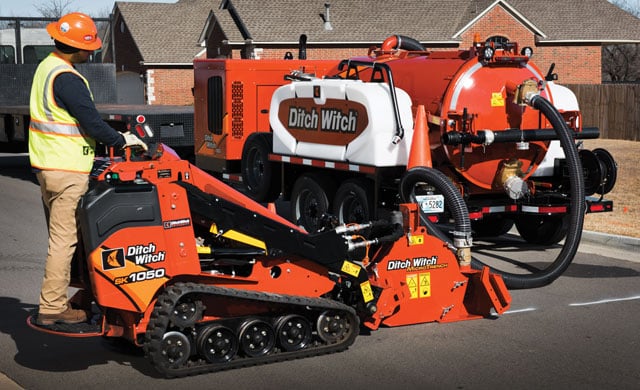 The Ditch Witch MT9 microtrencher attachment improves productivity and reduces cost per foot on small fiber jobsites. Developed to work in tandem with the Ditch Witch line of mini skid steers, the industry-first system is the ideal solution for fiber installation in tight or confined residential areas. The cost-effective microtrencher creates clean, shallow trenches up to 9 in. deep and 0.375 to 1.5 in. wide. The patented blade plunge provides infinite variable depth control while the machine is in operation. The MT9 works with the Ditch Witch-exclusive PDC Fiberblade that contains diamond embedded carbide. Visit ditchwitch.com/trenchers/micro/mt9 for more info.
Toro Dingo Trencher Attachment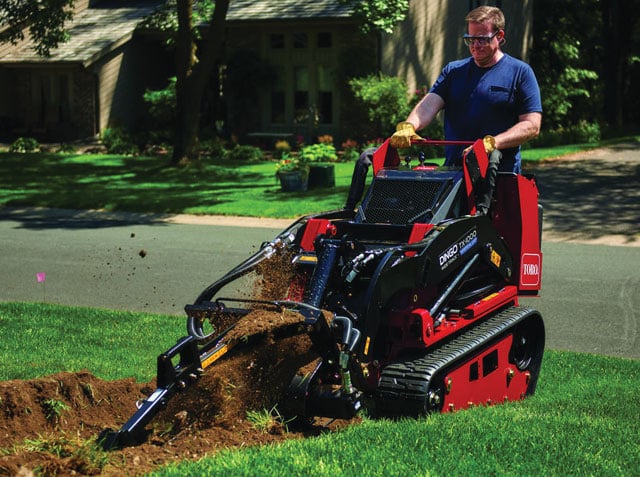 Ideal for landscape, plumbing and utility contractors, the Toro Dingo trencher attachment offers a highly versatile trenching solution that can easily access hard-to-reach jobsites. The trencher attachment is available in both high-torque and high-speed options, allowing the contractor to choose the right tool for the application and terrain. Toro offers trencher attachments that can trench to depths of up to 50 in. and to a width of up to 8 in. Toro trenchers feature a heavy-duty nose roller bearing with a triple lip seal for years of dependable use. For more info, visit toro.com.
Brush Wolf Extreme Duty 72 M-AX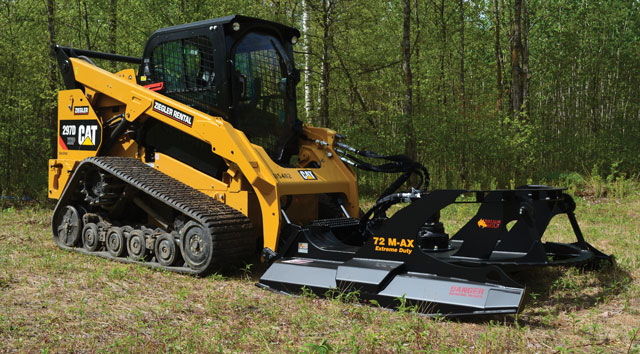 Brush Wolf by Cross-Tech manufactures more than 30 models of hydraulic rotary cutters for site prep tractors and mini- to full-size excavators, backhoes and skid steers. Its skid steer model's cutting widths range in size from 42 to 90 in. The 72 M-AX extreme duty is an open front design with a V Notch for a close cut of up to an 8-in. tree. It's now available in standard- or high-flow options. Efficiently maintain or clear trails, tree plantations, right-of-ways, pipelines and road sides. All brush cutters are formed from one piece of plate steel. The company offers a three-year warranty on the structural integrity of every deck. For more info, visit brushwolf.com.
Blastcrete Concrete Pump Attachment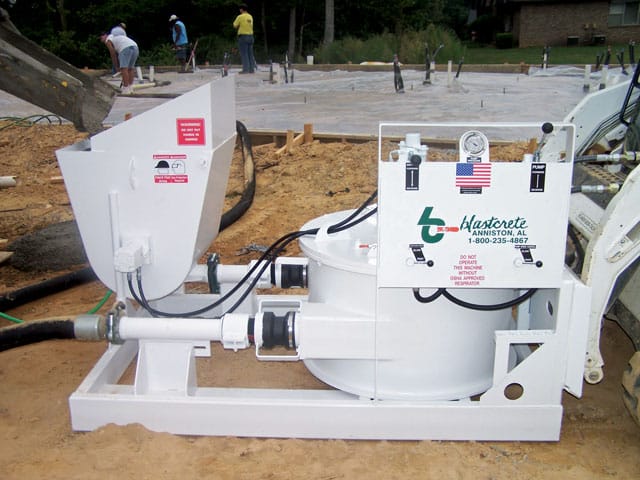 Blastcrete Equipment LLC's RD6536 skid steer pump attachment is compatible with any skid steer and provides a fast, efficient solution for pumping grout materials, 3/8-in. shotcrete and 3/4-in. structural concrete mixes in a variety of concrete and shotcrete applications. The attachment features Blastcrete's 3-in. hydraulic squeeze pump, making it ideal for ICF, block fill, form and pour, driveways, basements and shotcrete applications. The RD6536 offers variable speeds up to 25 cu yds per hour. Contractors can pump materials 250 ft horizontally and as high as 50 ft with the use of a rubber delivery line. For more info, visit blastcrete.com.
Epic Big Bale Mulcher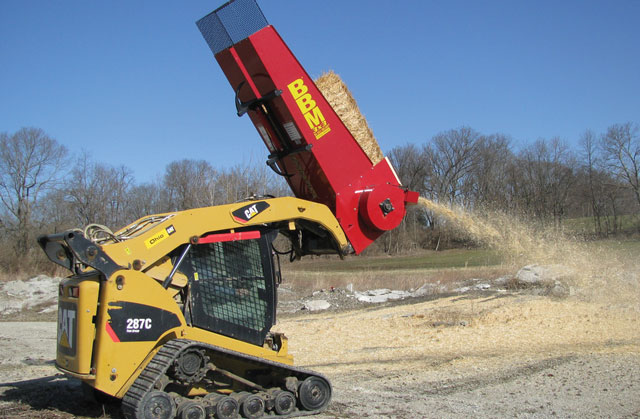 With the newly redesigned Big Bale Mulcher for skid steers by Epic Mfg., the mulching crew is now downsized to one man proficient at operating a skid steer. It will discharge mulch up to 40 feet in calm conditions through an operator-controlled discharge chute. The Big Bale Mulcher for skid steers is available in two models to accommodate processing both 3- by 3-ft and 3- by 4-ft size bales. The attachment plate is universal and will fit most skid steer models currently on the market. Epic Mfg. is a leading provider of hydroseeders, straw blowers, landfill equipment and attachments. For more info, visit epicmanufacturing.com.
Hammer Drilling Rigs K1 and K2 Series Drill Masts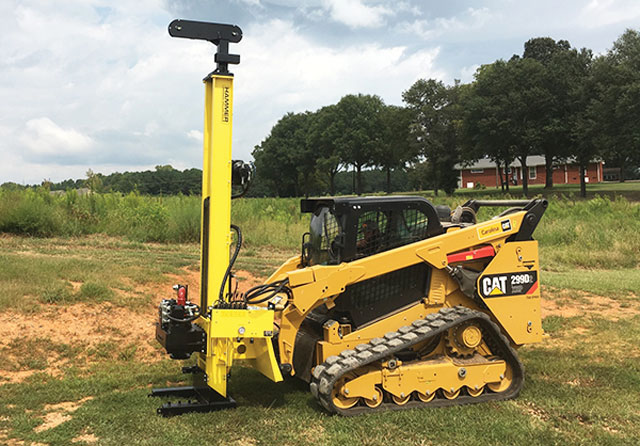 The K1 and K2 Series of drill mast attachments are ideally suited for compact machinery, including excavators and skid steers. With available torque ranging from 1,500 ft-lbs for shallow drilling projects to more than 9,500 ft-lbs, this series of drill attachments is capable of installing everything from solar panel ground screws to commercial geothermal wells. With multiple mast lengths available, these attachments can be set up to use 3-ft drill rods for limited access or low headroom drill sites or up to 15-ft rods for larger projects. These attachments are fully customizable to suit your application and setup. For more info, visit hammerdrillingrigs.com.
Cat B-Prefix Hammers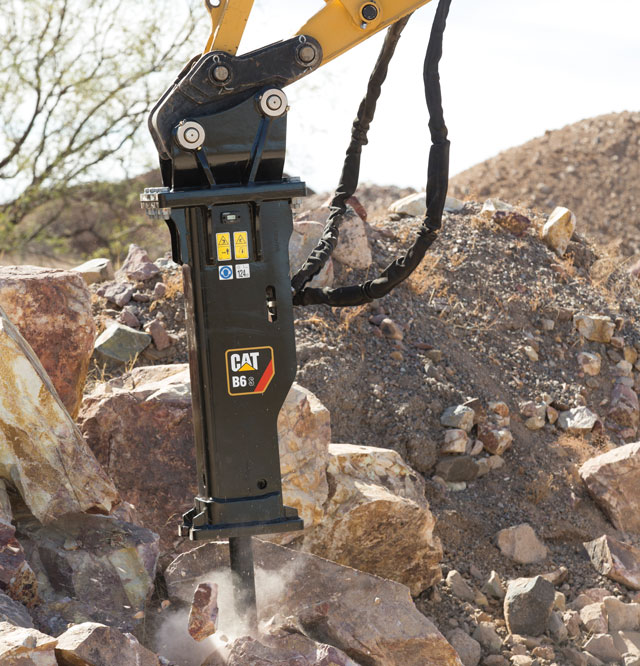 Cat B-Prefix hydraulic hammers, available in B6s silenced and B6 non-silenced versions, are designed for plug-and-play operation with a range of compact equipment — while delivering optimum life-cycle value. The new hammers are suited for skid steer loaders, compact track loaders, mini hydraulic excavators (3- to 8-ton operating weights) and backhoe loaders working in a range of construction and light-demolition applications, including site prep, landscaping, masonry and concrete breaking. Proven simple design ensures reliability, versatility, ease of use, ease of maintenance and low-cost operation. For more info, visit cat.com.
DFM TM-60 Turbo Mulcher
The TM-60 Turbo Mulcher from Dougherty Forestry Mfg. was designed to be an all-in-one land clearing attachment, seamlessly bridging the gap between drum mulchers and heavy brush mowers, allowing operators to cut and mulch grass and weeds as easily as dense wood. The TM-60 features mining-grade carbide teeth that require no sharpening and last up to 500 hours of cutting life, while also cutting the cost of replacement teeth by 40 to 60 percent. The TM-60 uses an industry-exclusive spiral saw drum that produces better mulch at a faster rate. The DFM TM-60 Turbo Mulcher will be available starting the end of this month. For more info, visit doughertymfg.com.