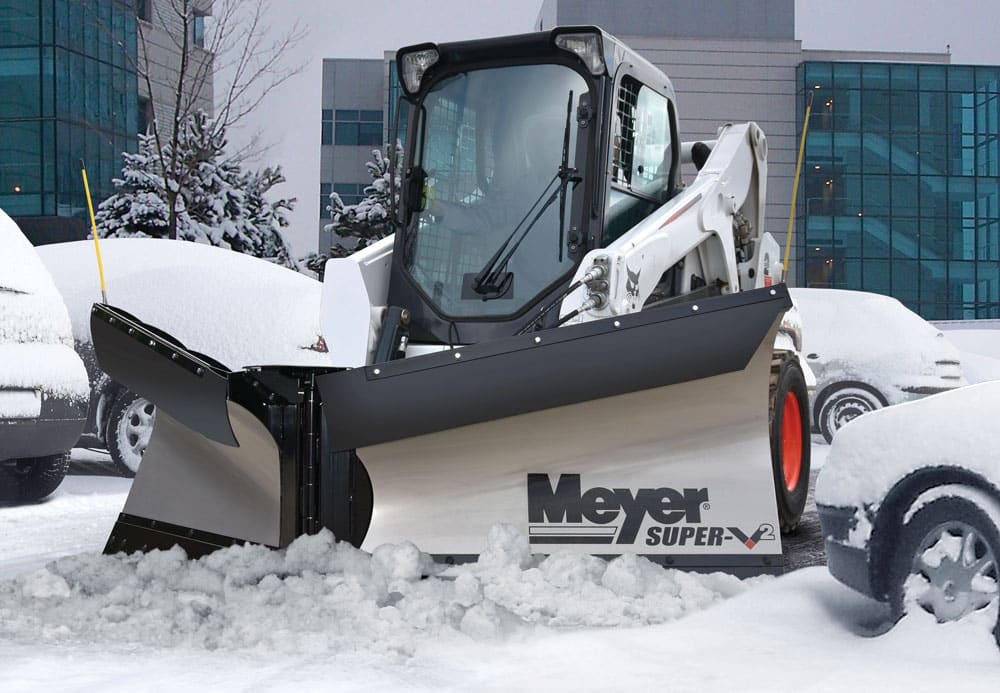 There was a time — say, 15 years ago — when snow was mostly pushed around parking lots by pickup-mounted blades. Blizzards might see the arrival of wheel loaders and other off-road machinery, but trucks ruled. Then skid steers came along.
"Quite honestly, it used to be a lot of snow and ice contractors cleaning the lots," says Greg Blankenheim, Meyer Products representative. "Then landscapers and mow-and-grow contractors with compact machinery began doing it as a way to supplement their businesses in the winter. It was a natural fit."
Meyer is a good source for snowplow history since the company more-or-less invented the market segment 92 years ago. Though the transition from truck-mounted plows to skid steer and track loader plowing was smooth, the process was not without engineering challenges. "The moldboard remains the same," says Blankenheim of the basic plow design, "but from there on back, all that black iron that you marry up with the blade is indeed different. For skid steers, we had to change the attack level."
The spin-turn capability of skid steers and track loaders is an advantage at the end of snow-pushing runs, of course. A quick pivot and the skid steer blade is ready to send snow flying again. The machine's compactness partnered with a 30- to 50-hp engine proves up to the challenge of snow-buried parking lots because larger blades need horsepower behind them: The blade and framework can weigh 900 lbs.
When skid steers and track loaders became popular snow-removers, plow manufacturers responded with box, scoop and straight blades optimized for the market. That marketing push continues. Example: Meyer's Super V-2 plow for skid steers. It comes in carbon steel or stainless steel. A standard trip-edge on the bottom of the moldboard deflects the full impact of striking a hidden obstruction at speed.
However, the most popular Meyer blade is more conventional — an 8-ft-wide Lot Pro straight blade. Fitted with optional angled extensions — wings on each end — the blade becomes an efficient windrower or box pusher. The winged extensions are either fixed at 45-degrees or have nine moveable positions. Meyer blades are coated in "Dura-Slick Paint with a Teflon coating," which wet snow surely finds slippery.
"Business-minded contractors buy the wings," Blankenheim says. "If the buyer is more of a homeowner, it's pretty rare he spends money on wings. A contractor understands it can increase efficiency by 30 percent." Wings are the second most common add-on, manufacturers say. Most popular are deflectors at the top of blades, which help keep flying snow from fouling a loader's front window.
Land Pride snow blades are either marketed under that name or are Kubota branded. In 2016, Kubota bought Land Pride's parent company, Great Plains Mfg., to consummate an ongoing relationship with the Kansas company. A snowblower series is a popular seller, but the latest Land Pride product is the Kubota branded TE35 trip edge blade that comes in either 8- or 9-ft widths.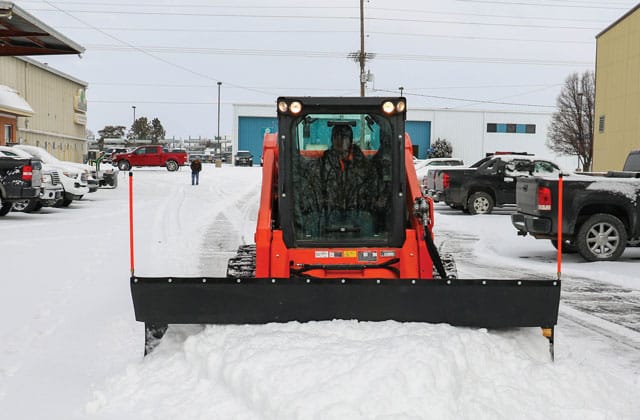 It was designed specifically for the skid steer market, according to Dan Base, Land Pride product manager. "There are just so many ways to build a widget, but our inhouse design group gives us an edge," Base says. "What sets us apart is that we try to build everything a little bit heavier. This is a growing line for Kubota and Land Pride."
Boss Snowplow has a new rubber-edged blade this season. Available in 8- and 10-ft widths, the rubber model complements the company's two most popular blades — 8- and 10-ft steel trip edge blades. Last year, Boss introduced a 12-ft blade for heavier skid steers, but it remains a niche product, according to product manager Jen Strelcheck. On the other hand, loaders this year have the option of being fitted with a 6-ft blade.
The company's trip-edge plows have adjustable trip-return springs so tension can be set for a particular job. For example, an operator expecting to encounter numerous small protruding obstacles in his path can set the springs loosely so that multiple impacts are shrugged off by the machine. Strelcheck notes that Boss blades are not as high as the industry standard, averaging 30 to 31 in. in height. Competing products can run 3 or 4 in. higher. "Our blades are actually a bit shorter, but we have a tighter curl. We have seen snow roll real nicely off them. When you have too high a moldboard, you can run out of power when too much snow piles up."
She adds that operators like the lower blade because they can more easily see over it. "They also like the height because it is easier getting in and out," she says. Besides the lower top edge, Strelcheck notes "our customers like the AR400 steel edge for high abrasion resistance. They like the curl on the blade and the way the snow rolls off it."
One of the more popular SnowEx plows is its patented Speedwing. The 8-ft, 7-in. blade includes mechanical wings that can be fanned forward together in scoop mode or configured in complementary positions to create an angling windrowing blade. What especially stands out is that the wings change automatically as the blade is angled. When the left end of the blade is in a leading position, for example, the left wing swings forward to cleanly cut the snow and the right wing flattens out to extend the width of the pass. The counter-positioning of the wings is "intuitive," as the manufacturer puts it, and enhances the speed and efficiency of back-and-forth windrowing.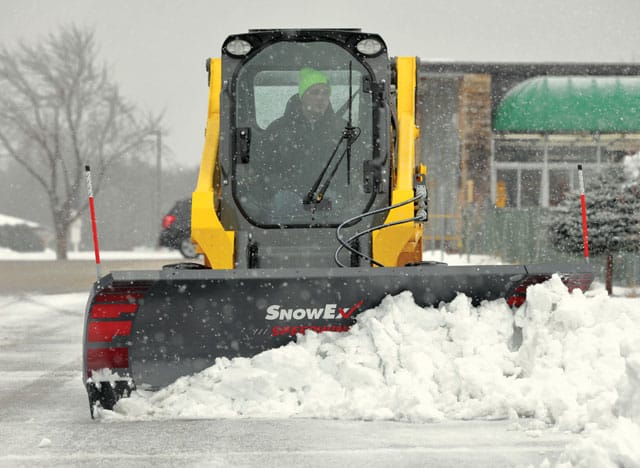 "It is simple to use from an operator standpoint. Most novices can use it," says Seth Bergerud, product manager at SnowEx. "As you windrow, you're not dealing with additional controls inside the cab. You are simply angling left or right and getting more efficiency out of it."
New this working season on SnowEx skid steer blades is an oscillating mount that lets the plow tip six degrees in each direction so it can ride rolling terrain and keep its cutting edge on the surface. Another new feature is a sloped attachment plate that attaches a blade to a skid steer at a 10-degree forward-sloping angle. This intermediate plate allows an operator to raise the blade off the surface by using the bucket curl control function, rather than raising the machine's arms. The result is saved time. It is particularly useful on older model machines that lack a self-leveling function.
On the SnowEx website is an Efficiency Calculator where you can select a plow model and size of blade from any of eight manufacturers and enter an average plow time using the plow. Punch a button and the calculator mathematically computes and displays estimated time saved were a SnowEx blade used instead. "It was created after gathering lots of information over time on our own products and rival products," Bergerud says.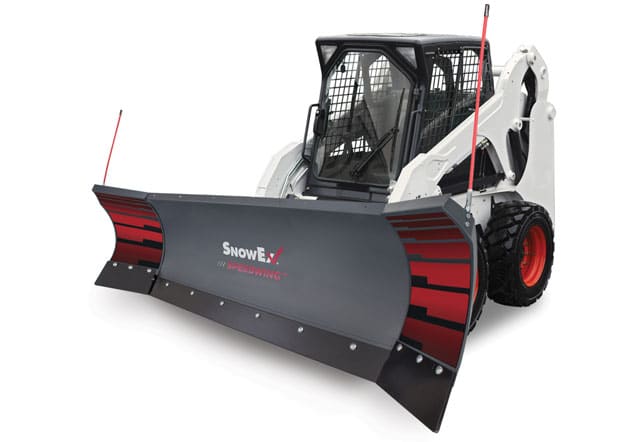 Buyers have lots of options in shopping for a snowplow for a skid steer or track loader. The diversity and strength of the plow manufacturing sector is acknowledged by Blankenheim. "While we have the largest brand recognition period, because we invented the category, quite candidly, there are three or four other very good companies out there."
Having given competitors their due, Blankenheim puts his Meyer hat back on. "But we have the best warranty in the market, bar none. Five years. Bumper to bumper. Parts and labor. It covers everything except wear items." He suggests this certified backing of its snowplows gives Meyer a steely edge in the market. "Our warranty is very appealing to a commercial guy."
Giles Lambertson is a freelancer writer for Compact Equipment.
Tags:
BOSS Snowplow
,
home
,
Kubota
,
October 2018 Print Issue
,
Snowex Products