Holes must be dug. Luckily for tool carriers like skid steers, track loaders and tractors, there are a variety of attachments that can tackle earthwork projects — buckets, trenchers, backhoes and beyond. When it comes to precision holes that go straight down, auger attachment systems are great tools to bore an accurate hole for fences, footings, trees and a variety of other installation projects. If you're looking to pick an auger implement for your full size skid steer or track loader or walk-behind/stand-on unit, consider these brands and products.
Kubota SA20 and SA35 Skid Augers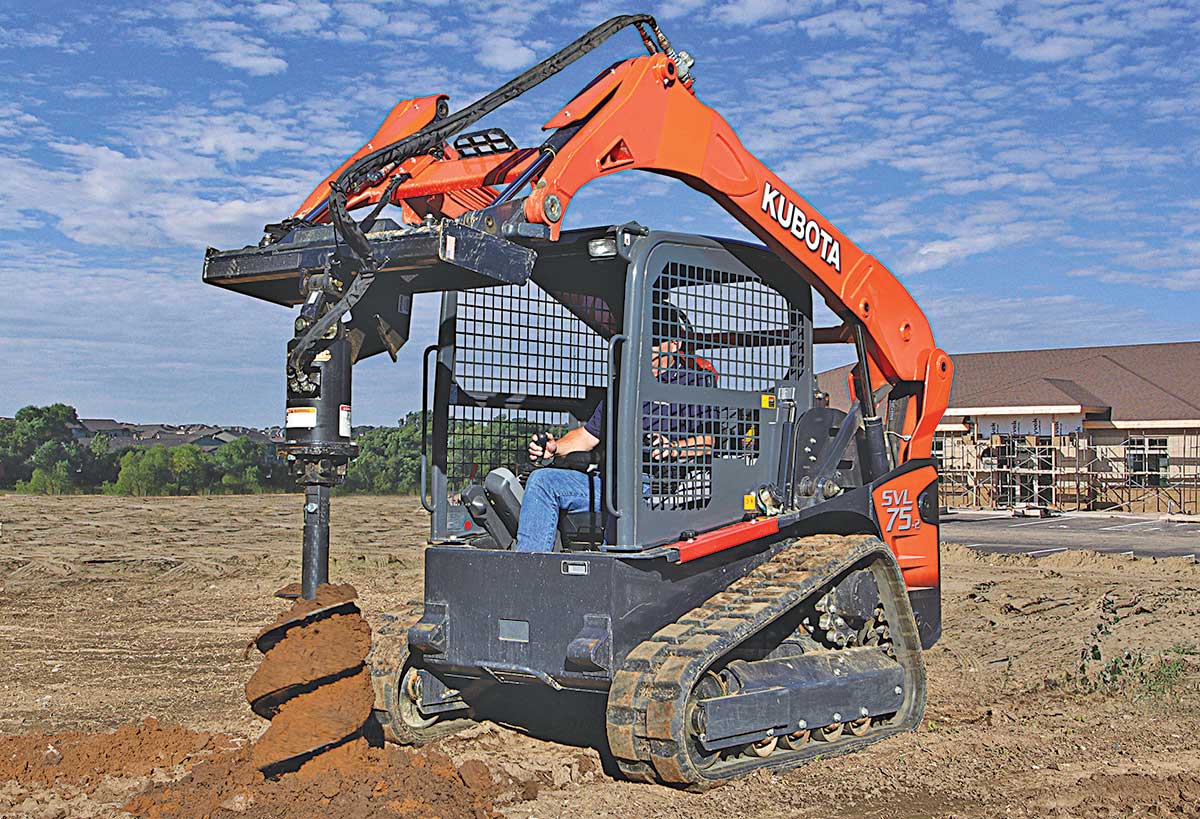 Kubota's SA20 and SA35 skid augers meet the industrial duty applications of nurseries, landscapers, contractors, construction companies, ranchers and municipalities. The SA20 skid auger has two motor options, running between 10 and 30 gpm, with torque up to 2,620 ft-lbs at 3,000 psi. The SA35 skid auger runs between 10 and 30 gpm with torque up to 2,732 ft-lbs at 3,000 psi. The SA35 auger is perfect for planting ball rooted trees. Both augers are available for the SSV65 and SSV75 skid steers and the SVL65-2, SVL75-2, SVL95-2s and SVL97-2 compact track loaders. For more info, visit kubotausa.com.
John Deere's PA15B and PA30B Augers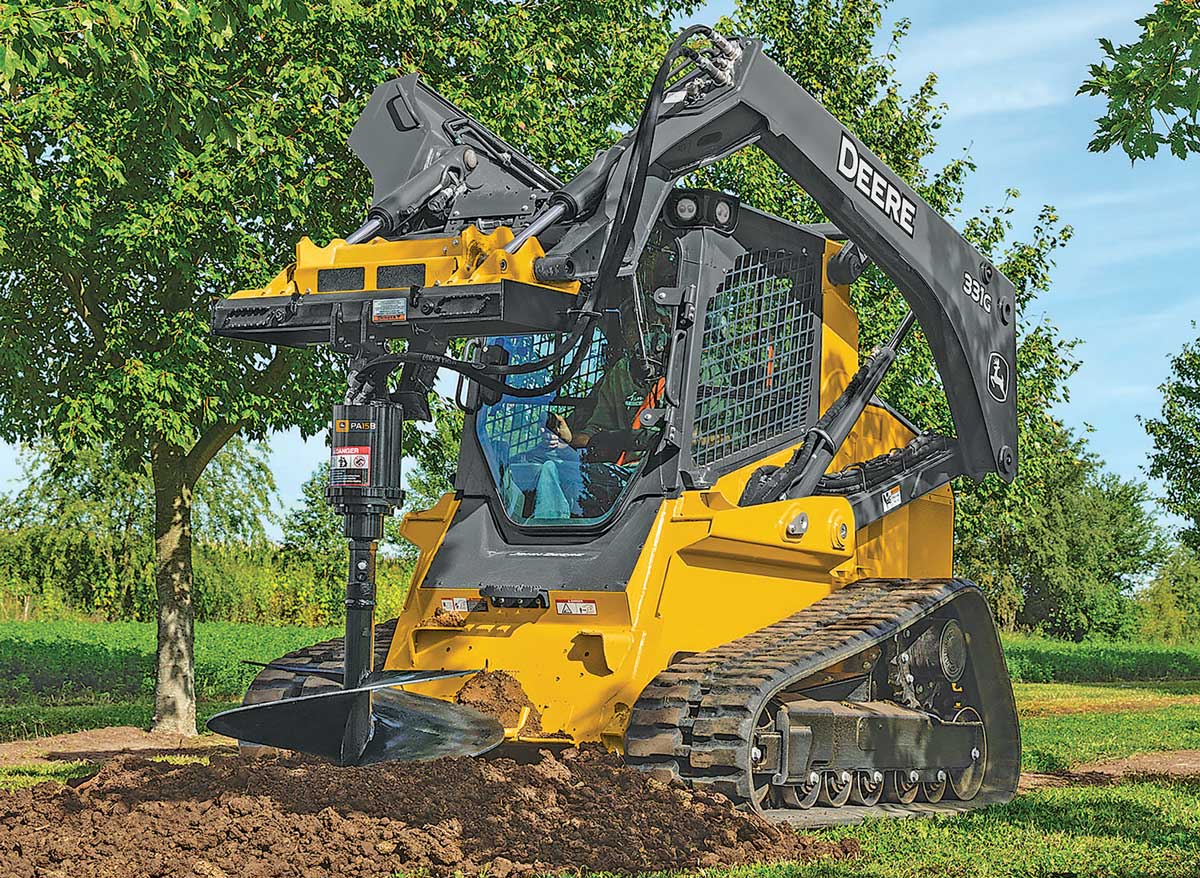 The PA15B and PA30B auger attachments have a higher-rated operating pressure and feature a larger and more durable motor-shaft seal than previous motors for those models. These augers are optimized to work with John Deere skid steer loaders, compact track loaders, compact excavators and compact wheel loaders. They're also compatible with most competitive models. Integral motor and planetary gearbox housing brings the planetary gear set closer to the motor, increasing efficiency and decreasing component stress. The gearbox has an updated input shaft with a more sturdy design. For more info, visit deere.com.
Toro Universal Swivel Auger Attachment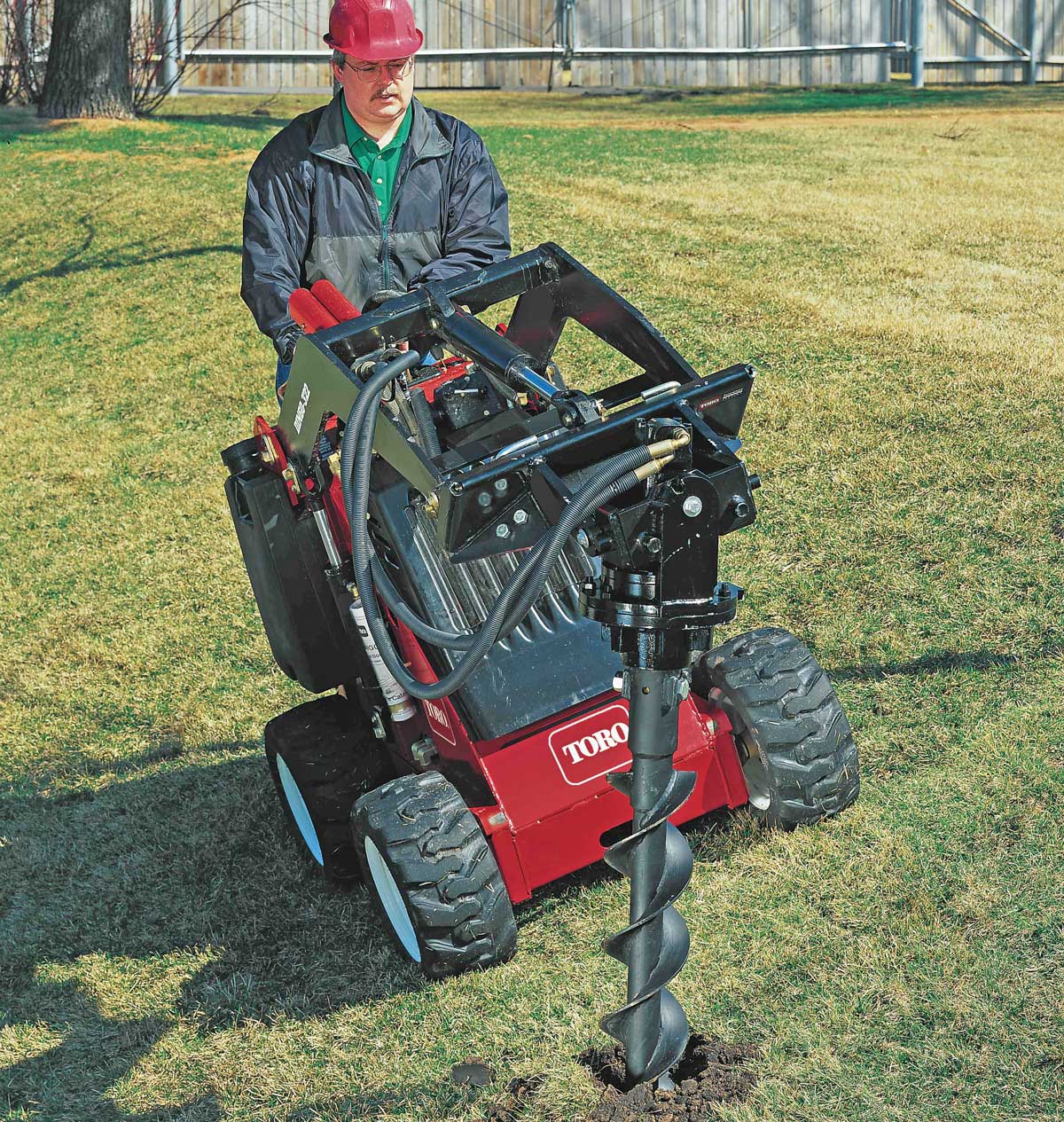 The Toro Universal Swivel Auger is a Dingo attachment used to create plumb holes on uneven terrain or the face of a slope. The power head swivels 15 degrees in all directions, making it possible to dig holes for fence posts, footings and more, regardless of the orientation of the traction unit. The attachment also switches between auger bit sizes quickly, allowing contractors greater flexibility. Depending on the bit size, it can dig up to 30-in. holes to a depth of 6 ft. The direct planetary gear drive provides the necessary high speeds and maximum torque to the auger — all while putting minimal stress on the auger head components. For more info, visit toro.com.
Compact track loaders are the most popular category of compact equipment in America. Learn why with loads of track loader features right here.
Caterpillar Augers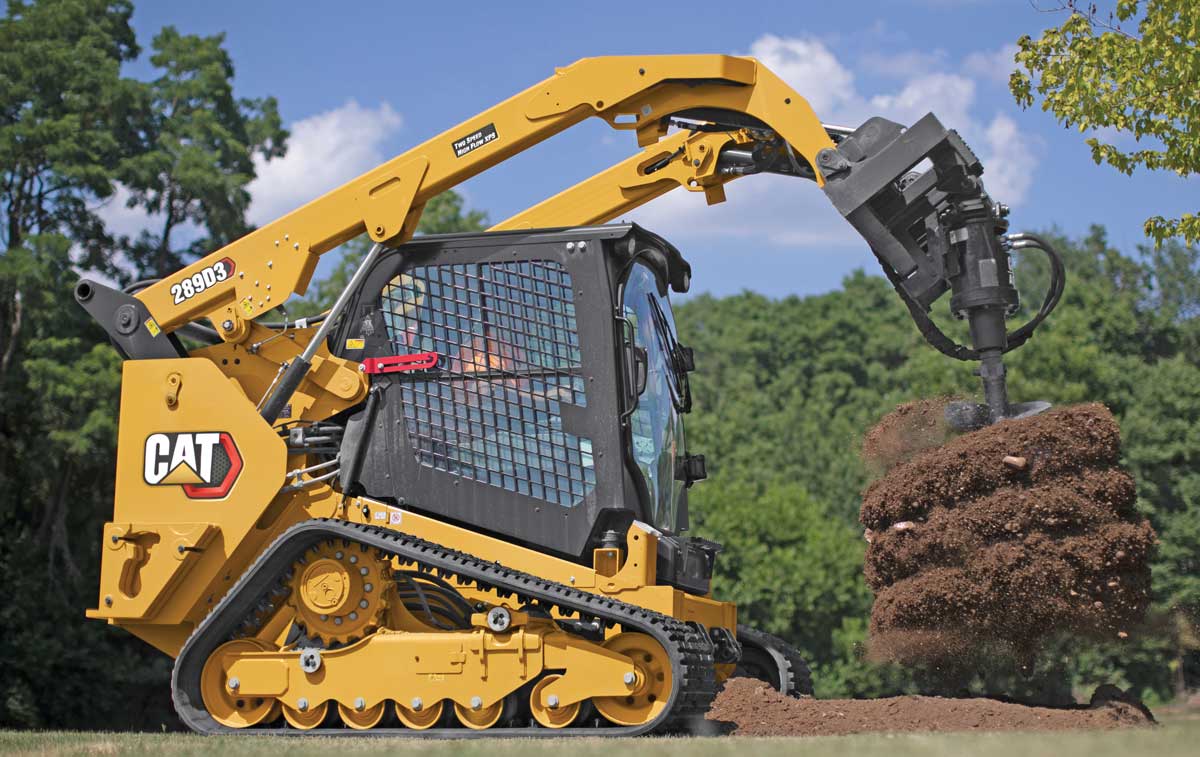 Caterpillar has a versatile product line of augers that are size matched to their host machines for optimal performance. There are four different sizes available starting with the A11, which has a direct drive gerotor motor with a max torque of 815 ft-lbs. This is followed by the A23 and A41, with the largest in the line being the A68. The A68 features a variable speed, bi-directional, double reduction planetary drive hydraulic gear motor mounted to a planetary gear box for optimal bit speed and output torque for moderate to heavy-duty, high performance drilling requirements. Delivering 5,037.5 ft-lbs, the A68 can be configured with multiple different host machines requiring 25 to 34 gpm for optimal performance. For more info, visit cat.com.
Takeuchi TADV36 Auger Drive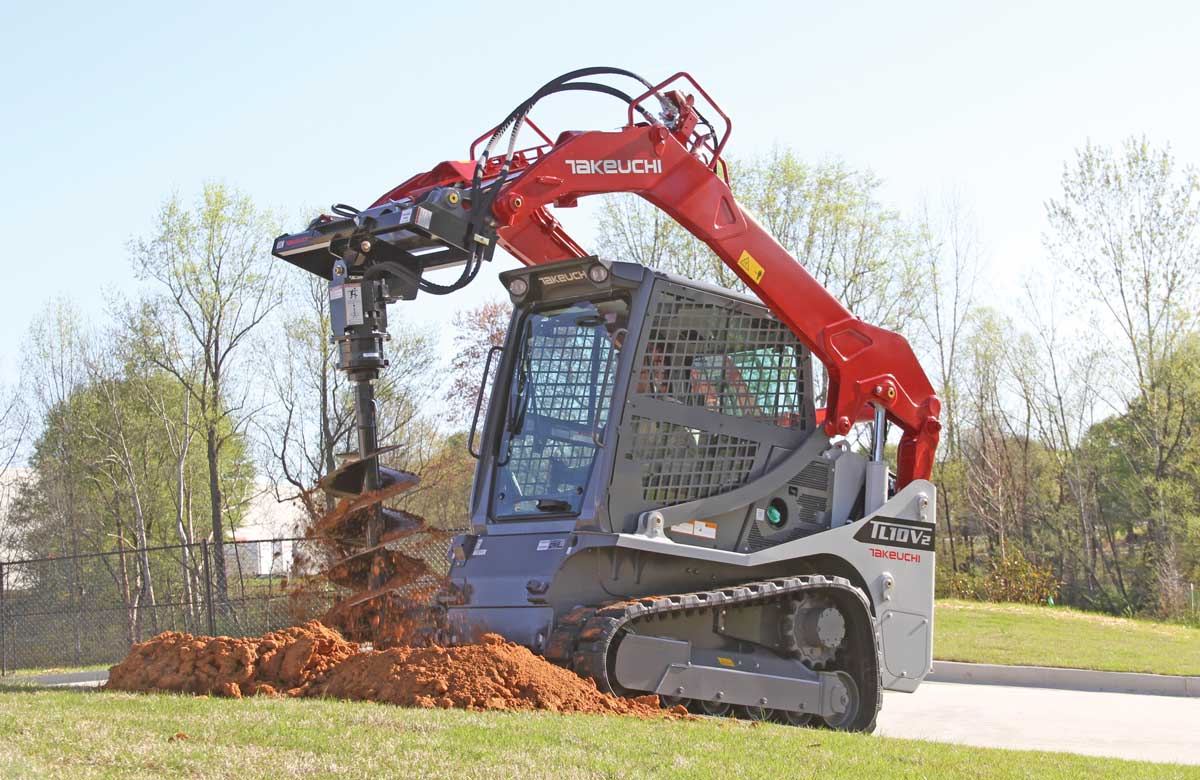 Designed to accommodate a maximum 36-in. bit size, Takeuchi's TADV36 auger drive attachment requires a flow rate of 15 to 25 gpm and is recommended for use on loader machines with load capacities greater than 1,500 lbs. An American-made Parker motor with hydraulic pressure relief protection provides the auger drive with optimal performance and longevity while allowing both forward and reverse operation. A 2-in. hex output results in a stronger, more durable interface that makes it possible to handle tough digging tasks with ease. Standard bits and tree bits are available for light to moderate ground conditions, while rock bits can tackle rock, compacted soils, frozen ground, asphalt and concrete. For more info, visit takeuchi-us.com/attachments.
Danuser Mini Skid Steer EP Auger System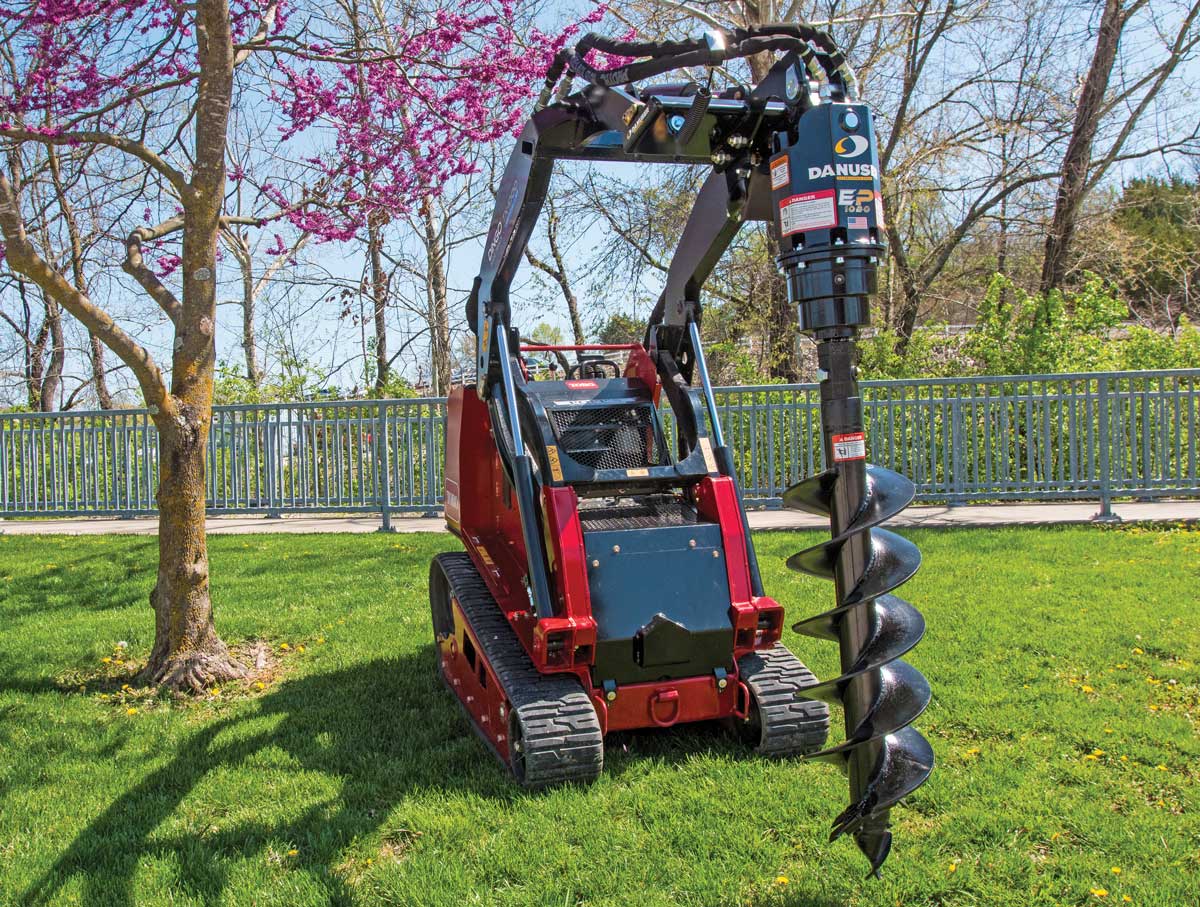 Danuser's mini skid steer mounted EP Auger System enables operators to use their existing EP drive unit and just purchase an additional mount, unlike other manufacturers that require a completely different mount configuration. The new system features a planetary gear drive that is up to 42 percent stronger than the competition with greater torque for drilling through hard-compacted surfaces. It is available in four models, ranging from 6 to 35 gpm and from 1,500 to 3,500 psi. Easily accessible check and fill plugs allow for quick and easy maintenance. Most vehicles with 72-in. or greater hinge pin height may use standard 4-ft length augers. Hinge pin heights 71 in. or shorter require 3-ft augers. For more info, visit danuser.com.
What can we say? We love rental. So much so that we published a Digital Rental Guide covering everything you need to know when renting a machine. Check it out here!