There's an attachment for every application. Need to install an irrigation system? Grab a trencher. Demo some concrete? Pick up a breaker. Remove a tough stump? Stump grinders are the perfect attachment for skid steers and track loaders to help contractors in land clearing, tree care and municipal applications where stumps and roots must be cleared. But before buying one, it's important to know what features to consider so you get the right tool for your machine. This starts with knowing your job and if your machine is equipped with standard- or high-flow hydraulics.
"Proper hydraulic flow is essential to the operation of a stump grinder attachment," says Dave Maddock, product manager for Fecon. "Operating a machine at the middle or higher end of the manufacturer's suggested flow will yield much better performance than a machine operating at the lower end of the suggested flow. Performance parameters are always important, such as how will it perform on the type of stumps that you typically grind and how many stumps can you grind per hour or day."
Manufacturers such as Fecon, Edge and John Deere all have attachments that boast different hydraulic flow options to appeal to a variety of operators and their needs. For example, Fecon's Stumpex requires a hydraulic flow of 20 to 42 gpm at 2,500 to 4,000 psi. Edge offers two stump grinders that are built for standard-flow machines and one for high flow. Ron Peters, product manager for Edge Attachments, points out that a high-flow machine allows the stump grinder to move at a faster speed, taking less time to complete the job.
"For the standard-flow stump grinders, Edge offers one model that is self-feeding and another that has a hydraulic cylinder that swings left to right," he says. "Our self-feeding stump grinder has a unique hinged pivot self-feeding design. The simplicity of this model often makes it more popular for rental customers. The self-feeding grinder also costs less. The Edge Self-Feeding Grinder will grind stumps up to 30 in. wide and as deep as 10 in. below ground in minutes."
Aside from the right hydraulic flow, potential buyers should look at the different styles of stump grinders available. Styles vary based on manufacturers and each type offers their own pros and cons. For example, traditional wheel saw-type stump grinders typically cost less than auger-type units.
"Auger-type stump grinders — with their high-torque, low-speed operation — are able to remove stumps faster than traditional wheel-type stump grinders as well," says Maddock. "The auger action produces larger materials that are easier to clean up. All of the materials are confined within a very small radius with auger grinders, so they are inherently safer than wheel types since there are no flying projectiles, either carbide bits, rocks or stump parts that are commonly thrown by high-speed wheel type grinders. Cleanup of the wood chips can easily take longer than the actual cutting process with a high-speed stump grinder. Some contractors price the cleanup separately from the stump cutting, due to this time-consuming part of the operation."
Last year, John Deere opted for a different approach to stump removal when it introduced the SS30 model Stump Shredder.
"John Deere does not offer a traditional style stump grinder," says Gregg Zupancic, product marketing manager for John Deere Construction and Forestry. "We have chosen to offer a low-speed, high-torque planetary SS30 Stump Shredder attachment. It does the same type of job but is safer and more efficient versus the traditional stump grinding attachments that grind at a high rate of speed and create flying debris."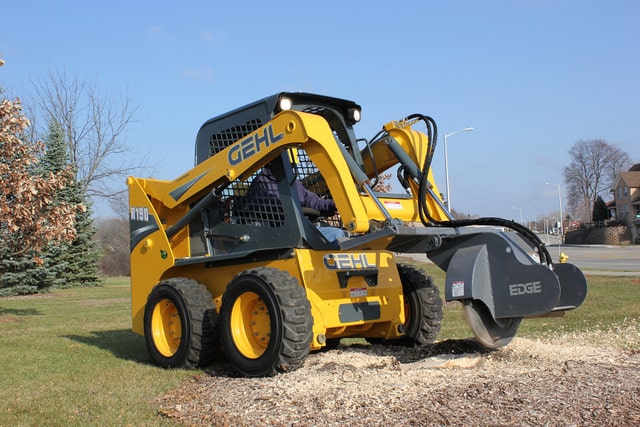 Zupancic goes on to say that the new shredder removes stumps from 8 in. to 28 in. in one pass, and larger stumps are easily removed with multiple bores. The attachment can run on a standard-flow skid steer or compact track loader that provides a minimum of 20 gpm, and the maximum auxiliary flow is 45 gpm. The stump shredder is a great fit for John Deere's new mid- and large-frame G-Series skid steers (320G, 324G, 330G and 332G) and mid- and large-frame G-Series compact track loaders (325G, 331G and 333G).
As with any specialty attachment, operators will have to make the decision whether to rent or buy a stump grinder. The decision ultimately depends on how often the operator will expect to use it.
"If land clearing is the primary task of a contractor, they will almost always own a mulching head or extreme-duty rotary cutter and a stump grinder," says Zupancic. "If the contractor only occasionally does land clearing then they will be more likely to rent equipment. It all boils down to attachment utilization that determines when to own or when to rent.
"List price for a very small stump grinder attachment that can be run on a walk-behind [compact tool carrier] can start at $5,000," he says. "Larger stump grinders that are compatible with larger skid steers and track loaders can range from $9,000 to $15,000, depending on the performance level."
Some attachments go a bit beyond that price range with the Fecon Stumpex's list price at $20,990 and Deere's Stump Shredder for about $20,000.
Ready to Work
Before using any attachment, it's always important to carefully read the operator's manual. Personal protective equipment such as gloves and glasses should be worn, and the area should be clear of bystanders to avoid being struck by any flying debris.
"To prep the site, remove any rocks or obstacles around the stump," says Peters. "The stump should be cut down as low as possible with a chain saw before using the grinder to reduce the amount of time it takes to grind it down. It's important to make sure the attachment is properly locked onto the machine. It's also recommended to use a skid or track loader that has a door to reduce exposure to debris. The operator should also be wearing safety glasses, and there should be no bystanders.
"When you are ready to begin, engage the hydraulics at an idle and gradually go to full throttle," he continues. "For the first pass, start off shallow and do not take a large chunk off right away. Allow time to get accustomed to the attachment. It's recommended that the operator bring the machine back to idle before turning it off, and that they wait at least 15 seconds before disengaging the hydraulics."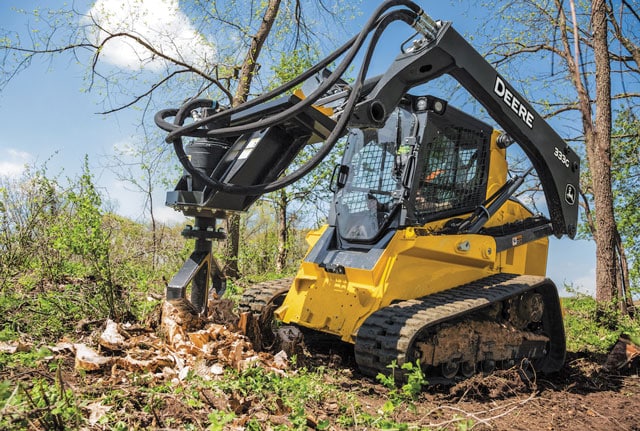 Maintenance Matters
Stump grinders are hard-working attachments, so they need a little TLC to keep them in tip-top shape. The best way to address this is to consult the attachment's operator manual for a maintenance schedule. When looking at a wheel-type grinder, Peters says operators need to check the condition of the teeth daily.
"Carbide teeth can be easily replaced if they are dull or damaged," he says. "They can also be sharpened."
Maddock points out that maintenance is sometimes lower with an auger-type grinder. "Simply grease the bearings and sharpen the blade. Sharpening needs vary with the volume of stumps ground, type of stumps, amount of dirt contacted, etc.," he says. "This is in sharp contrast with wheel grinders which require manual inspection, replacement and tightening of all carbide cutter teeth."
Peters says operators should also check grease points and inspect hoses for damage daily. If hoses have nicks or kinks, it's recommended to replace them before use.
---
Check Out Auger Torque's Variable Mulcher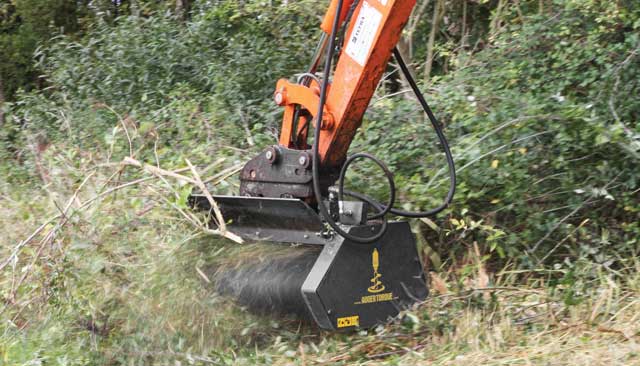 Whether you're tackling overgrown ditches, low level vegetation or whole tree removal, Auger Torque's variable mulcher attachments offer solutions. Suitable for excavators and skid steers, the variable mulcher provides working widths of 40 or 60 in. and has the unique feature of being able to change the whole tooth drum instead of individual teeth, saving time in the process. Additional features include a hinged cover helping to contain debris and also allowing easy access to the tooth drum. The drum's low-profile design is great for visibility, and its robust motor and gearbox conceal gears and bearings to prevent dust and dirt ingress. With solid steel construction, this mulcher is capable of tackling the rigors of extreme mulching jobs. The variable mulcher is part of the Auger Torque landscaping range of attachments including stump planers, log splitters, hedge trimmers, sweeper brooms and more. For more information, visit augertorqueusa.com.