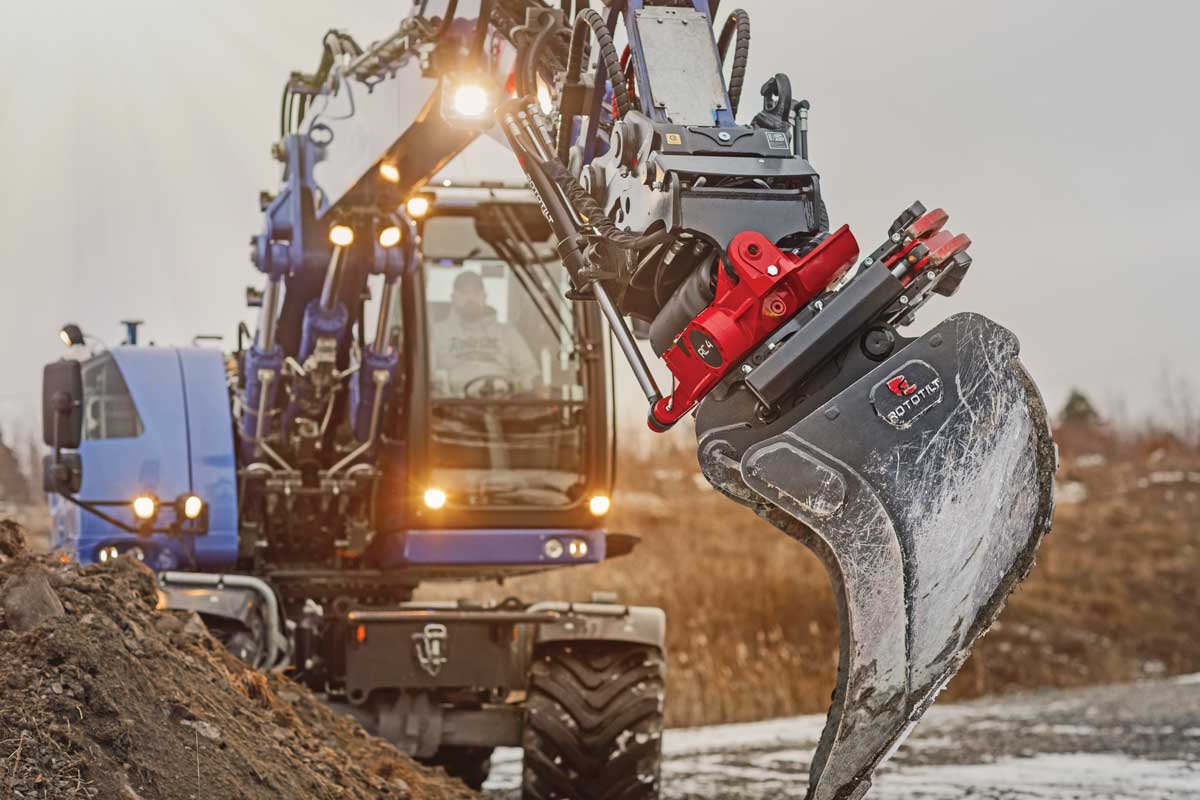 Mini excavators are great for digging holes. Utility trenches. Pool work. Graves. Just wave in a mini or compact excavator (same thing), and you can get that hole dug right quick. These mini diggers can easily fit into congested or open-space environments and dig a variety of ditches, pits, keyholes and crevices. In fact, these simple holes can be amazingly precise. On the most high-tech mini excavators, exacting depths and grades can be achieved using machine or grade control systems that will automate boom and bucket movements to help operators perform surgeon-like excavations. There's also tiltrotators. Are you familiar?
Tiltrotators are coupler systems that attach to the end of the boom and allow an excavator's bucket to twirl 360 degrees or tilt to odd angles for precise excavation. Over the last couple of years, tiltrotator systems have not only been growing in popularity in America (they are big in Europe), but they have been shrinking in size to fit on compact excavators. These systems add awesome maneuverability to your bucket and are next-level when it comes to digging holes. Of course, it's not just for hole diggers.
"The range of contractors that are starting to adopt tiltrotators is broad," says Daniel Cohen, product application specialist, Caterpillar attachments. "They can be a game-changing addition to a machine no matter what type of work a contractor primarily does. If I had to say which contractors have been early adopters, I would say landscapers and hardscapers. They are able to take advantage when grading contours or working in tight spaces where repositioning the machine is a difficult task. That is not to say that utility contractors and others have yet to find unique ways to incorporate tiltrotators into their fleets. Tiltrotators are handy tools for installing pipes, manipulating poles and handling scrap or recycling."
Mini excavators today can do a lot more than just dig holes, powering a variety of attachments from augers to breakers via advanced auxiliary hydraulic systems. A tiltrotator can work with a few of these attachments, giving dexterity to buckets, grapples and specialty implements like quick couplers and grading beams, all of which can be twirled to perform tasks.
Mini excavators are making big waves on jobsites all over North America. Click here for the latest news on these machines and the companies that make them.
"There are many advantages to using a tiltrotator — once you learn how to use it correctly," says Lee Padgett, product manager, Takeuchi-US. "Additional options like a hydraulic coupler, hydraulic gripper and attachment quick-change systems can drastically reduce the number of workers needed on site to complete the same task. Add to that the ability to match a tiltrotator with a grade control system, and you can also get all the accuracy of a grading control option."
Like everything cool and techy, there are some challenges when it comes to tiltrotators. First off, there's a significant price tag: "[Caterpillar's] TRS plus [tiltrotator system] and the components needed for installation will range from $25K to $40K," notes Cohen. Also, it will take some modifications to your mini excavator and a good amount of training to master the tiltrotator.
"Since this attachment is complex, it's best suited for operators who will be using it regularly — not for on-off operation," says Thomas Lee, director of product management, Develon (formerly Doosan). "Like any piece of equipment, proper configuration, necessary components and proper training generate the best results when using a tiltrotator accessory. They can visit with their local dealer on training options available."
Tiltrotator Size Classes and Hydraulic Requirements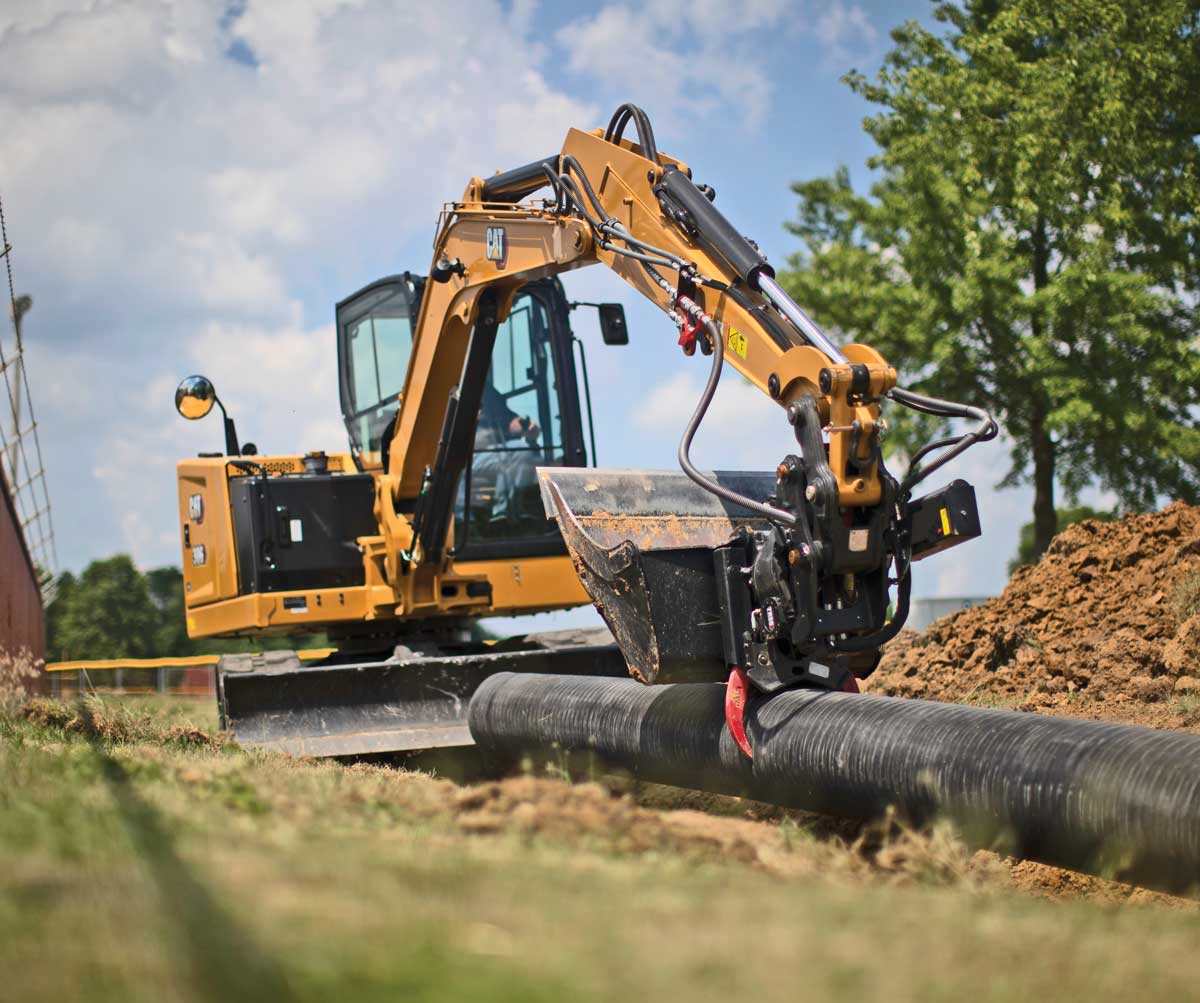 The tiltrotator phenomenon has actually been around for decades. The concept is well established in the Nordic countries through brands like Engcon and Rototilt, both of which sell into the United States and have OEM supply agreements with many of the major excavator makers. Now, these twirling attachment couplers are showing up on American jobsites.
Compact excavators are categorized by weight in metric tons, and minis can range from less than 1 to 8 or 10 metric tons, depending on who is categorizing them. "Machines in the 8- to 9-metric-ton excavator class are the ones we see most commonly being outfitted with tiltrotators," says Padgett, but that's changing.
"The 5- to 6-metric-ton size class machines seem to be very popular for tiltrotators," explains Cohen. "This class is the do-it-all size machine, so it is not surprising that we see many tiltrotators on them. I expect to see quite a bit of growth in tiltrotators for 3- to 4-metric-ton size machines in the next few years."
Caterpillar offers seven models of tiltrotators to fit on machines from 2.7 to 35 metric tons. Takeuchi's tilt rotator attachment line includes the DF4, DF10 and Prop Plus models, which are compatible with its excavators ranging from the TB240 to the TB2150. The feature-rich Prop Plus kit includes two new joystick controls and a separate monitor, plus it can be set up to work with grading systems (more on that later). While Develon doesn't manufacture or brand any tiltrotator systems, its mini excavators can be paired with third-party offerings.
"The tiltrotator is connected directly to the excavator's arm or beneath the excavator's quick hitch," says Lee. "The tiltrotator is then connected to the excavator's hydraulics and electrical system. Depending on the excavator's extra hydraulics, the tiltrotator movement is adapted to suit different types of control systems. A secondary monitor and different joysticks may be required to use a tiltrotator. The joysticks provide additional functions and buttons needed for proper operation."
A compact excavator's auxiliary hydraulic specifications — flow (gpm) and pressure (psi) — indicate the amount and power of the hydraulic oil being directed to the attachment. Like any attachment, a tiltrotator system must match to the specifications (gpm and psi) of the host unit. "The pump flow requirement is around 16 to 18 gpm at 3,800 psi," says Lee.
"The Cat TRS only requires first auxiliary hydraulics to operate," says Cohen. "They aren't power-hungry attachments like a mulcher or mower would be. Even when giving multifunction commands, there won't be a noticeable reduction in speed."
A thumb is a popular mini excavator tool. It attaches to the end of the boom and pairs with the bucket to make a simple grapple. Will a thumb work with a tiltrotate system?
"Although it is possible to have a thumb installed on the stick of an excavator and run a tiltrotator, it is not recommended," says Cohen. "There are several reasons why. First off, the thumb cannot be operated with the tiltrotator installed. The tines would not come close to reaching the edge of the bucket. Secondly, it adds additional weight, which decreases machine stability. And lastly, the tiltrotator can be positioned in ways that the attachment being used can crash into the thumb, even when it is fully retracted."
Tiltrotator Operational Tips
By Daniel Cohen, Product Application Specialist, Caterpillar Attachments
One of the biggest benefits of using a tiltrotator is that doing so reduces the number of times the machine needs to be repositioned to complete a task. A great example is digging for a septic tank installation. By using the tilt and rotation functions, the task can be completed without having to move the machine more than a couple of times. This reduces damage to the surrounding area and wear and tear on the machine. Tiltrotators are also a great tool for digging and grading along foundation walls. When paired with a Nordic-style bucket, an operator can grade inside 90-degree corners without the heel of the bucket hitting the wall. Other keys:
The information shown in the machine display can also be a useful tool to the operator. When cutting ditches, the angles shown in the display can help the operator maintain even slopes on both sides of the ditch.
One technique that can be useful when truck loading material is to rotate the bucket 180-degrees and use it like a front shovel. This is especially useful as the spoil pile moves closer to the machine.
When trenching and installing utilities, the integrated grapple module can be used to pick and place pipe. When it is time to backfill the trench, the bucket shake feature can be used to evenly spread the backfill material.
One of the most beneficial things about running a tiltrotator is the ability of the machine operator to perform tasks from the cab of the machine that would have traditionally required a helper on the ground. Keeping that in mind when running the tiltrotator will help an operator see new opportunities to take advantage of the increased flexibility that the attachment offers.
Buckets, Attachments and Quick Couplers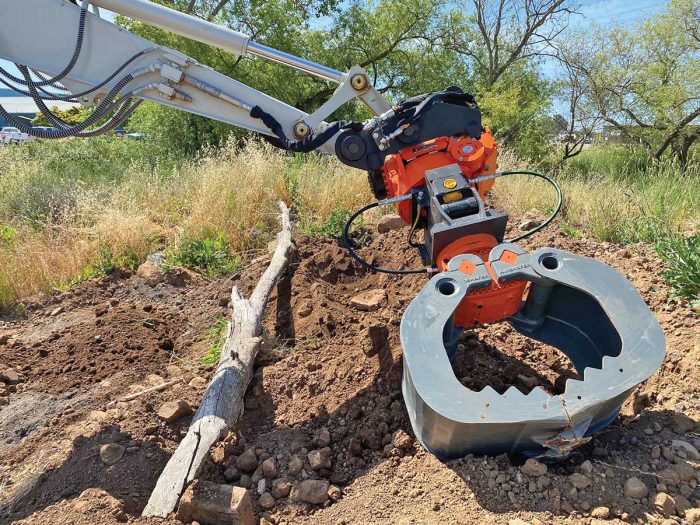 Who needs a thumb when a tiltrotator can be installed with a grapple attachment? First off, a tiltrotator system might come with an integrated grapple option, where a set of claws are engineered into one side of the system, allowing for simple, smaller grabs. There are also grapple attachments, which might range from multipurpose and demolition to stone and sorting grapples. "The grapples commonly used with tiltrotators are called bypass-style grapples, meaning the grapple arms move past each other. This allows the grapple to grip a wide range of material sizes," notes Cohen.
I know I plugged hole digging as the big application, but tiltrotators also can be fitted with grapples, forks, compaction wheels, grade beams and hydraulic compaction equipment.
"There is a wide range of tools available for tiltrotators," says Cohen. "The most common attachment is a bucket but not the standard excavator digging/trenching bucket. The buckets used with tiltrotators, sometimes called Nordic-style buckets, tend to be short and wide, with very long floors. This makes them more useful when spreading and grading material. They also tend to taper inwards at the rear of the bucket. This limits the amount of tail swing when rotating the bucket around corners."
Grading beams are also popular. "Although they are commonly called grading beams, they are more like grading boxes," says Cohen. "They allow the operator to quickly spread and level material. Their length and width provide a stable platform, and their high sides allow material to be carried like a box blade. Some have a roller on one side to compact and smooth material."
A tiltrotator and a safety quick-coupler system are often used together. With a hydraulic quick-coupler above and the tiltrotator below, the setup is known as the "sandwich solution." With the quick-couplers, operators can stay in the cab and switch hydraulic, electric and mechanical attachments without getting out.
"The benefit of having a tiltrotator with a hydraulic quick connect is huge, and it is shaping the industry," says Lee. "The operator does not have to step out of the cab to connect the hoses to the hydraulic attachments, which saves a great deal of time. Plus this prevents any kind of accident that is associated with coupling/uncoupling hydraulic hoses."
Tiltrotators, Grade Control and Training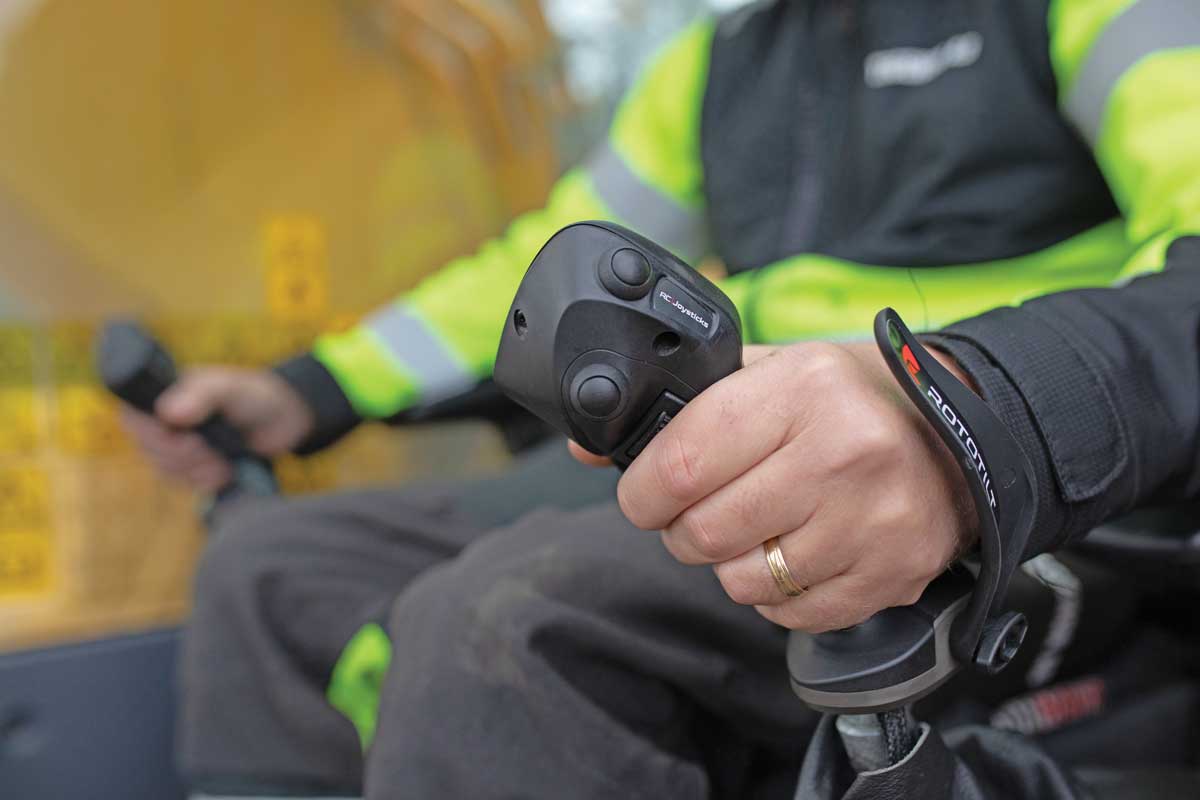 Grade control or machine control systems mean an earthmoving machine is being partially controlled by technology and not the operator. On a compact excavator, it means technology helps control the boom and bucket functions of a machine via set parameters from the operator while digging with a bucket. Using an in-cab display, that operator can see the real-time position of the bucket and machine in relation to target grade and depth. It's very cool, and this coolness can work with certain tiltrotator systems.
"The Cat TRS is compatible with both 2D and 3D grade control systems," says Cohen. "The process to upfit a TRS with grade control is similar to equipping any other piece of equipment with grade control. There is a kit that is purchased through the Cat dealer."
Excavator applications such as trenching for footings, grading ditches or digging out basements and pools might require a consistent grade, sustained slope or a precise design. 2D and 3D grade control systems will be aftermarket products offered from the likes of Topcon, Trimble or Leica. These systems (like a tiltrotator) minimize over digging and under digging and the costs and time associated with backfilling, compacting fill material and manual labor to final depth or grade. Combined, a tiltrotator and a grade control system can be a powerful combo.
"If they are working with complex 3D grade control systems, they can know where the tip of that bucket is within a level of accuracy," says Lee. These systems add awesome maneuverability to certain excavator attachments, but they do initially present a learning curve in order to use them efficiently. Training will be imperative for both a tiltrotator and grade control setup.
"There is a learning curve associated with using a tiltrotator," confirms Padgett. "However, with a little practice, you can become proficient quickly. Operators also tend to develop muscle memory as they operate the system more and more, which makes them more efficient and capable over time. Owners and operators can always turn to our dealers for the training they need to ensure they become comfortable using the tiltrotator, which in turn, will help them be more productive."
Keith Gribbins is publisher of Compact Equipment.
We'd love to keep in touch! Check us out on Facebook, Twitter and LinkedIn!