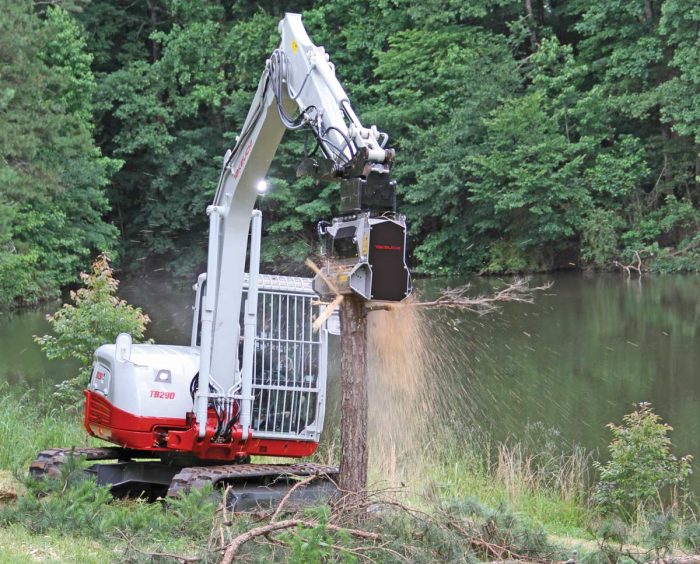 If you need to clear land of thick brush and trees quickly, a forestry mulcher should be your go-to attachment. Forestry mulchers can turn unsightly overgrowth into useful mulch, allowing you to completely clear out a specific area or thin out certain trees or brush as needed. These attachments are used most often for utility work, road right-of-way maintenance, site preparation and general property maintenance. They're also being increasingly implemented for wildfire prevention and management, as well as invasive species control.
Match to the Machine
Many variables come into play when matching a forestry mulcher attachment to a carrier. However, according to Takeuchi's Keith Kramlich, national product and training manager, they are all fairly easy to identify.
"For example, on Takeuchi's forestry mulcher, weight, hydraulic flow and pressure requirements come into play," Kramlich says. "Your machine's ROC [rated operating capacity], hydraulic performance and capabilities also come into play."
If you're considering a forestry mulcher purchase, you need to review the attachment's flow and pressure requirements to ensure your machine — compact track loader, skid steer loader, compact excavator or compact wheel loader — is capable of running it. For example, if the mulcher requires 40 gallons per minute (gpm) of hydraulic flow and 3,500 psi of pressure, you need to ensure your machine is capable of providing both. In addition, it's imperative that the attachment's weight is not more than your machine's maximum ROC, so you can maintain optimal stability during operation.
Options
There are many options available when it comes to forestry mulchers, including different widths available depending on your machine size. You can select from different motor types as well, depending on the carrier and type of application in which you're working.
Your machine should have the proper safety features installed to operate a forestry mulcher as well. For this type of application, machines must include ROPS/FOPS Level II and a polycarbonate windshield. The former will protect the operator if the machine tips over, and the latter will shield the operator from flying shards of mulched material, like bark or pulp.
"There are fixed-displacement motors for simplicity and lighter weight, and there are variable-displacement or variable-torque motors that allow operators to calibrate the attachment to the carrier to provide maximum productivity," Kramlich says.
There are also different teeth options for different applications. For example, Takeuchi's Bite Limiter technology uses a blade that cuts through the wood, but limits the "bite," allowing the mulcher to produce finer material and decrease the likelihood of stalling the head. Then, there are carbide teeth and heavy-duty carbide teeth options which produce larger material but are less susceptible to damage from rocks and ground engagement. To control the debris, some mulching heads come with at least one if not two hydraulic doors or deflectors that the operator can manage via an electronic switch or auxiliary circuit.
Installation Insights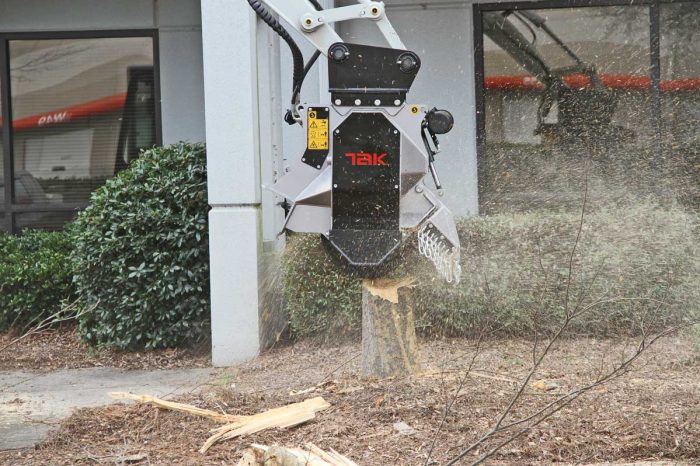 When installing a forestry mulcher on your machine, securely lock the quick-attach on the machine into the attachment's hitch. Then, ensure the hydraulic lines are matched to the carrier. Depending on the machine model, 1/2- or 3/4-in. quick-connect valves are used for the high-flow circuit. Make sure the fittings are clean before installing and that the safety switch is pushed in over the valve. This safety valve tells the machine that the attachment is hooked up and allows high-flow and one-way flow to activate. Install the electrical harness next and secure it firmly. Safely test the attachment and determine whether both the hydraulic and electrically controlled functions are working. If this is the first time you've used this attachment, properly calibrate it to your machine.
Another factor is to "keep it cool." Though manufacturers may say their machines are designed to withstand the toughest of conditions, if your primary application is forestry, Takeuchi recommends installing a roof-mounted oil cooler.
"This cooler assists in cooling oil in the entire hydraulic system to ensure it doesn't get too warm and prevent premature wear and component damage in extreme conditions," Kramlich adds.
Mini excavators are making big waves on jobsites all over North America. Click here for the latest news on these machines and the companies that make them.
Operational Tips
Before getting down to work, it's very important to calibrate your attachment to your carrier. Some attachments with special technology, like Takeuchi IQ, can be calibrated with just the push of a button. Others may require manual calibration. Regardless, calibration can have a serious impact on your overall productivity.
As you begin to operate the forestry mulcher, enter the material slowly and get a feel for the ease or difficulty with which the attachment is mulching trees or brush. If your forestry mulcher attachment doesn't have a load-sensing system, listen to it closely and get a feel for when its rotor is spinning at optimal rpm. If you push the rotor too far and it stalls, back off a little bit to let it recover and continue to meter your speed. Keep the mulcher's teeth out of the dirt as much as possible to ensure they remain sharp. Make a pass and review to determine if you need to make another pass. Watch your attachment's pressure gauge and start to understand at what pressure level it begins to stall. When the gauge shows you're getting close to that pressure, back off a little bit.
"When operating a forestry mulcher such as Takeuchi's TUMLSSL150 model with Takeuchi IQ technology on a compact track loader like the Takeuchi TL12R2, keep rotor speed high enough to ensure maximum productivity and efficiency," Kramlich says. "This technology helps by constantly measuring pressure and speed, but it's up to operators to use it to their advantage."
Lynette Von Minden is a senior public relations counsel at Swanson Russell.
Tags:
Brush Cutters
,
Takeuchi
,
Takeuchi-US