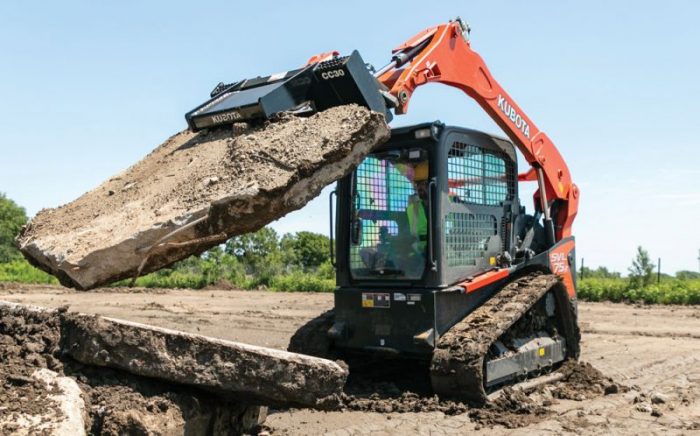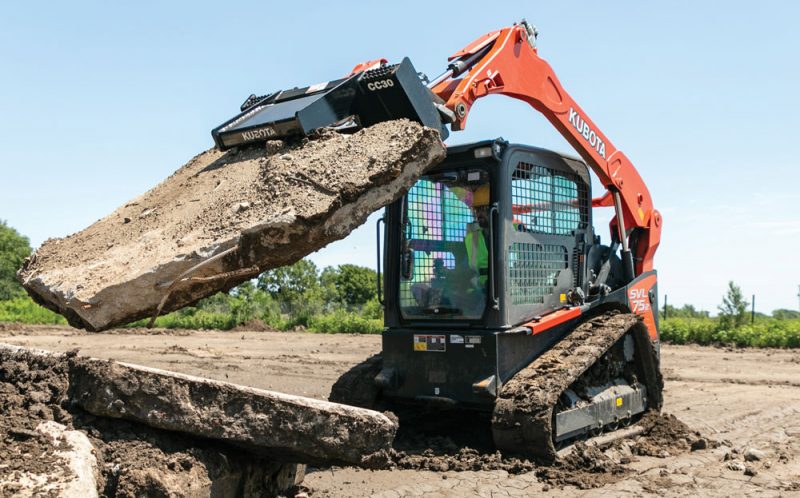 Believe it or not, there is an entire business model based on destroying common office or household items. Rage Rooms allow you to destroy everything from a TV or a computer to dishes or lamps — for a fee of course. The idea is that for your fee, you can blow off steam and tear up a few things in the process.
For most, that Rage Room fee, up to $250 in some instances, could be part of a small down payment or a rental fee on an attachment to destroy something that actually needs to be destroyed. The collection of attachments available for skid steers and track loaders that can assist in demolition is varied and sometimes specialized. When concrete or asphalt has to be removed to make way for progress, the attachment doing the job has to be built tough for the harsh conditions that it will encounter.
The tools that make concrete, rock or asphalt removal efficient and effective include hydraulic breakers or hammers, cold planers and saws. To clean it all up, contractors and weekend warriors can rely on hopper brooms, scrap grapples and buckets, or even specialty tools like a concrete claw. Operators may need several to accomplish a task. Let's look at some of these products and how they will benefit individuals intent on destruction.
Hydraulic Breakers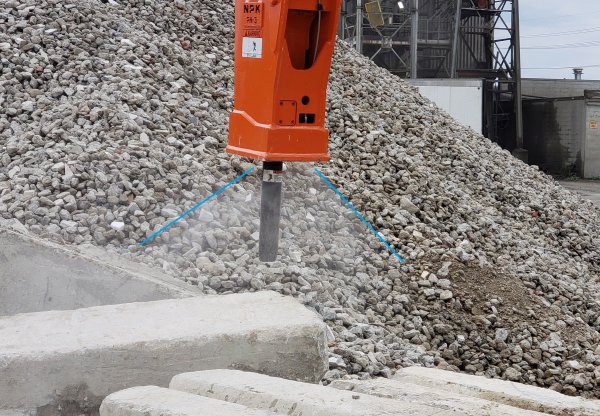 Skid steer-mounted hydraulic breakers help break concrete, rock slabs, walls and structures with efficiency and ease. Also referred to as hammers, breakers are driven by a hydraulic piston that applies pressure on the interchangeable bits and chisels. They provide a powerful and consistent force into the target. They are easily adapted for use on excavators and come in a variety of sizes to match hydraulic flow and weight capacities of the power unit.
Breakers are used across a wide range of industries from excavation to construction and municipalities to mining. Breakers have a distinct advantage over other demolition methods as they are more targeted in their approach. The controlled use of a hydraulic breaker allows for use in confined spaces to remove sections of concrete, portions of walls or individual rocks. Breakers are compact and maneuverable and are able to access tighter areas with less noise and disruption to the surrounding environment.
By nature, breakers are used in an abusive environment. Proper maintenance of the unit is imperative to keep the breaker functioning well. Breakers are not inexpensive, so taking care of them keeps them on the job for a decade or more. The first thing an owner or operator can do is make sure the breaker is set up properly every time it is used. Match the tool to the power unit, making certain that hydraulic flow is matched to the tool.
Next, make sure the breaker is greased according to the manufacturer's recommendations — ensuring the correct grease, called chisel paste, is used and in the correct amount. Chisel paste will reduce friction and prevent overheating. Lastly, inspect the breaker frequently. Routine inspection of the hydraulic hoses, grease points, bits or chisels and nitrogen pressure will go a long way in keeping the breaker in service and on the job.
Demolition of concrete, rock or stone can create several safety issues that smart operators will recognize and prepare for in advance. Operators should wear eye and ear protection. Goggles protect eyes from all angles and will be an important shield between flying rock chips and dust. Earplugs or earmuffs will protect your ears from repetitive noises that are common with percussive equipment like breakers. Protect your insides by wearing a quality dust mask, especially if using a breaker in a confined space. Additional protection can come from polycarbonate shields on the skid steer or excavator. Safety is too important to not take seriously.
Concrete Claws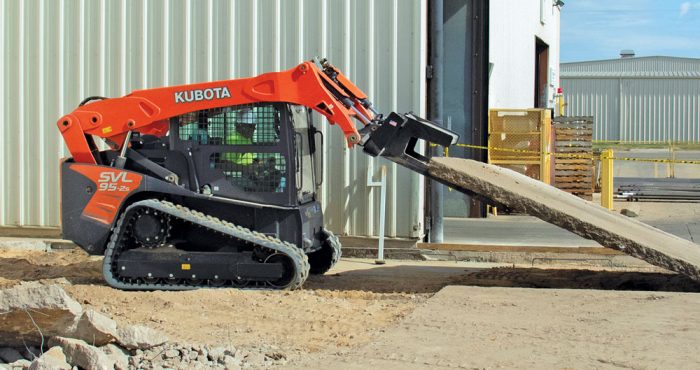 Concrete claws are simple and durable skid steer tools that have no moving parts or need for hydraulic power. This attachment is used to remove large slabs of concrete, cutting loading time significantly versus breaking slabs down into bucket-sized pieces. Operators can fracture slabs with a hydraulic breaker then employ the concrete claw, using the nose to get under large slabs for pick and disposal. By picking up the concrete in chunks, the removal is faster and more efficient.
More than simply disposing of concrete slabs, the concrete claw can also be used as a spade to aid in tasks like tree and shrub removal, as well as placing or removing boulders or landscape stones. Beyond being easy to use, they are also easy to maintain. Simply keep it clean and inspect it for stress fractures or other damage. Most have replaceable teeth, so be sure to check them and replace as needed.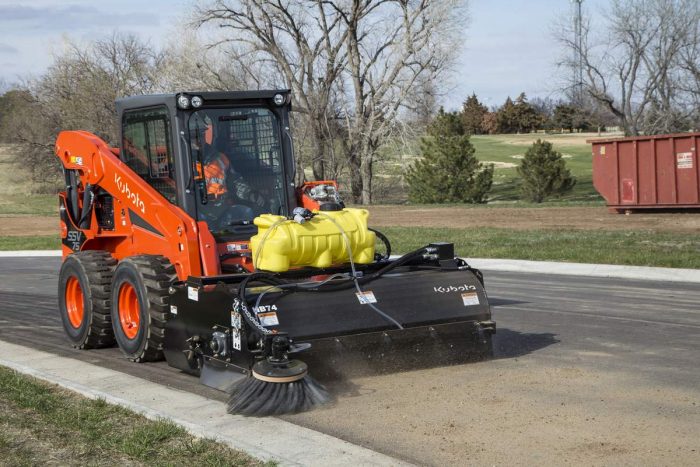 Once the demolition is complete, there's always clean up. Whether it's a large job or not, debris, dust and other waste is a byproduct of demolition. Plus, a clean worksite eliminates potential hazards that could impact employee safety as well as environmental issues. Fortunately, there are several skid steer tools that can be selected for site cleanup. One effective tool consideration is a rock bucket.
Rock Buckets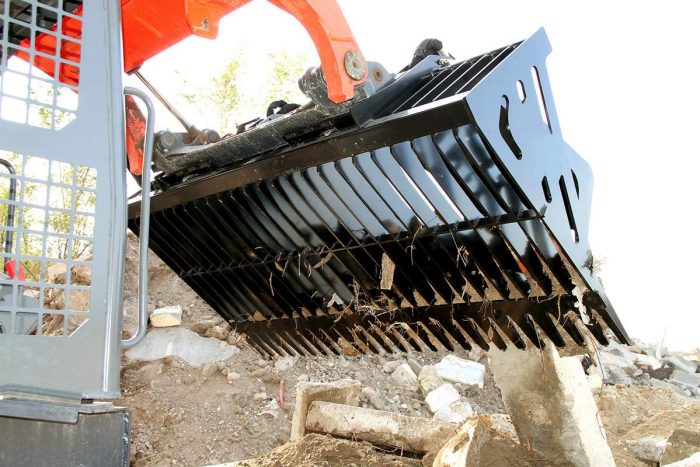 For those looking for a simpler tool for debris removal, look to a rock bucket. A rock bucket is manufactured from tines welded together that allow dirt and smaller aggregate to be sifted, leaving only the larger rocks and debris. Depending on the manufacturer, rock buckets can sift particles from 3 to 6 in. for quick site cleanup. Maintenance on these tools consists of a good cleaning and frequent inspection for damage that needs repaired.
Skid steer attachments are varied and far too numerous to mention in detail. Beyond demolition, industries like landscaping, agriculture and construction benefit from the variety. More common tools include buckets of every shape and size, augers big and small for planting posts or planting trees, pallet forks for material handling, blowers, pushers and blades for snow removal and trenchers for laying cable or putting in a sprinkler system. In fact, there is likely a tool for every job you have in mind.
Dee Warren is Land Pride's marketing manager.
Tags:
Kubota
,
Land Pride
,
March 2021 Print Issue