Do you need a brush cutter with extra reach and dexterity? Maybe you want to cut out-of-control brush that's hanging on the wrong side of a roadway railing. Perhaps you need to neatly trim that precarious slope of overgrowth on the edge of your pond. Compact excavators with a mulching head can offer an interesting long-reach alternative for specific vegetation management situations.
"It's one of our fastest growing applications [for mini excavators]," said Matt Warfel, division sales manager for Fecon, during a booth walk-around at the CONEXPO-CON/AGG tradeshow. "A lot of guys doing ditch work or fence rows, applications like that are pretty popular for excavators — areas where you don't necessarily want to drive the machine down into some slope. The excavator can reach in there and do it."
For simplicity's sake, we'll use the term "mulcher" attachments for those units by the likes of Fecon, FAE, Loftness and others that attach to a mini excavator, utilizing a large spinning cylinder (the cutting head), engineered with lots of removable/interchangeable teeth or knives, that you can drop down or up against thicker trees, cut at odd angles and mulch hard-to-reach vegetation. There are also rotary cutter mowers, which we won't really dive too much into in this article. Picture a rotary cutter as a horizontal, heavy-duty mower deck with two or three blades spinning beneath that deck, bearing down on saplings and heavy brush and grasses.
"A rotary cutter acts more like a mower where a mulching head with the drum acts more like a grinder," explained Lee Smith, FAE USA's senior product manager. "The mower style would be a unit that is made mostly for thinning or clearing material whereas with a mulching head you can do standing material, brush debris and do a combination of both. Usually a rotary mower is on the boom mount of a tractor so you are using it a little closer up than you would an excavator. Usually, it is used on a 90-degree angle facing toward the tree, mainly thinning back the branches. With a mulcher and an excavator, you get more extension on the unit and are able to go higher up or go after larger material such as branches and trees. At the same time, you can drop it to the ground and sweep it back and forth, getting rid of any overgrowth, shrubs or whatever you need to clear."
Working like a traditional lawn mower, a rotary cutter (sometimes called a deck mulcher or rotary mower) can clear dense brush and saplings usually up to 2 or 4 in. in diameter via two or three spinning steel blades. Cutting widths for compact excavators usually range from around 36 to 66 in., attachment weights usually fall between 600 to 1,500 lbs and hydraulic flow requirements can range from 8 to 25 gpm. If you need to go bigger, more ferocious and more dexterous, then it's time to step up to a mulcher head, which can shred thicker trees, spearhead stump removal, angle for hard-to-reach vegetation around ditches and water and eat elevated shrubbery (around power lines or near buildings), along with just general brush cutting. These mulching heads are somewhat similar to their skid steer/track loader counterparts.
"The big difference is the body structure and how they're built versus a skid steer," explained Warfel. "Skid steer heads are all meant to push from behind, where the excavator of course comes down from the top, so the engineer's got to work that in so that when you're putting downforce on it, you're not crushing the head."
You'll also need to do some homework. First off, determine your compact excavator's lifting capacity and auxiliary hydraulic system power ratings. A mini excavator's auxiliary hydraulic system specifications — gallons per minute (gpm) and pressure (psi) — will determine the size and power of mulcher attachments available. Excavator hydraulic specs range from 5 to 40 gpm and 2,700 to 4,100 psi. Rated lifting capacities for mini excavators can range from 500 lbs for the micros up to 10,000 lbs on the midis. Of course, before operating, the compact excavator itself should have a comprehensive protection kit (brush cutting requires serious safety precautions).
Here's a common checklist of safety equipment: polycarbonate- or lexan-style windshield for the operator's compartment (on the front and side windshields); kill switch that automatically kills the mulching head when the operator leaves the seat or the cab; exhaust cover to prevent debris entering the engine bay; work light protection; hydraulic hose and auxiliary coupler guards; and even a cooling pack and guard. Moving on to the mulcher themselves, there are a variety of sizes and brands, but…
"There's not really a lot of options," Warfel said. "There are some rotor options, depending on the application and what type of material you're cutting, but there's not as many options on the excavators as there are in the skid steer units. We've got our HDT, FGT and DCR rotors. The DCR rotor will give you a bite depth-type rotor for stringy material. It's a really popular rotor down in the Southeast, for Palmetto and things like that. The other two rotor systems can run blended tools, the carbides or knife tools, just depends on what the customer wants. Some guys will even blend them in the same drum. It's pretty popular to take our FGT drum and run knives at the center and carbides on the outside. There's a lot of different things you can do with our tools, mixing and matching."
Buyers will have choices in teeth, rotors and motors. Some units may have the option to utilize a self-leveling device. There might be customized attachment brackets, quick-attach mounts or the ability to integrate a thumb. Each brand will offer a mulcher with unique technologies.
For compact excavators, vegetation management expert Loftness offers its L Series Battle Ax mulchers for units from 4.5 to 8 U.S. tons. The L Series Battle Ax is a lighter-duty mulching head with a 13.5-in. diameter rotor, which features built-in depth gauges, which function similarly to raker teeth on chain saws to prevent the attachment from engaging too much material at one time. Loftness also boasts an exclusive two-stage cutting chamber, processing some of the smallest particle sizes in the industry by cutting material twice. Loftness also offers the awesome Kwik-Trim unit, which utilizes a fiberglass-reinforced plastic boom that telescopes to 53 ft, trimming super high foliage for right-of-ways. At the end of the boom is a 24-in. carbide-tipped saw blade, which operates at 3,000 rpm.
"Heavy-duty construction is a must when purchasing a mulching attachment for an excavator, but we also encourage buyers to consider how easy a unit is to maintain," said Bill Schafer, product development supervisor at Loftness. "For example, how easy is it to remove or reverse the cutting teeth on the jobsite? Single-bolt tooth mounting makes this job go much quicker."
For small excavators, the key is often finding the right weight model that allows for easy maneuverability and precision cutting. For instance, FAE has more than 10 models of mulchers for your exact excavator, but its smallest (model PML/HY) is designed and built for 1.3- and 3.5-metric-ton mini excavators, comes equipped with either an 8- or 16-cc hydraulic motor and the option of hammers or Y-blades for the cutter head. Y-blades (which look like a Y) are great for cutting tall weeds and overgrowth. Hammer blades are used to mulch trees and destroy serious foliage.
"My buying advice is to buy the unit you need for the job that you have," Smith said. "In this application, bigger is not always better, due to the fact that sometimes you don't need the larger of the excavator attachments and mulching heads. By sizing to the head that you need you can often reduce cost and avoid unnecessary weight on the end of the boom and still be able to do the job you are planning to do."
Fecon offers three excavator mulchers for compacts in its Bull Hog Series. The company's FMX Series offers 36- and 50-in. models with a split ring rotor design and knife tools for maximum performance, designed for 5- to 10-metric-ton excavators from 12 to 40 gpm. The FMX Series' lighter design also allows owners to mount these units on backhoes and side arm booms. Buyers will have the option to include variable displacement hydraulic motors to optimize rotor speed and torque for maximum production in small or larger material. Warfel suggests you sit down with your dealer to spec the perfect unit. Then make sure you take care of that hardworking mulcher by operating it safely because new units can cost between $6,000 and $30,000.
"Walk your job before you cut it," suggested Warfel. "A lot of roadside maintenance is what guys do with these excavator heads. People throw all their garbage out on the side of the road. You'd be surprised what you find out there. Manhole covers. Engine blocks. These heads are very durable, and they're very rebuildable, but it's faster to mark that engine block sitting out there than it is to rebuild your mulcher."
Dirty Work? Reverse the Game Plan with a Cleanfix Reversible Fan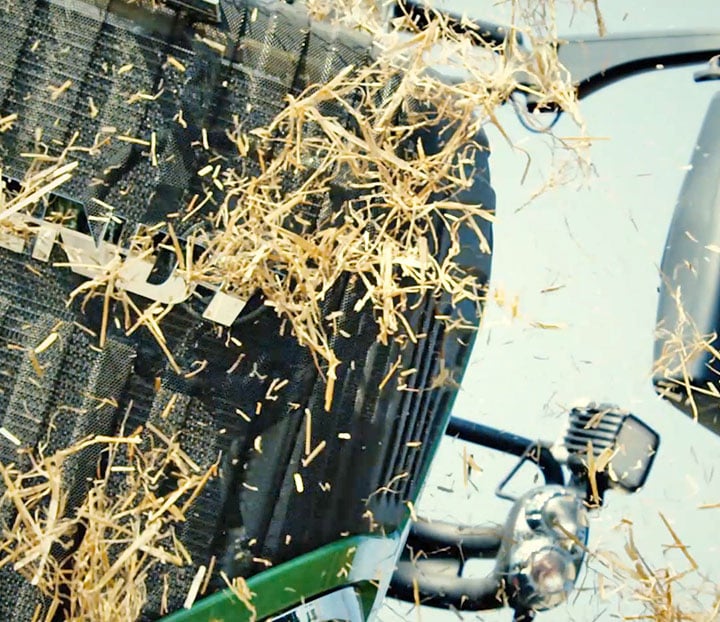 Few equipment applications generate as much dust, debris and dirt as brush cutting. The strain on the cooling system will, at a minimum, drag down the machine's efficiency over the course of the day. Typically, the laborious manual cleaning out of a plugged radiator will only be done when absolutely required and, if and when it's done, temporarily halt production. Hence, operators tend to push the machine as long and far as possible, but in the meantime, the unit is possibly overheating and most certainly losing productivity. While more commonly associated with full-sized excavators, loaders, tractors and other equipment types, reversible fans can offer a viable option for smaller excavators equipped with brush cutting attachments, depending on the make and model of the carrier.
While delivering engine cooling equal to that of a machine's standard fan, the reversible fan additionally provides the powerful cleanout of the radiator by reversing the airflow in timed intervals adjustable to the application demands. The Cleanfix design, by which the blades rotate through the cross position, ensures that not only the grille is cleaned off, but also, more importantly, the actual cooler. The powerful "sneezing" effect is required to truly blow out the dust, dirt and debris. Other systems on the market rely on changing the rotational direction of the fan while the blade profile remains the same. This results in low pressure and highly turbulent reverse flow conditions. For more info, visit cleanfix.org.
Fecon Introduces FRC70 Remote Carrier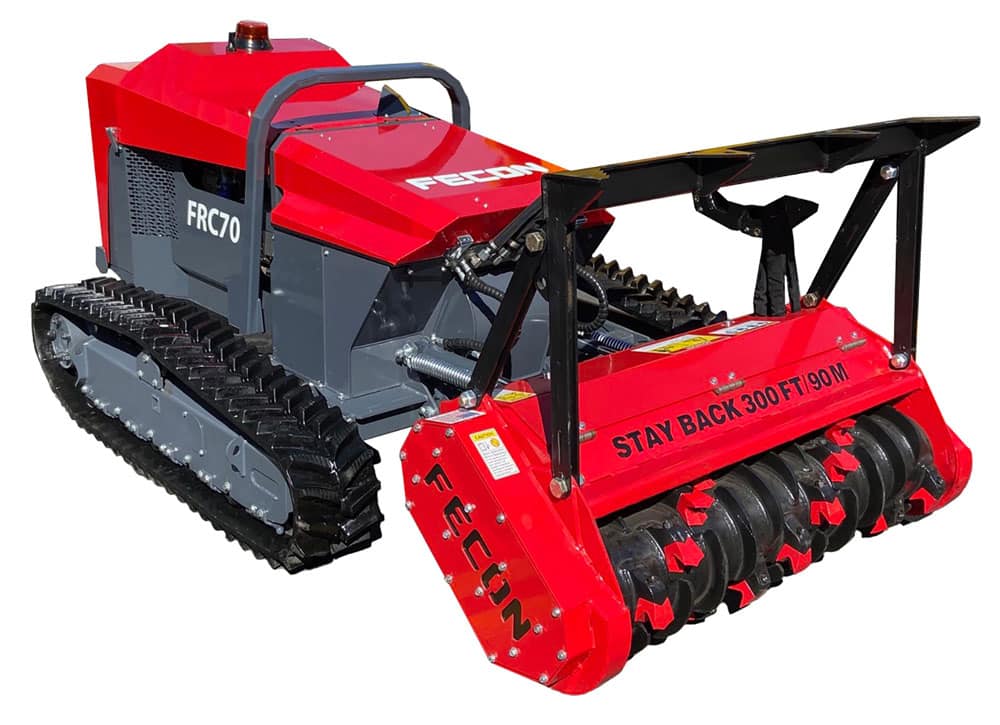 At CONEXPO-CON/AGG, Fecon previewed the FRC70 remote carrier which allows an operator to mulch vegetation on steep slopes from the safety of a remote location. At approximately 5 ft wide, 10 ft long and 4,220 lbs, this new mulcher is easily transportable to and from jobsites without a CDL. Since no extra horsepower is required to support an operator or in-cab functions, the 64-hp diesel Isuzu engine and a variable speed hydraulic piston motor delivers ample power to the Bull Hog RK5015 standard-flow mulching head. Pairing a mulching head which is designed for this hydraulic flow allows operators to remotely tackle vegetation clearing and management projects such as ROW clearing — especially on slopes, land clearing/site improvement, municipal clearing projects including trail grooming, cutting fire breaks, forest thinning, roadside clearing and more. In addition to the Bull Hog mulcher head, the FRC70 can be equipped with additional attachments such as a Stumpex stump grinder, flail mowers for mowing grass, snow blowers and more. For more info, visit fecon.com.
Tags:
April 2020 Print Issue
,
FAE USA
,
Fecon
,
Loftness