Automation. It sounds expensive. Well, it's certainly a serious investment, but it can also help you save some serious money. Let's take a grade control system for a compact track loader as an example, matched to a grader or box blade attachment. The combination is becoming increasingly popular. Powered by a quick and nimble compact track loader or skid steer, machine-controlled grading attachments and operations can lower material overages while increasing the quality of the finished surface, adding velocity and prestige to your projects. The cost? The complete, high-end, top-of-the-line 3D grade control systems for a compact track loader can cost $70,000 depending on size and tech. That includes both the attachment ($10,000 to $20,000) and grading system ($25,000 to $50,000). But does it really have to cost that much?
It Does Not
More and more, manufacturers are offering economical alternatives for professionals looking to upfit their compact track loader or skid steer with grade control automation but also not spend a bucket full of money. The technologists at Trimble have zeroed in on that entry-level grade control contractor with the Earthworks GO! Grade Control System.
"Our Earthworks GO! product family ranges in cost from $6,000 to a little over $10,000 depending on the configuration," says John Boss, product manager for Trimble Civil Construction. "We offer slope-only modes, where the user manually controls one side of their grading attachment, and we automatically hold a blade slope using the system's sensors, all the way up to dual-laser modes, where we fully automate the blade to make grading tasks easier than ever."
Earthworks GO! is a 2D laser-guided grade control system built for skid steers and compact track loaders. The system can be used with grader blade and box blade attachments, noting again that the physical attachment is a separate cost from the grade control system.
Most grade control systems for most machines (from dozers to excavators) are divided into two groupings — 2D (two-dimensional) and 3D (three-dimensional). 2D grading is basically for making flat surfaces, and the plane of the flat surface can be level or tipped in either one or two of its side axes to create a slope (say for drainage), but the grade's top will always remain flat. The technology is great for leveling athletic fields, parking lots, building pads and anything that runs on the same slope. 2D machine control is generally simpler to learn and is less expensive to purchase than a 3D system that can calculate cross-slope and utilize 3D designs (say for making a slope-heavy golf course).
2D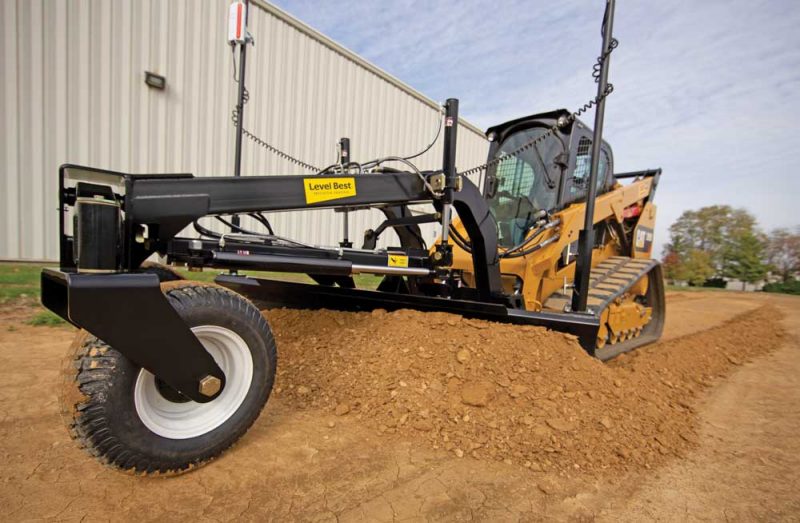 There are a variety of 2D system configurations that range in cost. These 2D systems will automate the grading blade or box blade to move up and down to achieve a simple grade elevation. There are two main umbrellas of 2D tech: lasers and sonic. The sonic system uses an ultrasonic sensor to maintain the blade at the same relative vertical distance to an external reference, such as a string line or a curb. Or, 2D systems can use a single or dual grade rotating laser and laser receiver to control the lift and tilt of the grading attachment on a track loader. Jack Herr, executive vice president at ATI Corp., maker of Level Best Precision Grading Equipment, explains that these rotating lasers are set up on a tripod and send a laser beam in a single plane. Laser receivers on the grade control system find that beam of light and adjust the machine up or down to meet grade. Laser systems are ideal for large, flat areas.
"A laser-guided grade control system is the most cost-effective system for compact track loaders," says Herr. "Just keep in mind that a laser-guided system will only be able to grade a single plane with the same slope at any one time. Any changes to the slope or the plane will require a different setup for the rotating laser to accommodate the change in grade."
Let's take grader boxes as an example. Single-mast grade boxes are normally used with the most basic laser-guided grade control. "Despite their lower cost, single-mast machines are very productive, accurate and easy to use," says Herr. "The single-mast grade box's downside is that it tends to create terracing on grades with slope. An attentive operator will work in figure-eight patterns or large arcs to prevent the terracing effect. Single-mast grade boxes are best suited for pads with larger square footage since the loader has more room to maneuver in the figure-eight patterns."
Of course, it's Level Best's dual-mast PD-Series units that are its most popular for compact track loaders. Dual-mast models vastly outsell single-mast units. Dual-mast grade boxes provide greater accuracy across the cutting edge and are more productive than their single-mast siblings. "Dual-mast grade boxes can work in straight lines and in tighter areas since the machine can adjust within itself to match grade no matter which direction it's grading," explains Herr. "Dual-mast grade boxes are also able to be used in 3D applications, which makes them the ideal entry-level grade control attachment because it easily grows with your business."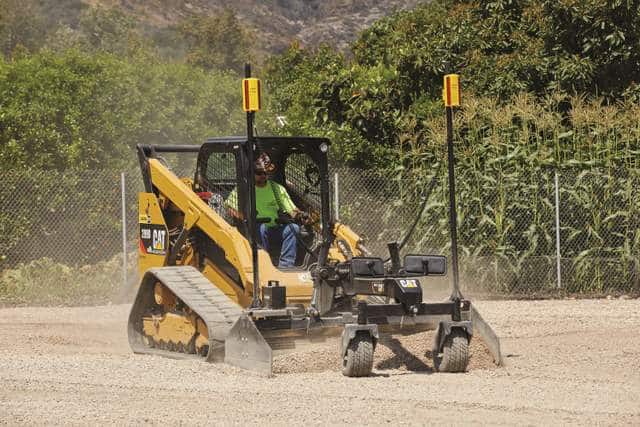 Prices do not remain flat and vary across manufacturers. 2D grade control systems will include lasers, a control box, receivers and software and can run from $6,000 to $18,000. Ease of setup is also an important sales pitch.
"Our team has put a painstaking amount of effort into making Trimble Earthworks GO! the easiest to install system available today," says Boss. "All the user has to do is mount the GO! Box, snap on the laser receivers and plug in a few cables — all of which requires no additional tools. In fact, during its initial release we had a customer do the entire process in three minutes."
What does the cost look like when you include an attachment? Let's take the complete finish grade control attachment called the Dual Dozer from HitchDoc (a Minnesota-based attachment expert). The Dual Dozer can grade in the forward or reverse direction. It is recognized for its rear wheel design and its ability to get closer to edges, borders and obstacles such as pillars. The Dual Dozer is compatible with all levels of electronics offered today — from manual up to 3D/GPS. What about price?
"When ordering a Dual Dozer, the electronic systems are in addition to the dozer itself, so providing different options is quite easy," says Eric Boughey, sales and business development with HitchDoc. "The Dual Dozer equipped with electronics pricing can range from $23,000 to $30,000 plus, depending on size of the Dual Dozer and level of electronics. HitchDoc and their dealers offer a variety of electronic packages to fit the needs of the customer. We offer Trimble, Topcon and Leica electronic packages and great entry-level systems that ultimately come down to what best fits the customer's needs. Optional equipment includes a three-point hitch adaptor for use with a compact tractor as well as a bolt-on mirror, bubble level and brackets for optional sonic/slope electronics."
For further perspective, the Level Best GB-108 grader blade with a basic 2D laser system begins around $36,000.
Smart Attachments Are Officially a Thing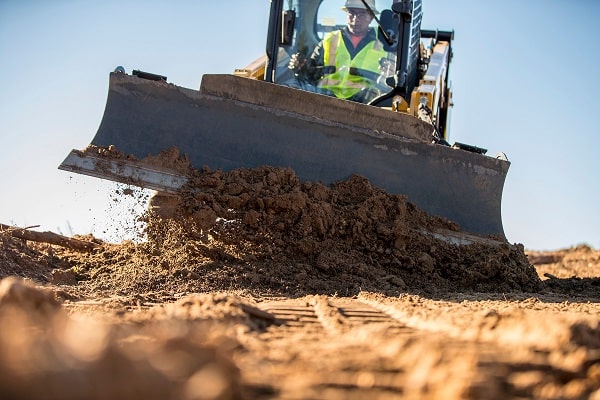 Smart attachment is a term that's being tossed around the industry by big brands like Cat. Caterpillar launched a new line of Cat Smart Attachments last year, which includes a dozer blade and grader blade. For use on Cat D3 Series skid steers and compact track loaders, these smart grade control systems easily adapt the machine's standard controls to precisely match the recognized Smart Attachment control needs. Besides adapting the controls to be more proficient at either rough grading or fine grading, Cat Smart Dozers feature an Assist mode, which includes a memory function allowing the operator to select a blade slope and to recall that setting at the touch of a joystick button. On Cat's Smart Grader Blade, the Assist feature allows selecting either the cross-slope right pattern or cross-slope left pattern and maintains the cross-slope setting, independent of the machine's operating angle. Those are just the highlights.
What About a Slope Meter?
The most economical alternative for dabbling in rough grade applications would maybe be a mechanical or digital slope meter, mounted on the dash in the operator's view. They can be a cool little tool to eyeball what you are doing and cost between $100 and $200. Way better: John Deere actually offers an entry-level feature called an on-board grade indication system on its skid steers and track loaders, which controls the cross slope and main fall of the dozer blade through an in-cab display. It's an industry exclusive. This entry-level system is useful in controlling simple grades for jobs like water run for drainage or for use where other external references aren't available such as inside buildings. Whatever your choice of grade-control system, make sure your setup is compatible with both current and future project parameters.
"A contractor looking to invest in entry-level grade control systems needs to understand the capabilities and how those capabilities match with job requirements," says Sean Mairet, product marketing manager, grade control, John Deere Construction and Forestry. "An understanding of how those requirements could be changing in the future and how grade control systems can help mitigate that in their business will help kick off those conversations."
John Deere and Level Best Team Up on Grade Control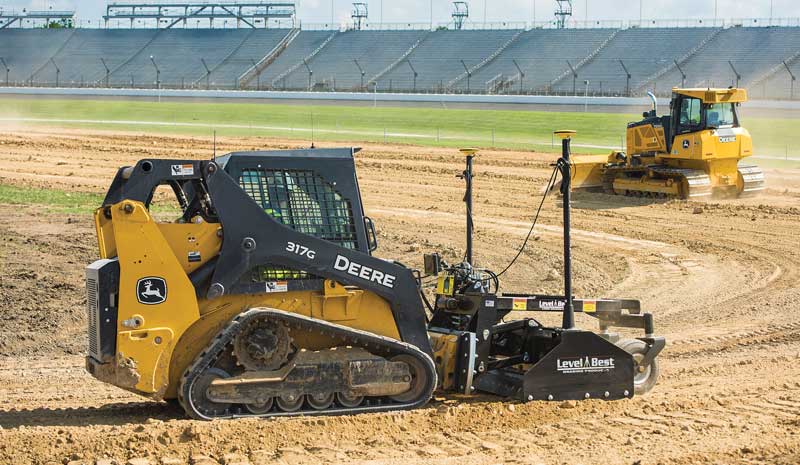 Helping compact equipment operators improve productivity and machine versatility, John Deere recently added three new models, the PD-72 in., PD-84 in. and PD-96 in., to its referral attachments line from Level Best, a leading manufacturer of grading attachments. The new grade control-ready Level Best Dual Mast PD Series box blades will improve productivity on John Deere skid steers and compact track loaders. Level Best box blades are available in Topcon-ready 2D precision grading and 3D precision grading options. The three box blade models offer customers a range of capabilities based on their needs. With a box width ranging from 72 to 96 in., operators can use different widths to improve efficiency when leveling terrain. Rear counterweight is not required to use these models but will improve stability during use. For more info, visit deere.com
.