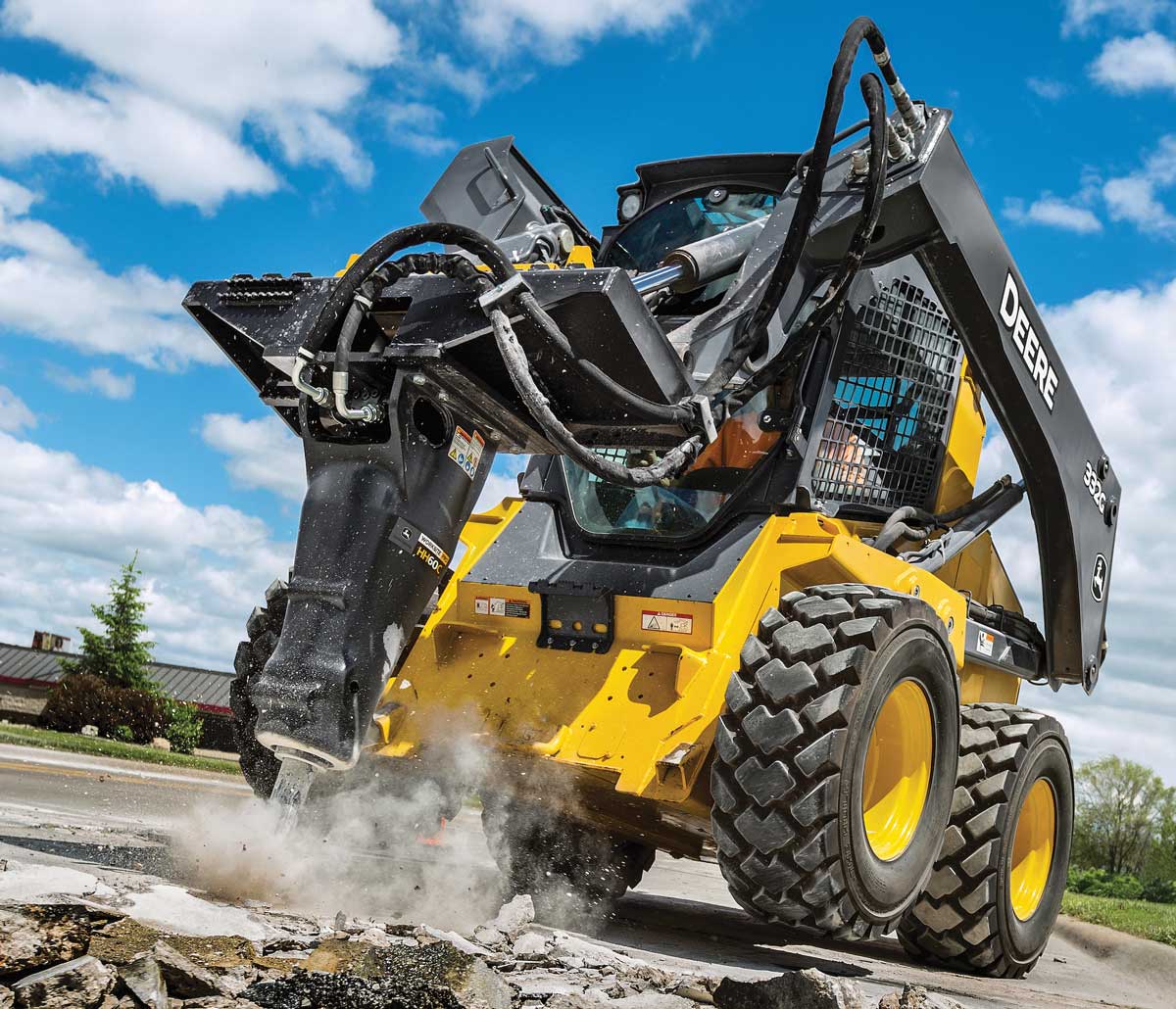 Demolition is hard work. It requires a lot of power, precision, safety and maintenance — job requirements that a skid steer or track loader can definitely fulfill — if properly equipped. These tool carriers have a high hydraulic output to the attachment, which is great for operating breaker and hammer attachments for demo applications. The operator can sit safely protected in a cab, especially with armor like a ballistic door. Skid steers and track loaders are also agile machines, ideal for getting into urban areas for deconstruction, and that breaker attachment can be easily swapped (via the unit's quick-attach system) for a bucket or grapple to spearhead cleanup.
Outfitted correctly, a skid steer or track loader with a breaker can demo everything from asphalt to concrete, tackling everything from foundation work to driveway jobs, but the host unit and attachment must be properly matched. To do that…
"First, you must consider what application you'll be using the hammer for," explains Lee Padgett, product manager for Takeuchi-US. "That dictates the appropriate hammer size and impact power."
Called the Goldilocks Rule by some, if a breaker is too big or too small for the equipment, it won't work properly. A breaker that is too big — i.e., too heavy — can tip over a skid steer or track loader. If it's undersized (too small), it can be overpowered, resulting in damaged mounting brackets, overheated hydraulic oil and the need for more frequent service. Working weights for skid steer and track loader hammers might range from 200 to 900 lbs.
Extra Breaker Bits
Know where the daily grease points are and maintain appropriately.
Inspect the work tool to ensure it's in good condition.
Set the proper operating pressure and flow requirements for the hammer.
Learn how to apply down pressure to avoid "dry firing" the hammer.
Understand how long to fire the hammer before stopping to let it cool.
What Are the Auxiliary Hydraulic Requirements?
In addition to size, Padgett directs attention to the skid steer's auxiliary hydraulic specifications — flow (gpm) and pressure (psi). These specs will indicate the amount and power of the hydraulic oil being directed to the attachment. Like any attachment going onto a skid steer or track loader, a breaker attachment must match to the specifications (gpm and psi) of the host power unit. "For example, Takeuchi offers hammers that require as little as 4 gpm up to 40 gpm," says Padgett.
The best way to match gpm and psi is to consult the spec sheet for both the carrier and the attachment to ensure compatibility. Some of the more powerful breakers require high-flow hydraulics (like 36 gpm at 3,500 psi), Padgett explains, but other models only require standard-flow hydraulics (like 23 gpm at 3,500 psi). Also…
"Hammers are primarily categorized by their impact power range," Padgett explains.
Takeuchi's new hydraulic hammer line includes seven models with a range of impact powers from 150 up to 2,500 ft lbs, suitable for a variety of applications. The TKB-302S, TKB402-S and TKB802-S work well with skid steers and Takeuchi's compact track loader models, the latter ranging from the TL6R to the TL12V2/R2.
Body Options and Nitro/Gas Units
Different bodies and housings are available for skid steer and track loader breakers. Takeuchi breakers have a single-body suppressed sound design. Padgett says, "This design provides excellent noise and vibration insulation, as well as protection from dust and debris."
Body style can vary between models and manufacturers, but two of the main differentiators are box-style or solid- or single-body encasements. Box-style breakers have, you guessed it, a squared body that is meant to protect the internal percussion mechanism. These breakers are fairly versatile and can come with a high power-to-weight ratio. Solid-body breakers have an integrated percussion mechanism inside a single cast iron body. This design creates a slimmer profile that provides more maneuverability and is ideal for working in narrow trenches or workspaces with limited access.
Hammers can be powered by hydraulic oil or nitrogen gas. On fully hydraulic breakers, nitrogen accumulators are completely sealed, and the nitrogen should never need to be recharged. As long as the hydraulic breaker is working correctly, the nitrogen level remains constant. Nitrogen-fired — or gas-fired — breakers, however, are not fully hydraulic and do not have a sealed accumulator. With this style of breaker, nitrogen can leak out during storage or with every strike of the hammer. As the nitrogen pressure becomes low, the breaker's impact energy diminishes, so it is important to track the nitrogen pressure and keep it charged.
"Separating us from our competition, all Takeuchi hammer models are oil fired," Padgett notes, but the advantage of Takeuchi's units is the elimination of the need for occasional recharging. An integrated, membrane-type accumulator eliminates nitrogen leakage and the need to recharge, providing lower operating costs and consistent impact energy.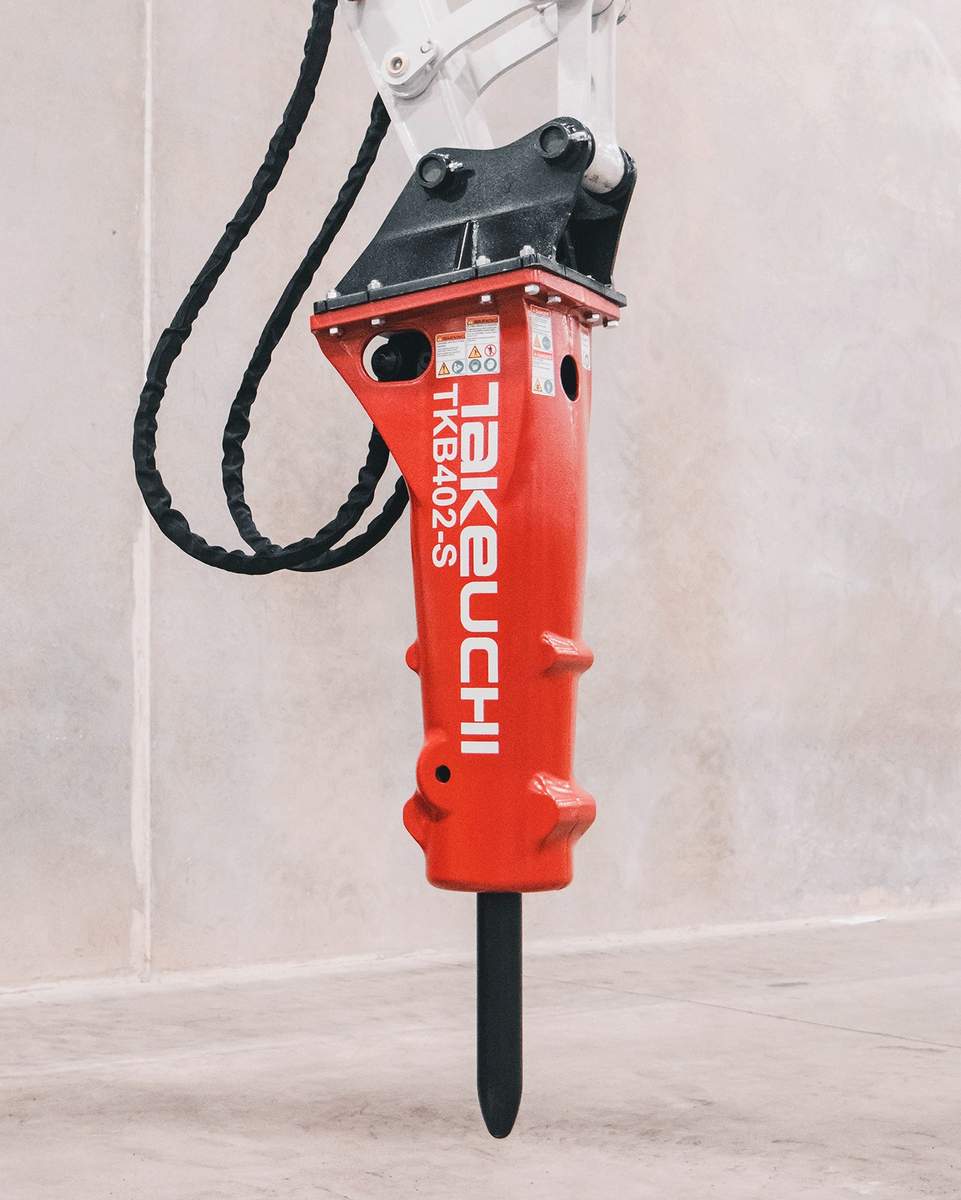 Maintenance and Safety
Breakers are hard-working attachments and require lots of attention. For example, make sure the breaker is greased according to the manufacturer's recommendations — ensuring the correct grease, called chisel paste, is used and in the correct amount. Chisel paste will reduce friction and prevent overheating. Lastly, inspect the breaker frequently. Routine inspection of the hydraulic hoses, grease points, bits or chisels and nitrogen pressure will go a long way in keeping the breaker in service and on the job. Also, a skid steer or track loader with a reversable fan is always welcome in demolition, so debris can be easily expelled from the engine compartment. Turn to page 62 for a deep dive on breaker maintenance.
Demolition of concrete, rock and stone can create several safety issues that smart operators will recognize and prepare for in advance. Operators should wear eye and ear protection. Goggles protect eyes from all angles and will be an important shield between flying rock chips and dust. Earplugs or earmuffs will protect your ears from repetitive noises that are common with percussive equipment like breakers. Protect your insides by wearing a quality dust mask, especially if using a breaker in a confined space. Additional protection can come from polycarbonate shields on the skid steer and track loader and machine guarding around hoses and lights.
Using hydraulic breakers instead of handheld breakers also improves overall safety. The vibrations generated by handheld breakers negatively impact the operator's arms and hands. Long-term exposure can damage joints, nerves and cartilage or cause neck and back issues. Through their energy recovery system and integrated control valve, hydraulic breakers lower the vibrations, easing the strain on the operator. Breaker attachment makers are also focused on sound safety.
"Because our hammers are sound suppressed, they can be operated in quieter environments with less noise disruption throughout the surrounding area," Padgett points out. "Providing excellent noise and vibration insulation, the sound-suppressed design of every Takeuchi hammer also protects it from dust and debris."
Four Keys to Breaker Safety
Protect yourself and others from flying chips of concrete or rock.
Do not operate the breaker until you are sure that you and those around you are safe.
Hydraulic oil gets hot in a very short period of time when running a breaker. Do not detach the breaker from the carrier until the hydraulic oil in the carrier has cooled down.
The demolition tool in the breaker is too hot to touch and will burn you. Do not touch the demolition tool until it has cooled down.
Get Crackin'
Skid steer- and track loader-mounted hydraulic breakers help break concrete, rock slabs, walls and structures with efficiency and ease. Breakers are used across a wide range of industries from excavation and construction to municipalities and mining. Breakers have a distinct advantage over other demolition methods as they are more targeted in their approach. By nature, breakers are used in an abusive environment. Proper maintenance of the unit is imperative to keep the breaker functioning well. Breakers are not inexpensive, so taking care of them keeps them on the job for a decade or more. The first thing an owner or operator can do is make sure the breaker is set up properly every time it is used. Match the tool to the power unit, making certain that hydraulic flow is matched to the tool. Before you get crackin', go over all of this with your local dealer.
Lori Lovely is a freelance writer for Compact Equipment.
Tags:
May June 2023 Print Issue
,
Takeuchi