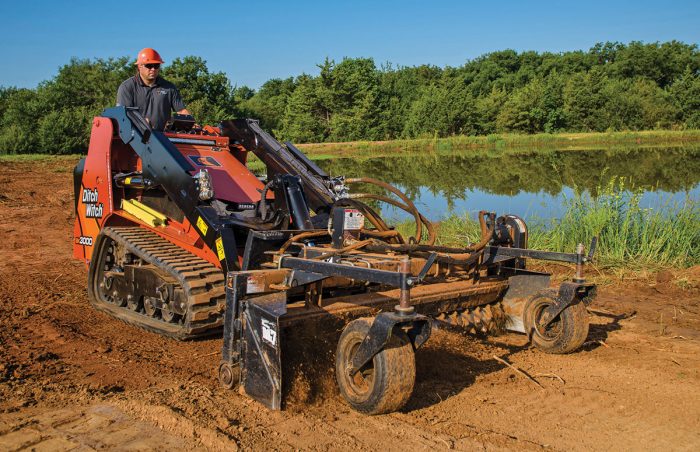 Stand-on and walk-behind tool carriers are perfect for on-and-off work. Move a bucket full of mulch. Jump off and spread it. Auger a hole for a tree. Switch to tree forks and haul in a young hardwood. Hop down with the crew and ensure perfect placement. Time for lunch. Jump back on that compact tool carrier and head out to the truck and trailer.
As one of the smallest attachment-takers in the industry, CTCs offer a unique mix of advantages: A) extreme versatility via attachments (40 to 60 different implements), B) hard-to-beat size and nimbleness (most units can easily fit through a backyard gate, electric variants do indoor work); C) a light footprint (most units are sold with low psi tracks); and a quick type of flexibility (that aforementioned on-and-off work). The key to this equation is the perfect set of hydraulic and non-hydraulic tools that can be easily switched, just like your crew's jobs.
"The way to get the most ROI out of your stand-on skid steer is to invest in the right attachments for your business," explains Brant Kukuk, product marketing manager of compact equipment for Ditch Witch. "The standard rule of thumb is that a contractor should have three industry-specific attachments to succeed in a particular industry. For example, if a contractor is looking to get into underground road work, they should consider investing in microtrenching attachments, coring attachments and vacuum-lifting attachments, in addition to standard forks, buckets and grapples. This attachment arsenal will give them the ability to bid on the widest range of jobs in their preferred industry, and it will allow them to handle any difficulties a job may throw at them."
Let's take a closer look at compact tool carriers and their attachment arsenals.
The Tools and the Carrier
First off, the various brands in this industry use different names to describe their product lines — compact utility loaders (Toro), mini skid steers (Vermeer), stand-on track loaders (Kubota) and stand-on skid steers (Ditch Witch). I will call them compact tool carriers to confuse you further. Regardless of manufacturer and product branding, the biggest names in the CTC industry include the likes of Toro, Bobcat, Ditch Witch, Boxer, Triple E Equipment, Ramrod and Vermeer. Think of them as skid steers or track loaders without a cab or seat. They use a similar universal quick-attachment plate (some of the bigger ones can even take a skid steer quick-attach plate), they come on wheels and tracks and they have a zero turning radius that's ideal for tight quarters. Buyers have a bevy of options: stand-on and walk-behind units; hydraulic flow rates from 6 to 22 gpm; gas, diesel and electric engines; wheels or dedicated track undercarriages; and a zillion different attachments. Like all mechanized loaders…
"When it comes to attachments, buckets have been proven to be a popular option, given that they are extremely versatile," says Kyle Cartwright, marketing manager at Toro. "That said, the real magic with a compact utility loader is that the machine can handle just about any task with a simple change of attachments. Auger attachments are also notably popular with earthmoving and grading contractors, as well as with landscape contractors and hardscapers. Levelers, tillers and soil cultivator attachments are also quite common in the landscaping industry, along with grapples and rakes, which have an important place in the lineup as well, depending on the industry."
Here are a few of the most popular categories of attachments for CTCs in no discernable order:
Trenchers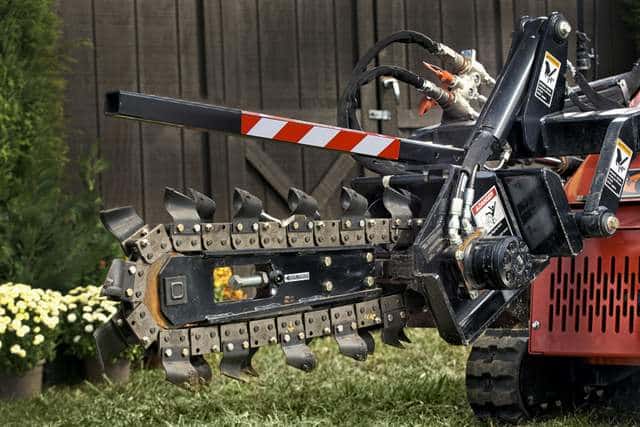 Ideal for landscape, plumbing and electrical contractors, a trencher attachment can install everything from irrigation and drainage systems to electric, DSL or fiber-optics. Most trencher attachments are available in 4-, 6-, 8- and 12-in. widths. Since soil conditions can vary, specific chains can handle anything from light dirt to sand to rocky soil. "Trencher and vibratory plow attachments are especially popular with landscape irrigation contractors because they can do more with a single machine," notes Brett Newendorp, landscape market manager at Vermeer Corp.
Augers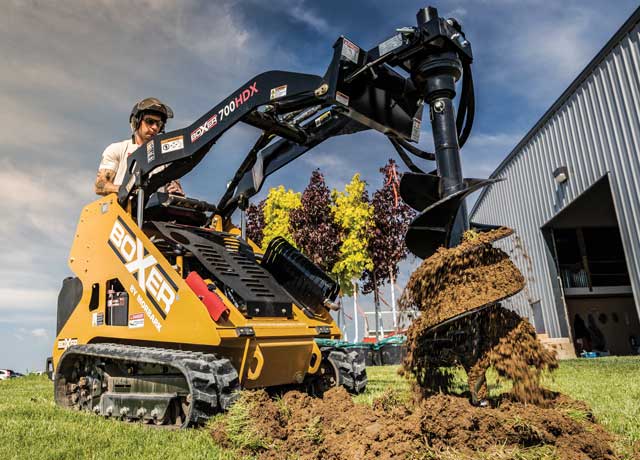 These precise hole diggers are great for installing trees, fencing and deck posts. Choose between direct drive and planetary options and different auger bit styles and sizes, which range from 4 to 36 in. A brand like Toro may offer a universal swivel auger power head, which allows for digging plumb holes on the face of a slope. Consider whether the application calls for an emphasis on torque (power) or an emphasis on bit speed (rpm).
Forks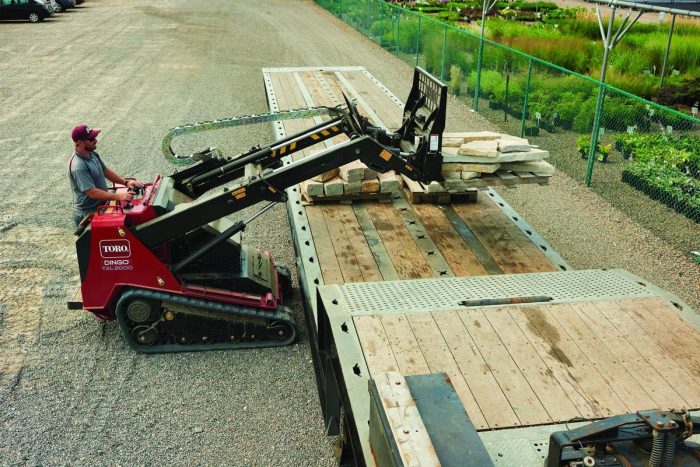 A pair of pallet forks can move lots of product — sod, bricks, trees, ornamental garden gnomes. Options might include a heavy-duty pallet fork and frame, hydraulic fork positioning and/or brick-guards. Forks are great for both loading and unloading material from a trailer or truck bed and hauling it steadily and with a light footprint.
Soil Cultivators
This versatile attachment can be used to cultivate and level soil with ease, and it will also bury debris like stones, soil clods and grass. Look for units that have the ability to forward and reverse rake and angle left or right. "Site prep attachments like a Harley rake and soil renovator can help reduce labor when reseeding, laying sod or preparing planting beds," says Newendorp.
Breakers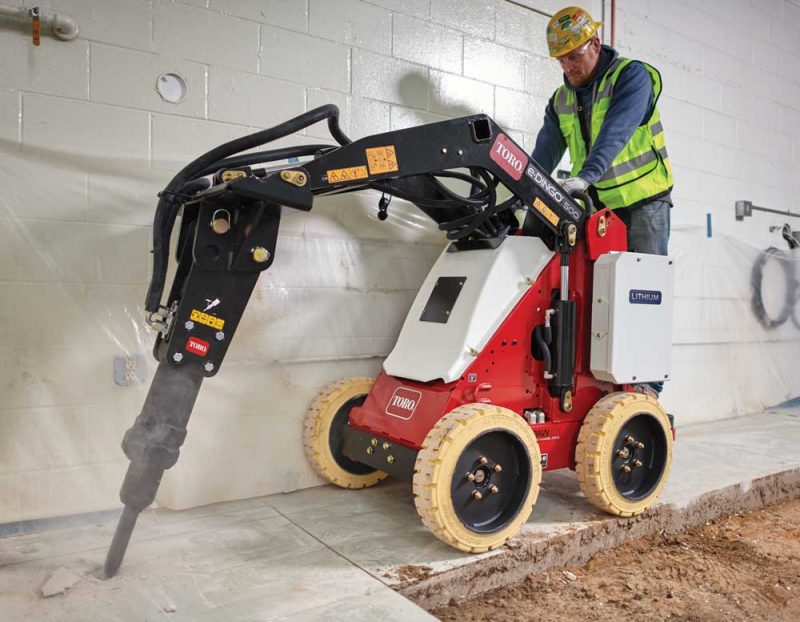 Tackle concrete, asphalt, rock, brick and reno. Like all breakers, CTC-mounted units are rated by impact energy in ft-lbs. These smaller breakers usually range from 150 to 300 ft-lbs. Concrete breakers are also measured in blows per minute (bpm). A typical CTC hammer can break materials to a depth of 11 in., and there should be a variety of bits available to do that.
Have questions about protecting your crew during the current pandemic? Check out our COVID-19 microsite for more resources from cleaning equipment to wearing the proper PPE.
Box Rakes
Box rakes are an ideal attachment to clean, level and prep jobsites for sod or seed. The hydraulic requirements for most CTCs to run a box rake are 10 to 14 gpm, but machines that boast higher hydraulic horsepower will provide even more drum torque to break up hardpack or clay soils. Options may include manual or hydraulic angle and depth controls.
Buckets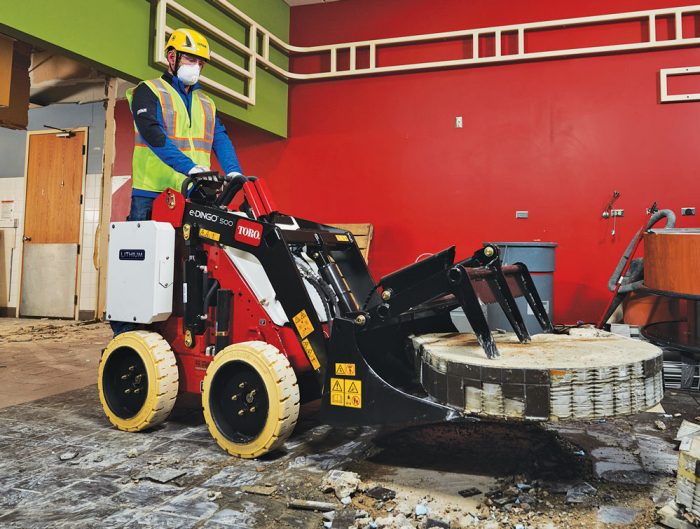 The bucket attachment is arguably the most used and valuable attachment for CTCs. Nearly every unit purchased comes with one. There are all types of buckets: dirt, grapple, general purpose, utility and industrial. "The newest additions to the Toro Dingo attachments family — the grapple bucket and 4-in-1 bucket — are some of our most exciting attachments so far," says Cartwright. "The new grapple bucket is designed for simplified handling of a variety of materials including boulders, timber, concrete, scrap, waste and other debris. Also, highly notable is our versatile high-strength and high-performance 4-in-1 bucket attachment, which can handle a variety of earthmoving tasks — bucket, leveler, grader and grapple applications."
Keith Gribbins is publisher of Compact Equipment.
Tags:
Bobcat
,
Boxer
,
Kubota
,
March 2021 Print Issue
,
Ramrod
,
Toro
,
Triple E Equipment
,
Vermeer