Never underestimate a mini excavator. They are right-sized machines that offer versatility and power in a variety of applications beyond digging. Sometimes smaller units get passed up for bigger or more specialized projects that could be a perfect fit for mini excavator work — like building retention walls with boulders for instance.
Since this type of work may involve moving heavy material, it's easy to assume that a larger excavator or combination of machines is a better choice, but let's look at the jobsites. Landscaping retention walls are often built in established residential areas. Space can be tight. When space is limited, mini excavators are a smart choice.
Why Go Mini?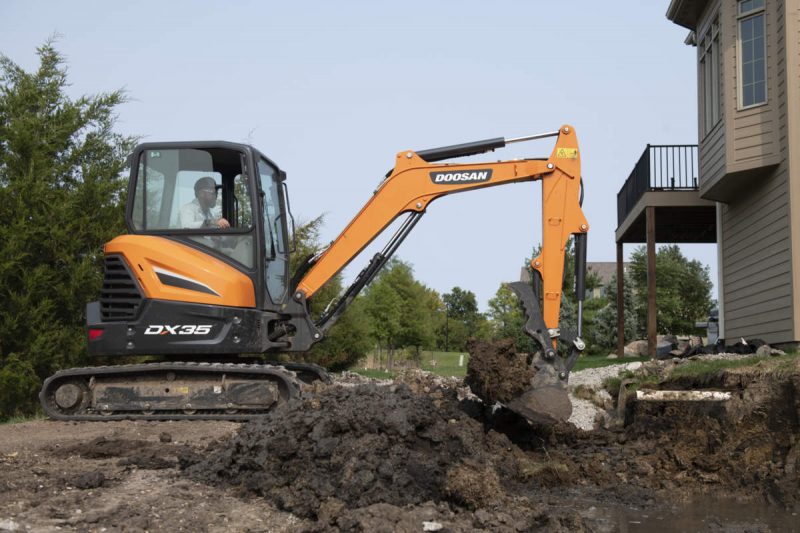 What makes a mini excavator a well-qualified machine for building boulder walls? According to Nathan Cain, Doosan product specialist, mini excavators have many features that make them well-suited for the job.
One of those features is the backfill blade. Most mini excavators come standard with this tool, which is key to laying the groundwork for your retaining wall.
"Whether it's a two-way, up-and-down blade or a four-way angled blade, this is an important feature," Cain says. "Especially on mini excavators for this application. It ensures that builders start with a clean, flat surface to build the wall on."
Another important feature to consider is two-way auxiliary hydraulic flow. This expands mini excavator operator options for attachments such as grapples. Building boulder walls often requires the use of one or more attachments to get it right. You have to be precise. According to Cain, "Most customers in this application use a combination of two attachments, the first being a bucket and a thumb and the other one being a grapple. The grapple has the same functionality as a bucket and thumb plus a little bit more versatility."
Retention wall projects can take place in established residential areas with finished surfaces such as grass or landscape pavers. Limiting ground disturbance is helpful. You may need to keep the ground intact or need your machine to travel across a customer's yard without damaging the surface. That's where rubber tracks excel.
"Rubber tracks are important in this application, especially for the mini excavators, as they minimize ground disturbance," Cain says. "If you're in a residential area building a new boulder wall near the house, whether that yard is already planted or not, it's important to reduce ground disturbance where you can with rubber tracks."
And last, it is worth asking if your mini excavator has dual-flange track rollers.
"Dual-flange track rollers help increase lifting capacity over the side," Cain says. "They also give customers a little bit more stability over the side when picking and placing rocks."
Many of these features come standard, except for the dual-flange track rollers, which are specific to certain mini excavator brands.
The Perfect Fit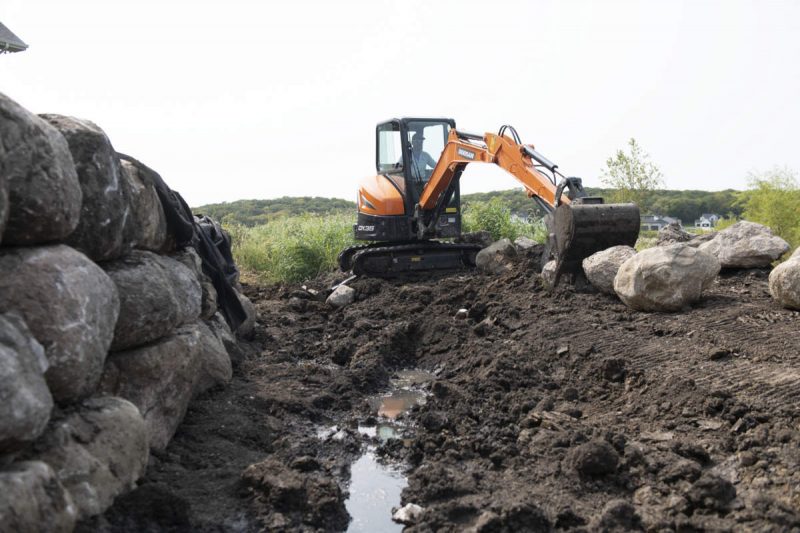 Mini excavators are a great option for building boulder walls, but sometimes you don't have the luxury of choice. Jobsites can easily dictate your machine needs. Since many boulder retaining walls are built in residential areas, space can be tight. Luckily, mini excavators fit power into a small package.
In addition to being smaller machines, mini excavators are available in multiple configurations, including reduced tail swing or zero tail swing that give them added flexibility.
"It's important for mini excavators to be able to get into tight places," Cain says. "A reduced tail swing and zero tail swing configuration certainly helps if you're building a wall around a house or around any sort of structure where the space is confined and maneuverability gets difficult. Along with an offset boom swing, this allows for much greater maneuverability in those tight spaces.
According to Cain, space restrictions and ground conditions are the main reasons why you would choose to use a mini excavator for this building task.
Making the Pieces Fit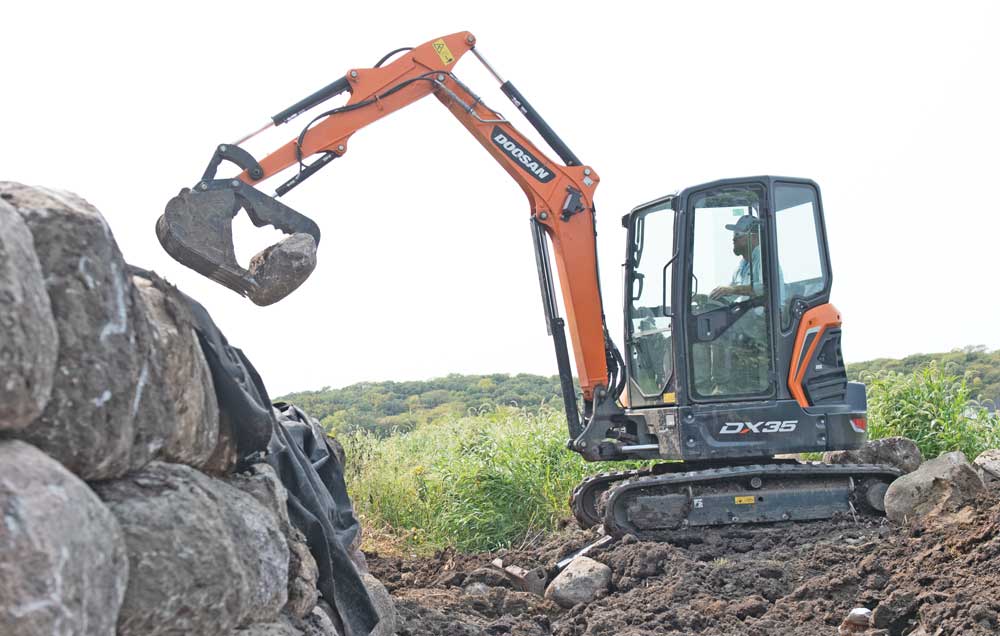 In summer 2020, Lounsbury Landscaping was busy with many customers wanting to enhance their existing landscapes. The company, based in West Des Moines, Iowa, relied on a Doosan DX35-5 mini excavator and a bucket and thumb attachment combination.
At one suburban jobsite, a compact track loader delivered boulders from the street to the DX35-5 operator, who was set up behind the house. The excavator operator lifted and placed the boulders with the bucket and thumb. It required careful planning and precise execution to ensure the wall was built properly.
Good visibility from inside the cab coupled with the machine's zero tail swing allowed the operator to work around obstacles, including trees. It's unlikely a larger machine would have been able to work in the confined jobsite.
The Goldilocks Fit
At the end of the day, even if you look at the above factors, the key thing in deciding on a machine is whether it is the right size and lift capacity for the job at hand.
"I think the most important thing to look at before deciding to use a mini excavator is making sure that the machine can handle the job that you're asking it to do," Cain says. "It's important that you know the size and material that you're going to be working with before you choose a mini excavator."
To assess whether a machine is capable of the job, look for the lifting capacity and stability. The mini excavator's machine specifications and lift charts will give you an idea of its working range and what it can handle. Cross-comparing these values with the characteristics of the material you need to work with will tell you what you need to know. If you're not sure, ask your local dealer for assistance.
One of the best parts of small equipment is the variety of attachments. From buckets and breakers to mowers and plows, click here to see what's out there.
"Sizing material for this job is really, really important," Cain says. "You want to make sure that if you're using a certain size rock, you size the mini excavator to it. And if you're using large boulders that a machine under 8 tons can't lift, hold or be stable with, then it's important to size up and use a larger excavator.
"At the end of the day it's about picking the right machine size for the job and ensuring that it's equipped with the tools needed," Cain says. "Make sure it's equipped with two-way auxiliaries and it has the capability to operate attachments that you want."
Rena Sletten is a strategic communications coordinator at Two Rivers Marketing.
Making "Kwik" Work of Vegetation Management
How do you manage vegetation along 5,200 miles of right-of-way? As efficiently as possible. At least that's the motto of Northeast Oklahoma Electric Cooperative (NOEC), headquartered in Vinita, Okla. Like many other electric utilities and vegetation management contractors, the cooperative once relied solely on bucket trucks to send workers up to hand trim all branches that encroached on its overhead electric power lines. However, the addition of a new compact mechanical trimmer proved to make much quicker work of this time-consuming task.
NOEC's service area includes six counties in the northeast corner of Oklahoma. To manage vegetation along its approximately 5,200 miles of right-of-way, NOEC not only contracts some of the mechanical clearing and herbicide application work, but also employs an in-house crew of 10 people to help serve the growing needs of the cooperative while ensuring better control of the work done. NOEC adheres to an integrated vegetation management approach to keep the right-of-ways clear, while dealing with the many environmental challenges of the area, including access issues, extreme weather conditions and periods of rapid vegetative growth.
For many years, much of the tree trimming along power lines was completed by hand, using bucket trucks to lift the workers into position whenever possible. While effective, the task was very time consuming. As a result, Ray Davis from NOEC's vegetation management department began investigating a new solution.
The new solution was a Kwik-Trim compact mechanical tree trimmer from Loftness, a manufacturer of vegetation management equipment. The Kwik-Trim features a telescoping boom on a mini excavator chassis. The boom reaches up to 53 ft with an industry standard 24-in. carbide-tipped saw blade at the end to easily slice through branches. A counter-rotating track control system gives the unit a zero-turn radius. Additionally, a 360-degree continuous boom swing, 90-degree boom arc and 35-degree boom tilt help the Kwik-Trim provide full coverage of the area around the machine.
Tags:
January 2021 Print Issue
,
Loftness