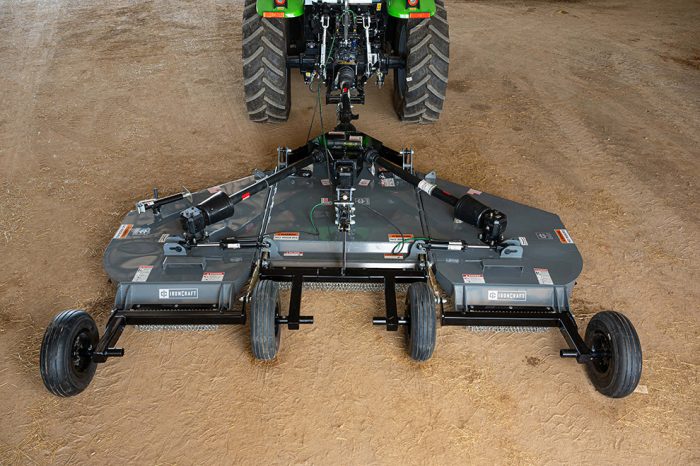 IronCraft LLC, formerly branded Titan Implement, has introduced the 2512 Series Flex-Wing Cutter which requires just 35 PTO hp and one hydraulic outlet to cut grass, weeds, and light brush up to 2-in. in diameter. Several new features have been added that make this unit easier for dealers to sell and serve their customers at the point of sale and for years to come, including a smooth top deck, spring suspension, and 12-ft working width. This robust cutter makes compact tractors more productive than ever. 
The wings flex from 22° down to 87° up (22° down and 45° up wing free float), allowing it to tame slopes, gullies, ditches and other tough topography. A 75-hp outboard gearbox rating and 5-year limited warranty attest to its stout design and durability. Five standard colors are available to match the cutter to many tractors. The 2512 series has a cutting height range from 1½ to 12 in., making it ideal for cutting grass, weeds and light brush on farms, in parks and recreational areas, on community green spaces, along roadsides and more.
The 2512 is made in the USA with industry leading lead-times and includes a 1-year warranty promise.
One of the best parts of small equipment is the variety of attachments. From buckets and breakers to mowers and plows, click here to see what's out there.
  Tags: IronCraft